June 4, 2018
SOQUEL, Calif. — Across the country, Democrats are winning primaries by promoting policies like universal health insurance and guaranteed income — ideas once laughed off as things that work only on the "Left Coast."
At the same time, national politicians from both sides are finally putting front and center issues that California has been grappling with for years: immigration, clean energy, police reform, suburban sprawl. And the state is home to a crop of politicians to watch, from Kevin McCarthy on the right to Gavin Newsom and Kamala Harris on the left, part of a wave that is likely to dominate American politics for the next generation.
California, which holds its primaries on Tuesday, has long set the national agenda on the economy, culture and technology. So maybe it was just a matter of time before it got back to driving the political agenda, as it did when Ronald Reagan launched his political career in the 1960s. But other things are happening as well. The state is a hub for immigrants, a testing site for solutions to environmental crises and a front line in America's competition with China. On all sorts of big issues that matter now and will in the future, California is already in the game.
In a way, California even gave us Donald Trump. So much of his "training" to be president came while he was an entertainment celebrity, on a show that, for a stretch of its existence, was produced in Los Angeles. And of course the means of his ascent — the smartphone, social media — came out of Silicon Valley. That's a lot to have on a state's conscience.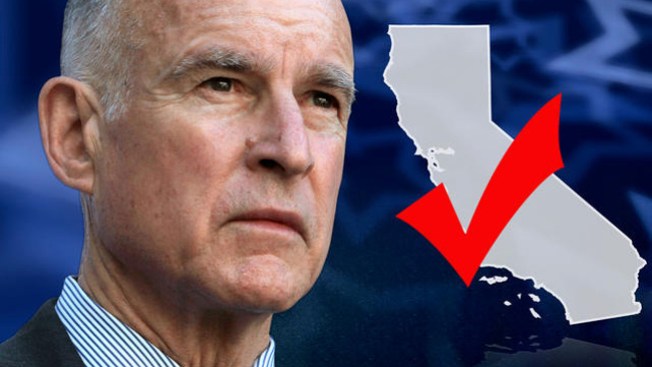 Governor Jerry Brown of California
California is a deep-blue state — only 26 percent of its residents approve of Mr. Trump, and Democrats dominate the Legislature, statewide offices and most large city governments. But the state's leaders are also aware that setting the political agenda for the country means making a stark break with naked partisanship. Getting that right will determine whether California, in its newly dominant role, perpetuates the political divide or moves America past it.
For decades, California, even as it grew in size and wealth, was seen as an outlier, unintimidating, superficial and flaky. We were no threat. We were surfer dudes and California girls who got high and turned on, tuned in and dropped out. We spawned Apple and Google, but we also spawned hippies and Hollywood. For a time, our governor was nicknamed Moonbeam.
As recently as the 2000s, with California at the center of the subprime-mortgage crisis, it was fair to wonder whether we had a future; a popular parlor game was to imagine how the state might be divided up into more manageable statelets.That was the old California.
The new California, back from years of financial trouble, has the fifth-largest economy in the world, ahead of Britain and France. Since 2010, California has accounted for an incredible one-fifth of America's economic growth. Silicon Valley is the default center of the world, home to three of the 10 largest companies in the world by market capitalization.
California's raw economic power is old news. What's different, just in the past few years, is the combination of its money, population and politics. In the Trump era, the state is reinventing itself as the moral and cultural center of a new America.
Jerry Brown — Governor Moonbeam — is back, and during his second stint in office has been a pragmatic, results-focused technocrat who will leave behind a multibillion-dollar budget surplus when his term ends in January. But he has also been a smart and dogged opponent of the Trump agenda, from his high-profile visits to climate-change negotiations in Europe to substantive talks in Beijing with President Xi Jinping.
California is hardly monolithic. The region around Bakersfield provides the power base for Mr. McCarthy, the House majority leader and an indefatigable defender of President Trump, who calls him "my Kevin." Other sizable pockets of Trump supporters live along the inland spine of the state, especially in the north near the Oregon border.
Still, there's no doubt California runs blue — so blue, people say, that its anti-Trump stance is inevitable. But that's not right; in fact, California defies Mr. Trump — and is turning even more Democratic — not for partisan reasons but because his rhetoric and actions are at odds with contemporary American values on issue after issue, as people here see it, and because he seems intent on ignoring the nation's present and future in favor of pushing back the clock.
California doesn't just oppose Mr. Trump; it offers a better alternative to the America he promises. While Mr. Trump makes hollow promises to states ravaged by the decline of the coal industry, California has been a leader in creating new jobs through renewable energy.
While Mr. Trump plays the racism card, California pulls in immigrants from all over the world. For California, immigration is not an issue to be exploited to inflame hate and assuage the economic insecurities of those who feel displaced by the 21st-century economy, it's what keeps the state economy churning.
For us, immigration is not a "Latino" issue. The state's white population arrived so recently that all of us retain a sense of our immigrant status. My great-great-grandfather Gerhard Kettmann left Germany in 1849 and made his way to California during the Gold Rush. That's why everyone is able to unite, even in our diversity.
And the draw of California is more powerful than ever. People come not only from countries around the globe to work in Silicon Valley — more than seven in 10 of those employed in tech jobs in San Jose were born outside the United States, according to census data analyzed by The Seattle Times — they come from all over the country.
It seems as if every other idealistic young person who worked in the Obama White House or on the Hillary Clinton presidential campaign later moved to California. All these new arrivals create major problems, from housing shortages to insane Los Angeles-style traffic in Silicon Valley. They also create a critical mass of innovation.
Lt. Gov. Gavin Newsom
Many Californians see the next decade as a pivot point, when decisions about the environment and the economy will shape America's future for generations to come. "It's 'Mad Max' or 'Star Trek,'" said Gavin Newsom, the lieutenant governor and leading candidate to succeed Governor Brown. It's no mystery which movie he thinks Mr. Trump is directing.
Nationally, Mr. Newsom is known mostly as a cultural pioneer, having allowed same-sex marriage as the mayor of San Francisco in 2004 — among the first big-city mayors to do so. But he sees himself in more pragmatic terms, more like a latter-day Robert Kennedy, a believer in the idea that government can do more for the people if it's smarter about trying new ideas and updating old assumptions.
Mr. Newsom doesn't mind making bold claims, and he and his main Democratic challenger, the former Los Angeles mayor Antonio Villaraigosa, are both vowing to build 500,000 homes in California every year for seven years. He also wants to provide single-payer health care to everyone in the state and commit the state to 100 percent renewable energy for its electricity needs. Sure, these are campaign promises — but in California, they suddenly seem like practical, feasible ideas.
California for years was divided between its main population centers. Northern California, birthplace of Berkeley's Free Speech Movement in 1964 and the Summer of Love in San Francisco later that decade, was often at odds with large sections of Southern California, particularly Orange County, a bastion of suburban Republicans.
That divide is eroding. Orange County even went for Hillary Clinton in 2016. California remains diverse culturally, but politically, it is increasingly unified. That can be a potent engine for social and economic progress; it can also be an excuse for insularity and political grandstanding.
The key, many of the state's politicians say, is to promote the former without falling into the trap of the latter — no easy task at a time when many Californians see their state as the base of the anti-Trump resistance.
Vivek Viswanathan running for state treasurer of California
Take Vivek Viswanathan. Raised on Long Island by parents who immigrated from India, he did policy work for the Hillary Clinton presidential campaign and Governor Brown and is now running for state treasurer.
It would be easy for him to run far to the left, mixing anti-Trump rhetoric with unrealistic policy promises. Instead, he wants America to see a different California — a state that mixes pragmatism and progressivism.
"I'm one of those people that think the threats that we face from Washington are very real, and not just to the resources we need, but the values that make us who we are," he said. "California is really a model for what the country can be if we make the right choices."
The first test of a unified California's newfound political heft could come this fall. Democrats need to pick up 24 seats in the House of Representatives to win control of it, and they have their eye on seven California districts carried by Mrs. Clinton in 2016 that have Republican incumbents, including four that are wholly or in part in Orange County.
Further north, in the Central Valley, a deputy district attorney for Fresno County named Andrew Janz is running a surprisingly competitive race against Devin Nunes, the chairman of the House Intelligence Committee. Mr. Nunes has used his position to defend the president, while providing little congressional oversight — something that doesn't sit well with even moderate California Republicans.
"The momentum is definitely on our side," Mr. Janz told me. "My opponent is more concerned about blaming Democrats than getting the job done. The people here honestly want Nunes to focus less on creating these fake controversies and more on doing the work that's required to move us along into the 21st century here in the Central Valley."
Again and again, this is the message coming from the state's rising politicians — anger with the president and his allies not out of an ideological commitment, but because the president seems more interested in personal gain than national progress.
The more visionary among California's leaders, including Mr. Newsom, recognize that their state has the highest poverty rate in the country, by some measures, and that addressing the problem — through affordable housing, job programs and early education — has to be a priority. To the extent these are national problems, too, other states may soon be looking to Sacramento, not Washington, for leadership.
It's also a given that one or more Californians could figure prominently in the 2020 presidential race, including Ms. Harris, a first-term senator who has gained a reputation for her withering examinations of the president's cabinet nominees. Mr. Newsom, particularly if he wins the governor's race this year by a convincing margin, could also make the jump to the national stage, following Ronald Reagan and Jerry Brown.
Billionaire Tom Steyer is the "Impeachment Guy" who has spent millions of dollars on television ads in which he speaks to the camera directly and makes a case for the urgent need to impeach President Trump.
To see how different the stereotype of California is from the reality, consider another of the state's rising political figures, the billionaire Tom Steyer.
To most people in Washington or New York, Mr. Steyer is the "Impeachment Guy" who has spent millions of dollars on television ads in which he speaks to the camera directly and makes a case for the urgent need to impeach President Trump. Impeachment is a widely popular idea among Democrats, but political realists say it's unlikely to happen absent a Democratic surge in the midterm elections — in other words, that's California for you.
But at home, Mr. Steyer is anything but a dreamer. His organization NextGen America focuses on developing solutions to climate change and economic inequality, issues that resonate here, especially among the young. The goal is to show the way not through talk, not through TV ads, but through action.
"I think California has this great advantage, which is we have a functioning democracy," Mr. Steyer said in a recent interview. "With all our problems — and we have a lot of them, the biggest one being economic inequality — we have a spirit in business and in politics that says, sure, there are big problems, but we can address them. That spirit is a great advantage and it's not true in Washington, D.C., right now."
Steyer's bet — and that of millions of others in my state — is that soon, California will pick up the slack.
Steve Kettmann, a columnist for The Santa Cruz Sentinel, is a co-director of the Wellstone Center in the Redwoods.
Follow The New York Times Opinion section on Facebook and Twitter (@NYTopinion), and sign up for the Opinion Today newsletter.

A version of this article appears in print on , on Page SR1 of the New York edition with the headline: The Californization Of American Politics.
Order Reprints
|
Today's Paper