July 11, 2018
What are our Malaysian values,Dr. Mahathir?
by Mariam Mokhtar
What happened to his Bangsa Malaysia? It became Bangsat Malaysia. Let us get real and ask ourselves whether Mahathir 2.0 a reformer that we make him out to be.
COMMENT | Is Pakatan Harapan(Dr. Mahathir Mohamad in particular) deliberately insulting our intelligence, and lying to us, about a foreigner, who condones the hatred of non-Muslims, and who has been given Malaysian Permanent Residency (PR), and allowed to remain in the country?
This is not fair! Malaysian children born out of wedlock, the Orang Asli who delay the registration of the births of their children, and children born to illiterate estate dwelling Malaysians, are all deemed stateless.
For many, GE14 was a declaration of our desire to be ruled by common sense and the rule of law. Determined to postpone criticism until the 100-day mark has been difficult, especially with the development of disturbing trends.
How can the women in Harapan sit still when, in 21st Century Malaysia, child marriages still occur? The 11-year-old who was married to a 41-year-old man is not the first to create headlines.
Would Harapan MPs condemn their own children to a similar fate? Will they stop hiding behind the Muslim man's assertion that it is his right to marry an underage child and have four wives, even though he can barely afford to feed himself?
Malaysians did not vote Harapan for our MPs to allow JAKIM (Department of Islamic Development Malaysia) to keep its bloated budget and continue its divisive work. Malaysia must stop exporting extremism. Perhaps, Muslim Harapan MPs need reminding that they can be kicked out of office, in GE-15.
Malaysia will put you in jail: Don't waste our time, just plea bargain and go to jail
When in the history of Malaysian justice has a criminal been allowed to barter his bail? When has a criminal been able to manipulate the language used in the High Courts? The disgraced former Prime Minister, Najib Abdul Razak appears to be calling the shots from behind the scenes. Why?
Malaysia is perhaps the only nation where many of its citizens are afraid of their own nationality. At the height of Najib's 1MDB scandal, many Malaysians, when overseas, were ashamed to admit they were Malaysian, as Najib represented corruption and a complete lack of moral fibre.
At home, we seldom talk about Malaysian values. We only refer to Malay, Chinese or Indian values, many of which are common to all the cultures, like family ties and filial piety.
Rebuilding Malaysia is about giving people hope
It took a lot of courage for many Malaysians, to take a leap in the dark and vote for Harapan in GE-14, thus ending 61 years of oppression.
Phase I in rebuilding Malaysia, was about giving people hope. That was the easy part. Phase II, which is currently experiencing a multitude of teething problems, is re-establishing Malaysian values. It is long term work.
In Phase I, we ejected Najib and UMNO-Baru from Putrajaya. It was about giving people control of their own destiny because change is possible, if we acknowledge that the first step towards change is always the most difficult.
In Phase II, we need to forge a Malaysian identity, and for that we need to re-establish Malaysian values; the values that have been eroded by 61 years of corruption and criminality.
We should try to live by Malaysian values in our daily lives. We have a common aspiration and we should derive our Malaysian values from the various aspects of our rich multi-cultural heritage.
If we were to ask the average Malay about his definition of Malaysian values, he would probably refer to Arabic, Islamic values.
For the Malays, religion can be a stumbling block to the forging of a common Malaysian identity. We have become more Arabicised and adopted Arabic phrases and clothing, because we confuse the adoption of Arab culture with being a better Muslim. We crave to be the perfect Muslim and become worse humans because of this. Our interpretation of the religion, has corrupted our morals. Don't blame the religion.
Today's Malay is blinded by materialism and the promotion of the self. Can he remember the core values of his grandparents' generation? The community spirit, the engagement and interaction with people of other cultures, are largely missing. What happened to having a bit of fun, like dancing the joget at a wedding, attending a rock concert, or performing a ballet, and not feeling guilty about it?
Many Muslims have been so cowed by JAKIM, that they are afraid to speak out against it, even though they hate the organisation; just as they were afraid to speak out against UMNO-Baru, which they also hated, because they knew it was oppressing them.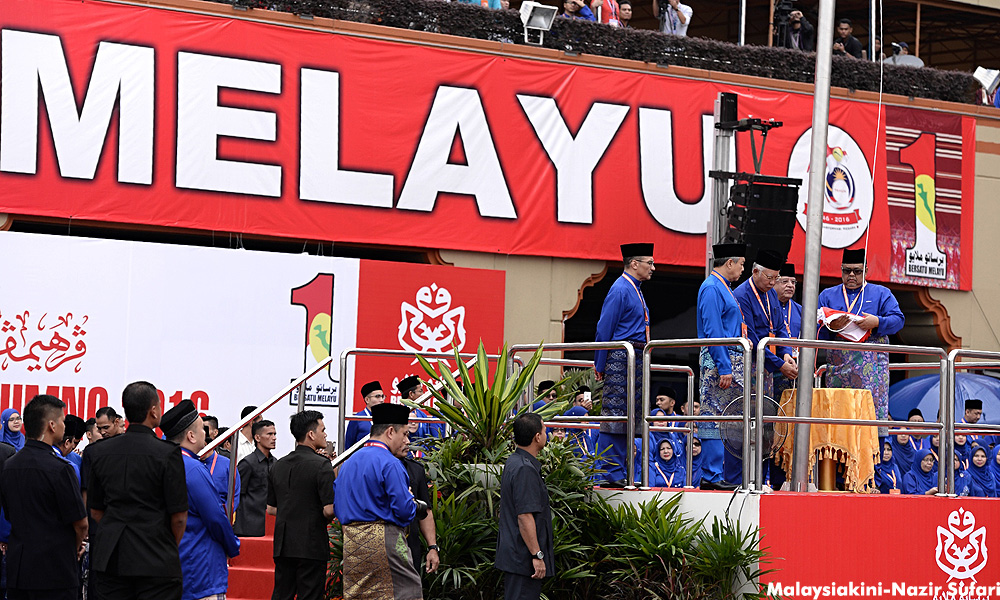 Under UMNO-Baru, the Malays were force-fed a diet of quasi-superiority and bumiputeraism. They looked down on non-Malays, even though this group thrived and became successful by a combination of thrift, true grit, hard work, struggle and sacrifice.
In many parts of the world, including Malaysia, the young have been exposed to Western lifestyles. This has eroded our own core Asian values, like personal sacrifice, and family ties.
Two of the five "Singaporean values" are "putting the nation before community, and society above self" as well as making the "family as the basic unit of society".
"Japanese values" are steeped in family, work, thinking of others, doing one's best, and social interactions.
"English values" are incorporated in democracy, the rule of law, individual liberty and mutual respect and tolerance for those of different faiths and beliefs.
The forging of Malaysian values does not diminish our individual cultural values. On the contrary, Malaysian values should help bring down barriers and forge closer ties with the other communities.
In the spirit of the new Malaysia, let us re-establish our Malaysian values. Those values are familiar to all those who grew up before the 1980s.
---
MARIAM MOKHTAR is a defender of the truth, the admiral-general of the Green Bean Army and president of the Perak Liberation Organisation (PLO). Blog, Twitter.
The views expressed here are those of the author/contributor and do not necessarily represent the views of Malaysiakini.