September 11, 2018
Time for Malaysian Bar Council to act against Shafee Abdullah
by Malaysiakini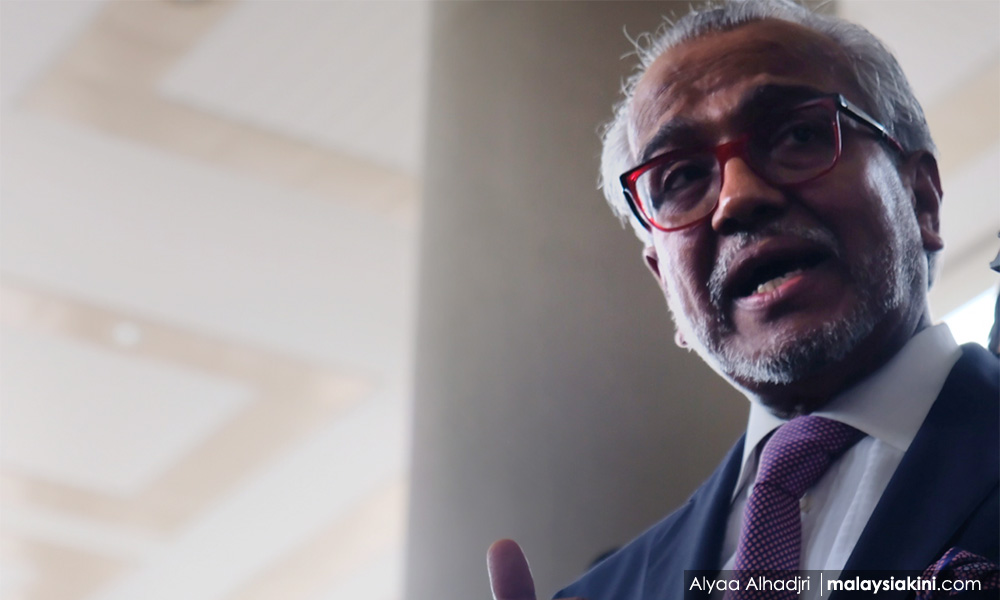 Arrogance is this outstanding lawyer's Waterloo. I watched Tan Sri Shafee Abdullah in action during the Dato Ramli Corruption Trials. He was brilliant, earning the presiding judge's respect and consideration.A man of his talent and legal reputation does not need the money. His gamble is likely to bring an end to his brilliant career as a prosecutor and defence attorney. –Din Merican
The Bar Council has been urged to take action against lawyer Muhammad Shafee Abdullah for allegedly receiving RM9.5 million from former Prime Minister Najib Abdul Razak.
"We urge the Bar Council to uphold the Rule of Law and to invoke the provisions stipulated in the Legal Profession Act 1976 and to take necessary action against Shafee inter alia, by lodging a complaint with the disciplinary board," Perak DAP legal bureau chief Leong Cheok Keng said in a statement today.
Shafee purportedly received the payment for his services as special prosecutor in PKR President-elect Anwar Ibrahim's appeals against his Sodomy II conviction in the Court of Appeal and Federal Court.
According to Leong, the Perak DAP legal bureau believes that Anwar may have been denied a fair trial as Shafee had not acted independently in the appeal, but for "financial or pecuniary interest."
"An advocate and solicitor is duty bound, even when, or more so when, acting as a senior deputy public prosecutor to uphold the law, the dignity and the high standing of the profession at all times, and shall not practise any deception on the court and shall not accept a brief if his professional conduct is likely to be impugned," he said. This is all laid out by the Legal Profession (Practice and Etiquette) Rules 1978, he added.
As such, he said he believes Shafee may have committed misconduct in his professional capacity, which amounts to grave impropriety and is subject to disciplinary actions by the Advocates & Solicitors Disciplinary Board.
On Sept 6, it was reported that the Attorney-General's Chambers (AG-C) submitted "new information" to the Court of Appeal that showed Najib paid RM9.5 million to Shafee between 2013 and 2014.
The evidence was submitted by a special task officer to the attorney-general in an affidavit, which included transaction details of Najib's and Shafee's bank accounts. It also included a copy of two cheques from Najib dated September 11, 2013, and February 14, 2014, to Shafee for RM4.3 million and RM5.2 million respectively.
However, Shafee has since responded to this, admitting yesterday that he received the RM9.5 million from Najib, but that it was merely part of fees owed to him for legal services rendered to Umno and BN since the 1990s.
Shafee also alleged that it was Prime Minister Dr Mahathir Mohamad who had pushed for him to be appointed special prosecutor in Anwar's trial.
In 2010, Anwar was charged and tried with sodomy for the second time, this time involving his former aide Mohd Saiful Bukhari Azlan.
The High Court in Kuala Lumpur cleared Anwar of the charge, but the prosecution appealed, this time with Shafee being put in charge as special prosecutor.
The Court of Appeal then overturned Anwar's acquittal in 2014, which was reaffirmed by the Federal Court in February 2015.
Anwar received a royal pardon for the conviction in May. He had argued at the Kuala Lumpur High Court that he was denied a fair trial because his prosecutor had received payment from Najib. The appellate court is set to hear his appeal on September 14.