February 8, 2019
Remembering Tunku's words on his 116th birthday
MP SPEAKS | Today is the 116th anniversary of the birthday of Malaysia's first prime minister Tunku Abdul Rahman.
Thirty-six years ago, on Feb 8, 1983, on his 80th birthday, Tunku issued the clear public message that plural Malaysia should not be turned into an Islamic State.
Four days later, on Feb 12, 1983, on the occasion of his 61st birthday, the Third Prime Minister  Tun Hussein Onn publicly supported Tunku's call.
In fact, Tunku told Parliament on May 1, 1958: "I would like to make it clear that this country is not an Islamic state as it is generally understood; we merely provided that Islam shall be the official religion of the state."
It is most appropriate to remember this history when we watch the MCA president Wee Ka Siong turn and twist in his histrionics to justify something the founding fathers of MCA, whether or not Tan Cheng Lock or Tan Siew Sin would have approved, the political co-operation with PAS under the leadership of Abdul Hadi Awang – who is reviving Islamic State rhetoric and espousing the most toxic and vicious brand of politics of lies, hate, fear, race and religion to sow suspicion, distrust and hatred among the races and religions in Malaysia.
Wee need not reply to the question whether he is aware that he would have lost his deposit in Ayer Hitam parliamentary seat in the 14th general election under the Hadi's dictum that Muslims must vote for Muslim candidates, for all Malaysians know the answer.
DAP has never denied that we had worked with PAS in the Barisan alternative from 1999 to 2001 and Pakatan Rakyat from 2008 to 2015, but DAP's co-operation with PAS was based on principles – not opportunism or expediency.
DAP leaders believe that Malaysia should be an international showcase of inter-religious and inter-civilisational dialogue, tolerance and understanding instead of being an example of a "clash of civilisations".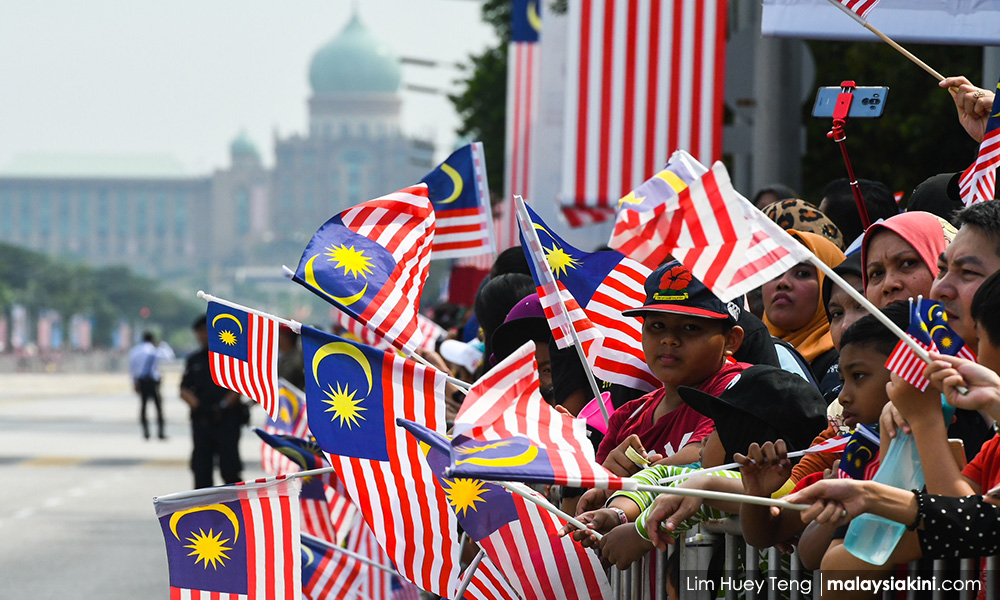 To achieve this, Malaysians must engage with a political Islam that recognises Malaysia as a plural society and believes that Malaysia's greatness comes from the leveraging of the assets and best qualities from the diverse races, religions, languages and civilisations that meet in confluence in Malaysia, building tolerance, trust and confidence among the races and religions and not sow suspicion, distrust, fear and hatred among the races and religions.
DAP leaders were prepared to pay a heavy price to achieve this national goal, including being defeated in the 10th general election in 1999 when Karpal Singh and I were defeated in the Jelutong and Bukit Bendera parliamentary seats, respectively.
This is when the voters succumbed to the Gerakan/MCA propaganda against Barisan Alternative with the politics of lies and fear that a vote for DAP was a vote for PAS and an Islamic state, and that if I was elected, the Chinese could not eat pork, take alcohol and go to temples, while beautiful women woud not be able to find jobs and that there would be a chopping of hands and feet.
The Barisan Alternative would not have been formed if PAS was not prepared to respect the opposition of DAP, Parti Keadilan and PRM to an Islamic State, focusing instead on the common objectives of restoring justice, freedom, democracy and good governance in Malaysia.
After the 1999 general election however, PAS leaders disregarded the opposition of the other component parties of Barisan Alternative to an Islamic State.
The issue confronting Barisan Alternative was whether the PAS leaders were prepared to abide by the BN consensus and respect the DAP's opposition to an Islamic State in a multi-racial and multi-religious Malaysia was not compatible with parliamentary democracy, power-sharing in a plural society, human rights and individual freedoms, women's rights and social tolerance.
DAP had no hesitation to break our co-operation with PAS in 2001 when PAS reneged on the common Alternative Front manifesto "Towards a Just Malaysia".
When the second DAP-PAS cooperation occurred with the formation of Pakatan Rakyat on April 1, 2008, after the "political tsunami" of the general election that year, it was based on a joint commitment "to uphold the rights and interests of all Malaysians, regardless of religion or race, as enshrined in the Constitution".
But Hadi's insistence to raise the Islamic State issue caused a crisis in Pakatan Rakyat, which was saved from dissolution after a late-night meeting of Pakatan Rakyat leaders on Sept 28, 2011, resulting in a joint statement by the leaders of the three parties in the coalition reaffirming their resolve to continue giving priority to Pakatan Rakyat's common policy framework and consensus.
This common policy framework and consensus excluded Islamic State and hudud and there was the clear understanding that any policy change in Pakatan Rakyat would need the agreement of all three component parties.
Before the 13th general election, DAP rebuffed PAS overture for Hadi to replace Anwar Ibrahim as Prime Minister-designate of Pakatan Rakyat.
After the 13th general election, the Islamic State and hudud issues re-surfaced and Pakatan Rakyat faced its demise in 2015 when Hadi persisted with the goal of implementing hudud in violation of the coalition's common policy framework.
Now Hadi condemns DAP as an "enemy of Islam". But during the Teluk Intan by-election in May 2014, Hadi was full of praise for DAP and recalled that it was DAP that defended PAS when the Kelantan government fell in 1978.
Although BN was working with PAS then, BN did nothing to help them.
Hadi said in the Teluk Intan by-election: "Only DAP defended us that time and we are grateful to them."
At that time, PAS followed the true teachings of Islam and was a strong opponent of corruption and abuses of power – but subsequently, Hadi took PAS through a major transformation by giving former prime minister Najib Razak support for turning Malaysia into a global kleptocracy!
DAP is always a "friend of Islam" which is moderate and tolerant which will make Malaysia a world top-class nation and not an extremist and intolerant Islam which divide Malaysians and will destroy the Malaysian dream.
I had wondered why Hadi has suddenly attacked DAP as an "enemy of Islam".
The reason is quite obvious – to divert public attention from Hadi's withdrawal of his legal suit against Sarawak Report editor Clare Rewcastle-Brown and an out-of-court settlement which allowed the original Sarawak Report article on Najib giving RM90 million to PAS to remain online and Unretracted.
This bring us to the question of why MCA is co-operating with PAS when Hadi is reviving the Islamic State rhetoric and espousing the most vicious and toxic politics of lies, hate, fear, race and religion to divide Malaysians in post-GE14 Malaysia?
---
LIM KIT SIANG is the MP for Iskandar Puteri.
The views expressed here are those of the author/contributor and do not necessarily represent the views of Malaysiakini.