February 20, 2018
Comments of an UMNO serf in a resurgent feudal society-"Don't slander Rosmah over jet ride, Dr M told."
https://www.malaysiakini.com/news/412260

The UMNO Serf- Rizal Mansor
The Special Officer to the Prime Minister's wife, Rizal Mansor, said it was regretful that a statesperson such as Dr Mahathir Mohamad would resort to slander Rosmah Mansor.
"How can a statesperson (like Mahathir) listen to and believe in such hearsay? As a statesperson, he should check and research facts before making accusations. "Don't put political interests above laws and adab (civility) until you create slander," Rizal said in a statement uploaded onto Umno Online today.
He was referring to a video clip that depicted Mahathir's speech, where he criticised Rosmah for boarding a private jet, unaccompanied by her husband.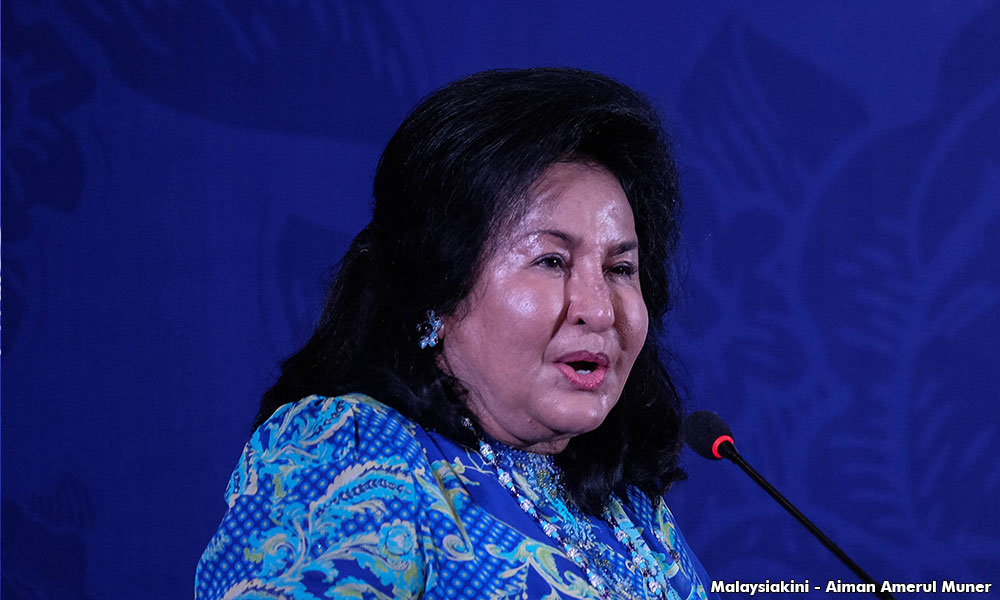 Is her conduct and extravagant lifestyle  not subject to public scrutiny? If she wants to avoid negative comment, she should stay as an ordinary housewife and  not be the First Lady of Malaysia.
Rizal reiterated his previous explanation that Rosmah's tight schedule necessitated the government having to rent a private jet for her to receive an award in Istanbul on May 25, 2016, and return to Malaysia the next day.
Also used by King and Queen
Rizal also rubbished the claim that the Airbus ACJ319 A6-CJE corporate jet was hired for Rosmah's use alone, explaining that it is also used by other dignitaries, such as the Yang di-Pertuan Agong and the Raja Permaisuri Agong.
"The jet was rented by the Malaysian government temporarily for the two-month period (May and June 2016) as a replacement for the ACJ320 9M-NAB jet that was being serviced at the time."
Rizal also slammed Mahathir's apparent attempt to paint the PM's wife as "wasteful", by countering the RM86 million jet rental figure, first brought up by PKR vice-president Rafizi Ramli based on his own calculations.
"The calculation for the RM86.4 million cost is not true at all and is intended to deceive the public. The calculation does not make any sense because Rafizi is taking the flight cost of RM60,000 an hour and multiplying it by 24 hours and 60 days.
"Of course the plane cannot fly 24 hours a day for two months," he said.
Excess baggage
In his statement, Rizal also repeated his claim that the cargo hold of the government-chartered jet used was full of the Permata Seni group's performance paraphernalia, and not Rosmah's own luggage.
Rafizi had disputed this claim at the time, pointing out that Permata Seni's performance at Istanbul's Sabiha Gokcen International Airport took place before the jet touched down in the Turkish capital that day.
After using the "Plane Finder" application in 2016, Rafizi had revealed that Rosmah used a private jet for her trip to Istanbul. He took issue with the use of the private jet chartered from the Emirates airline, since she was accepting an award on behalf of the public-funded Permata.
"She has to answer this since she was the one who took the flight, and (Prime Minister) Najib Abdul Razak too has to answer because he has to be responsible for this," he said at the time.
Rafizi had also questioned the need for the government to charter another private jet when it already has three existing aircraft. He had explained that the government has another ACJ319, the 9M-NAA, which was bought several years earlier, besides the ACJ320 9M-NAB under service that the chartered jet was supposed to replace.
Rafizi also highlighted that the government had announced that the ACJ320 9M-NAB was purchased to replace the BBJ737-700 M53-01 – which he found was still in active use, despite being advertised as being on sale in August 2015.
"I urge Najib, as Minister responsible in managing all of the government's jets, to explain why BBJ737-700 has yet to be sold and why it is still being used, as this involves the rakyat's money," he had said.