January 17,2019
Nudging  Mahathir into consensus mode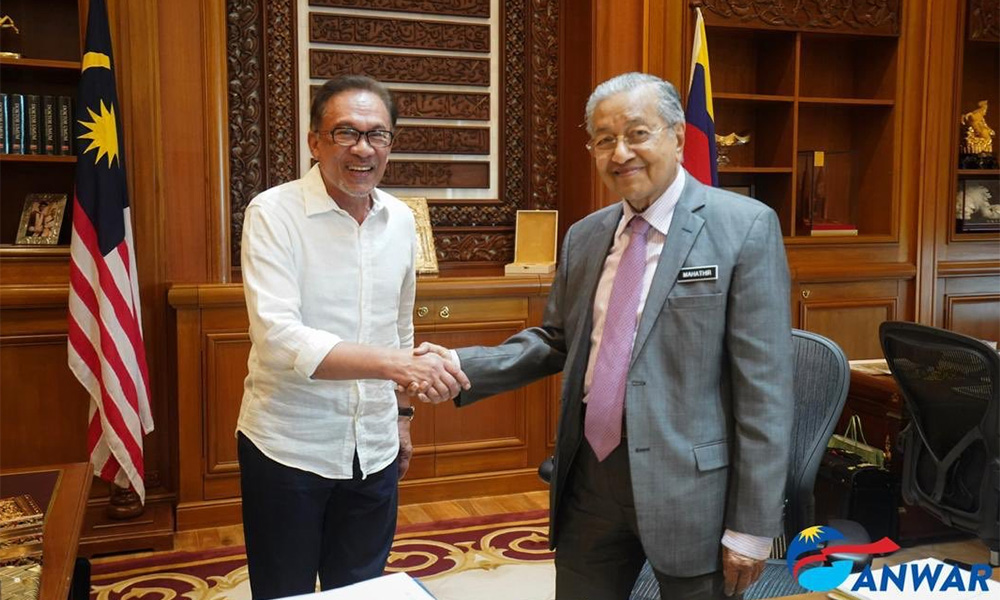 QUESTION TIME | Prime Minister Dr Mahathir Mohamad's current beef is wealth inequality, and so he wants to restart the redistribution of wealth – to Malays (and bumiputeras). This is something which I commented on here. But that's not even a stopgap measure, because acquired wealth can be sold off. It also reflects the policies of old, which have been discredited.
The only way that wealth can be increased and retained within a community is to increase incomes, rather than to distribute existing wealth, even if it is held by the government. And the only way incomes can be increased is to put in place plans to raise incomes for all Malaysians, since 67 percent of the population is bumiputera, with Malays forming 50.5 percent of the population.
The issue of wealth and income equality comes back eventually to the effectiveness of the government and how successful it has been in narrowing opportunity gaps between rich and poor through well thought out and carefully implemented programmes.
For that to happen, it is necessary for some steps to be taken. I agree that for this to happen, it is not just the duty of Mahathir, but also the partners in the Harapan coalition government, to exert force, for at the end of the day, Mahathir only commands a small minority of MPs in the coalition.
Considering that he is advanced in age and may be lacking in vitality, it is necessary for change to start from his other partners – the leaders in PKR, DAP and Amanah – who had envisioned a different plan and programme than that of Mahathir's Bersatu, a racial reconstruction of UMNO, where the membership is exclusively restricted to Malays and bumiputeras, with many of its members having come from UMNO.
Exerting influence
Thus, it is incumbent upon other leaders to push Mahathir into change and consensus mode. There are at least two ways this can be done – through the Harapan presidential council and the cabinet. First, Harapan's presidential council rightly should be the place from which all broad policies for the government should emanate.
Here is where Harapan's de facto leader Anwar Ibrahim and his wife and Deputy Prime Minister Dr Wan Azizah Wan Ismail should exert their influence after discussions with DAP leaders such as Lim Kit Siang and Lim Guan Eng, and Amanah leaders such as Mohamad Sabu, Khalid Abdul Samad and Dzulkefly Ahmad.
Since the other parties are in the vast majority in terms of their number of MPs, their combined weight should hold a lot of sway, and Mahathir can be persuaded that the policies taken should reflect that of the majority view.
If the other Harapan leaders do not take such measures and wait patiently for Mahathir to exit the scene in a year and four months from now, they must also take joint responsibility for any wrong, improper move which delay things towards an open, freer country which moves forward based on government transparency, accountability, good governance and competence.
Pushing for Anwar's inclusion in the cabinet
The other thing that the presidential council should do is to push for Anwar's inclusion in the cabinet and for him to become Deputy Prime minister like in 1998 soonest.
The other thing that the presidential council should do is to push for Anwar's inclusion in the cabinet and for him to become deputy prime minister soonest. That is the natural thing to do if Anwar is to become prime minister 16 months from now, as agreed by all the coalition partners.
That may pave the way for Wan Azizah to step down from politics, as she has said many times beforehand that she wants to do after Anwar is in the picture.
It would ensure that Anwar has enough time to have a good grasp of everything that happens in the cabinet in the lead-up to him taking over as Prime Minister. It is necessary that Harapan leaders have the gumption, courage and conviction to push for this to take place.
With the presidential council becoming a greater force in making national policy with the input of all leaders, instead of being dominated by a minority leader, even if it is Mahathir, then decision-making is likely to better reflect the true aspirations of the overall Harapan coalition instead of that of Bersatu and Mahathir – as it is now. That would reflect, too, the aspirations of voters.
Get the necessary work done
Next, the cabinet. Cabinet members seem to be waiting for Mahathir's approval before they do anything, even though it is impossible for Mahathir – or anyone else who is Prime Minister – to understand the full implications of all measures to be undertaken by the ministries.
Thus ministers should seek to take their ministries forward in terms of increased competence, work and efficiency, with full regard at all times to such key issues as integrity, honesty and doing away with patronage in decision-making and implementation. Surely no one, not even Mahathir, would fault them for coming up with good strategies and programmes for implementation that would work.
In other words, ministers should move their butts to get the necessary work done and not wait for orders and instructions from the top, who in this case is Mahathir. If they don't take the initiative to get things done much better than before, they can't turn around and blame Mahathir.
It's their job to get action plans done and present them to the cabinet for approval. If their plans are found to be good and workable, it is unlikely that Mahathir or the other members of the cabinet are going to turn them down.
These are tough times and Mahathir may well need some help to initiate changes. If he is straying from the path the coalition agreed on, who better to tell him than his coalition partners and to steer him back to the right one?
That needs courage, conviction and the willingness to face confrontation, which could eventually lead to a conciliatory path that is more beneficial to the country. After all, is that not the way of consensus, which is how the election was won by Harapan?
Next: 10 ways to increase incomes and raise living standards.
---
P GUNASEGARAM believes consensus comes out of genuine desire to find the right path. E-mail: t.p.guna@gmail.com
The views expressed here are those of the author/contributor and do not necessarily represent the views of Malaysiakini.