March 6, 2019
Why Bersatu/Harapan lost Semenyih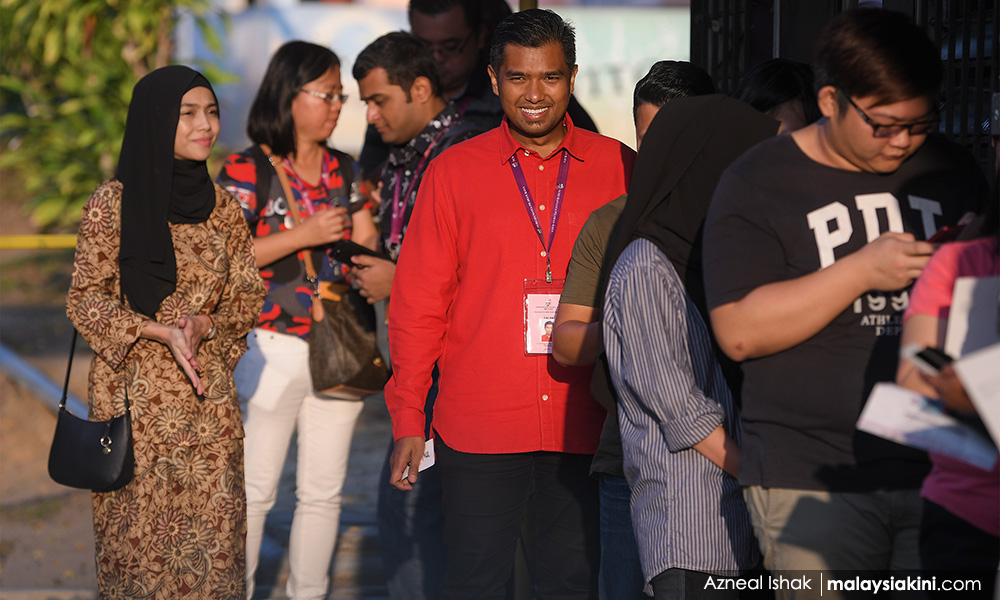 QUESTION TIME | To examine the reasons for Bersatu/Harapan's loss in Semenyih, let's first look at by how much Bersatu lost the Semenyih state seat in the by-election – this is a clear loss because Bersatu held this seat previously. Then it would be easier to look at the reasons that could have contributed to the loss.
There is one vital change from GE14 last May 9 – PAS competed against UMNO as well then, but this time only UMNO stood against Bersatu. PAS instructed its supporters to vote for Umno. The table below compares like with like – by combining Umno and PAS votes in GE14.
As Harapan should have realised by now, UMNO and PAS together are a formidable pair which will, between them, easily obtain more than 50 percent of the Malay votes most of the time. For 2018 (GE14), when we include PAS together with UMNO, the margin of victory for Bersatu/Harapan was rather slim.
The majority in 2018 was 1,988 votes (4.3 percent of total votes cast) in favour of Bersatu. It would have only required a swing of around 2 percent of votes to UMNOo for there to be a change in the results.
That's exactly what happened. UMNO won with a majority of 1,914 (4.1 percent) in the recent by-election. A vote wing of just 2 percent to UMNO was enough to win the election (50.4 percent of total votes this time, minus 46.4 percent previously divided by two, because what UMNO gains someone else loses).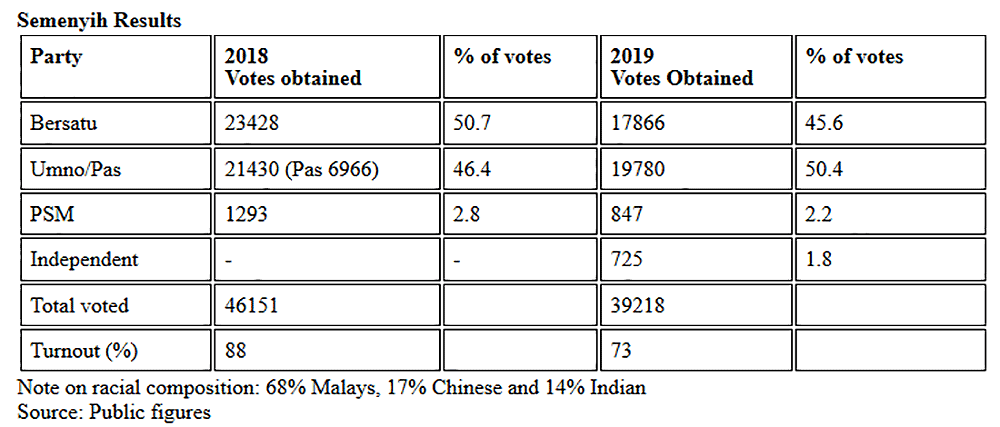 That's really tiny in the overall scheme of things, just two people out of a hundred switching to UMNO-PAS made a huge difference in this case. This reinforces what happened in Cameron Highlands recently, which shows that UMNO-PAS is a formidable new force to contend with for Harapan, one that has the potential to overthrow Harapan in GE15, unless Harapan takes corrective measures now.
Another factor that stands out starkly is the sharp drop in turnout from 88% at GE14 to just 73 percent this time, a difference of 15 percentage points. This throws out the calculations quite a lot. How these absentee voters would have voted will make a lot of difference during the general elections when they will turn out to vote.
Also, considering that non-Malays may be somewhat indifferent to the latest by-election given Bersatu's increasingly unfriendly stance towards them and its habit of accepting UMNO defectors, many non-Malay voters may have stayed away from voting, not bothering to return to cast their votes in favour of Bersatu. Thus, Harapan this time did not have the same benefit as the tremendous support shown for the coalition in the last GE by Chinese and Indian votes.
It is no secret that Harapan's strategy in the last elections in mixed constituencies was to rely on solid support from Chinese and Indian voters, generally estimated to be 90 percent and 80 percent of the races respectively, and then depend on about 30-35 percent Malay support to deliver a majority.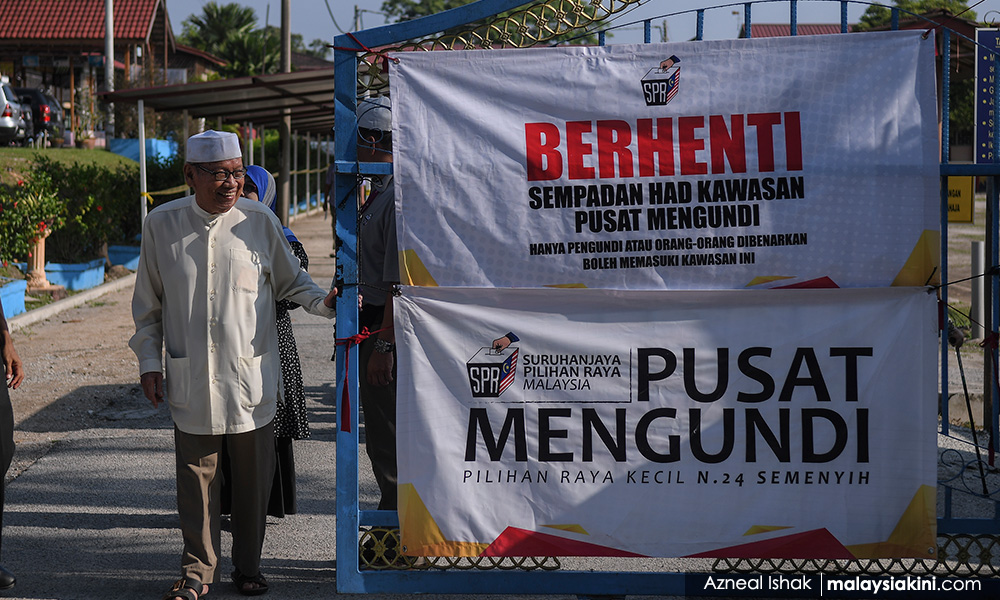 If we take Semenyih, for instance, it is 68 percent Malay, 17 percent Chinese and 14 percent Indian. Some 90 percent of Chinese support delivers 15.3 percent, while 80 percent of Indian support delivers 11.2 percent, to give 26.5 percent of votes. That means just over 23.5 percent from the Malay vote will be enough to deliver the seat. The figure of 25.3 percent is 34.5 percent of the 68 percent Malays. Thus, with about 35 percent Malay support, it is possible for Harapan to win, even though 65 percent of the Malay support goes to UMNO-PAS.
This was the underlying factor for Harapan's success in the last elections. It is a reflection of advocating policies which help all Malaysians and not just the Malays. If Bersatu chooses to be more pro-Malay than UMNO-PAS, then it faces the real danger of alienating non-Malays, and hence Harapan's election chances in future.
In the Malay heartland states of Kedah, Perlis, Kelantan and Terengganu, Bersatu did really badly in GE14. Those who abandoned UMNO turned to PAS, PKR and Amanah instead, but seemed to consider Bersatu an UMNO offshoot.
In the west coast, and in Johor Bersatu won some seats due to solid non-Malay support. Even so, they only won 13 seats out of 52 contested in Peninsular Malaysia for a win rate of just 25 percent vs 50 percent for Amanah, over 80 percent for PKR and over 90 percent for DAP in peninsular Malaysia.
The problem is Bersatu's current stance has deviated considerably from the pre-election promise of justice and equity for all, help for all impoverished groups, and continuing Malay/bumiputera privileges to gain social equity. Instead, they are now engaging in rah-rah politics much like UMNO-PAS and taking an extreme position over both race and religion in accordance with the old Ketuanan Melayu or Malay dominance concept.
That does not cut it with the Harapan promise and therefore poses a major problem to the Harapan coalition, which may be split asunder if some form of sensible compromise is not forthcoming. It is difficult, if not impossible, for one party to be so far out of alignment with Harapan's original aims.
As it stands, GE-15 promises to be a very close fight if UMNO and PAS remain aligned. The only way Harapan can increase its odds for a more clear-cut victory is to show that it can perform before the elections arrive, especially in terms of tangible benefits such as legal and electoral reforms, new ideas to revitalise the economy, raising incomes, improving education, reducing corruption and facilitating competitiveness.
Under the current circumstances, that's a tall order. We will have to live with uncertainty for now. Out of entropy, we may eventually get a steady state and stability. But who knows?
---
P GUNASEGARAM likes this quote from Joshua Edward Smith in Entropy -"Keeping things stable takes energy". E-mail: t.p.guna@gmail.com.
The views expressed here are those of the author/contributor and do not necessarily represent the views of Malaysiakini.