October 15, 2017
I am Sarawakian. I am a Paloi (Fool)?
by Francis Paul Siah
COMMENT | "Orang Sarawak bukan bodoh, kata ketua menterinya" (The people of Sarawak are not fools, says Sarawak Chief Minister) was the header in many Bahasa Malaysia newspapers and news portals a week ago.
This proud and oft-repeated remark came from Chief Minister Abang Johari Abang Openg at a town hall session with some 5,000 Sarawakian diasporas in the Peninsula, as he took a swipe at former Prime Minister Dr Mahathir Mohamad who is now chairperson of the opposition Pakatan Harapan.
Oh really, Sarawakians are not fools? Well, maybe not most of the time. But I will be honest. As a Sarawakian, I have to admit, almost grudgingly, that I have been a fool at times – made some stupid decisions not beneficial to my home state and fellow Sarawakians and am now living in remorse and regret over them.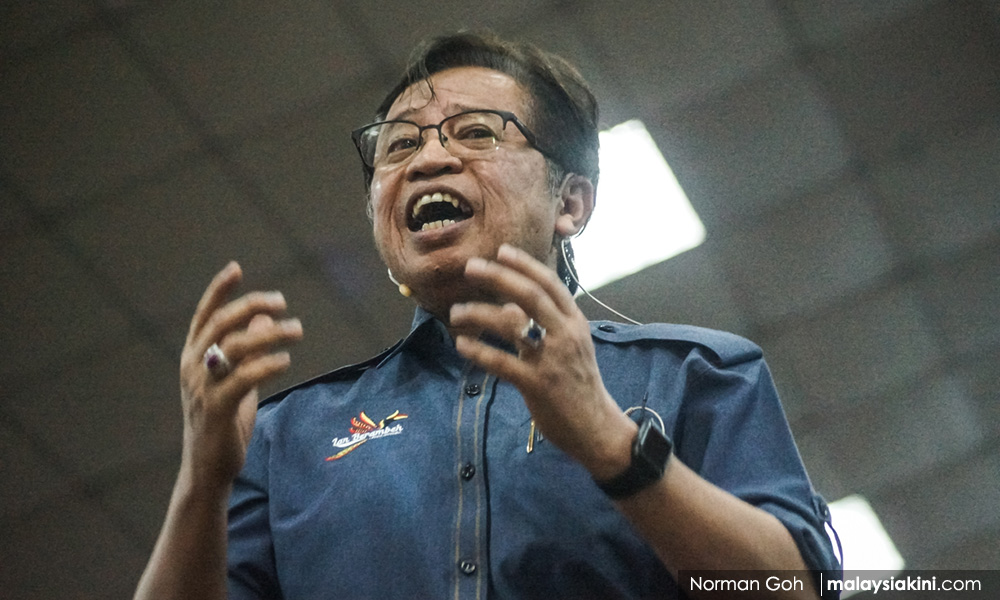 Of course, for Abang Jo (photo), who is in power and feeling on top of the world as the state's chief executive, it would be pretty dumb of him to say that Sarawakians, the people whom he is supposed to lead, are fools.
Abang Jo is such a nice and decent guy, to the extent that many find him boringly nice. He does not beat around the bush and tells you as it is – you already know what his next sentence is even before he says it. In a nutshell – he is very plain. (Think nasi lemak, without the ikan bilis and sambal).
Sarawakians miss Adenan Satem. I do too. He was a breath of fresh air, after 33 years of the "White Hair". Sadly, he came on board to helm Sarawak too late in his life and didn't have the time to do more.
So, what did Abang Jo actually say when he met Sarawakians in Kuala Lumpur recently? According to a Malaysiakini report, the Chief Minister reminded Mahathir that Sarawakians are not fools who can be lied to.
He cited the Pan Borneo Highway as one example of Prime Minister Najib Abdul Razak's contributions to the state, a request which has been made since the time of Mahathir's 22-year rule.
"Sarawakians are people with principles… We want politics that can deliver," said Abang Johari, who claimed that Mahathir has since sacrificed his own principles by working together with DAP stalwart Lim Kit Siang, whom he had demonised in the past.
"Let us determine our own destiny. Orang Sarawak bukan paloi (Sarawakians are no fools)… Don't bluff us," he said in pledging to continue negotiations with Putrajaya to reclaim Sarawak's rights as provided under the Federal Constitution and Malaysia Agreement 1963.
Abang Johari earlier recalled his time serving as a state minister and difficulties to obtain funds for development, while Mahathir was still Prime Minister.
"At the time I was a minister in the (state) cabinet. We had asked if the (federal government under Mahathir) can build coastal roads," he said, adding that the promises made were never fulfilled due to alleged short of funds.
"But when Najib came (into power), they (promised to) build roads like in the peninsula… So smooth!," he said at the annual event dubbed Lan Berambeh Anak Sarawak, now in its 10th year, held at the Putra World Trade Centre in Kuala Lumpur.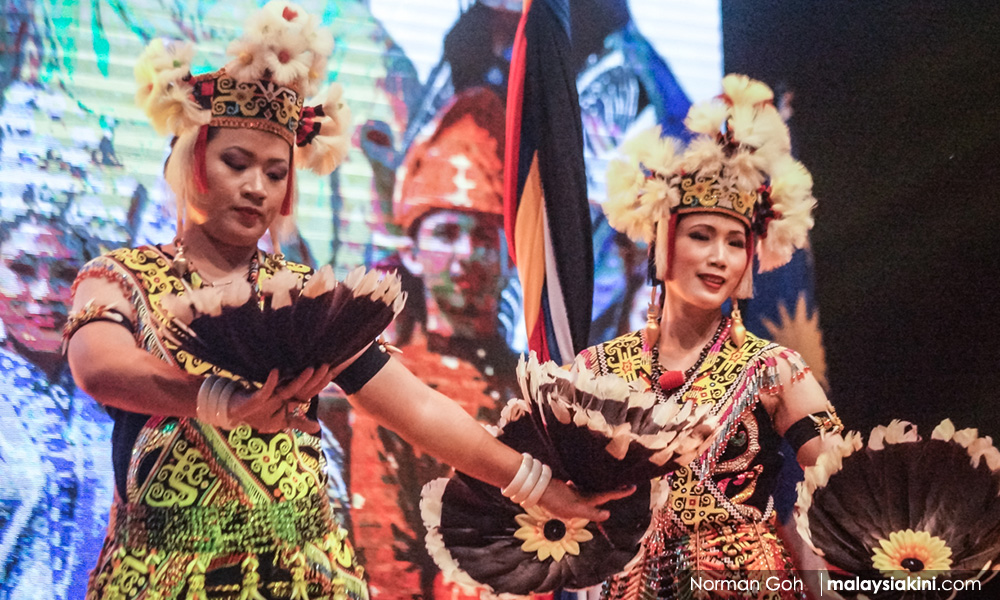 The 2,325km Pan Borneo Highway, across Sarawak and Sabah, was first announced as part of Barisan Nasional's manifesto during the 13th general election and later formalised in Budget 2015.
When met by reporters later, Abang Johari described the questions asked during the one-hour session as an indication that Sarawakians in the Peninsula are happy with his administration of the state.
Among others, he cited questions raised on various state policies, including matters which touch on negotiations with Putrajaya for more rights to royalty from oil and gas activities.
'Putrajaya leadership today is more open'
"During Mahathir's time, we can't ask these questions because we are in fear. Alhamdulillah the leadership in Putrajaya today is more open (to negotiations)," he added.
To Abang Jo, I salute you for your new-found courage in coming out to slam Mahathir now. I am with you on your many statements of disappointment and disillusionment with the Mahathir (photo) administration. I believe they are true.
But I must also let you know why, as a Sarawakian, I am bodoh and still feel like a fool.
This is why. In 1963, when Sarawak was enticed to team up with Malaya, Sabah and Singapore to form the new nation of Malaysia, I just signed the agreement without really understanding its fine print.
I was just impressed when Tunku Abdul Rahman Putra brought me to Kuala Lumpur and showed me the development taking place. He promised me that Sarawak would progress in a similar fashion if I sign up.
Then some British fellows brought me to London in a big plane. Wow, that was the first time I had flown to a foreign land. I felt very important sitting down with the "Orang Puteh" to discuss the Malaysia Agreement 1963 (MA63). Then, I sat at the high table (a British tradition for VIPs) and tucked in heartily at the many sumptuous dinners, not forgetting the fine whisky and brandy, offered.
Upon my return, I affixed my signature on the MA63, never bothered to think nor understand why my fellow Sarawakians, Ong Kee Hui, Stephen Yong and others from the Sarawak United People's Party (SUPP), were opposed to it.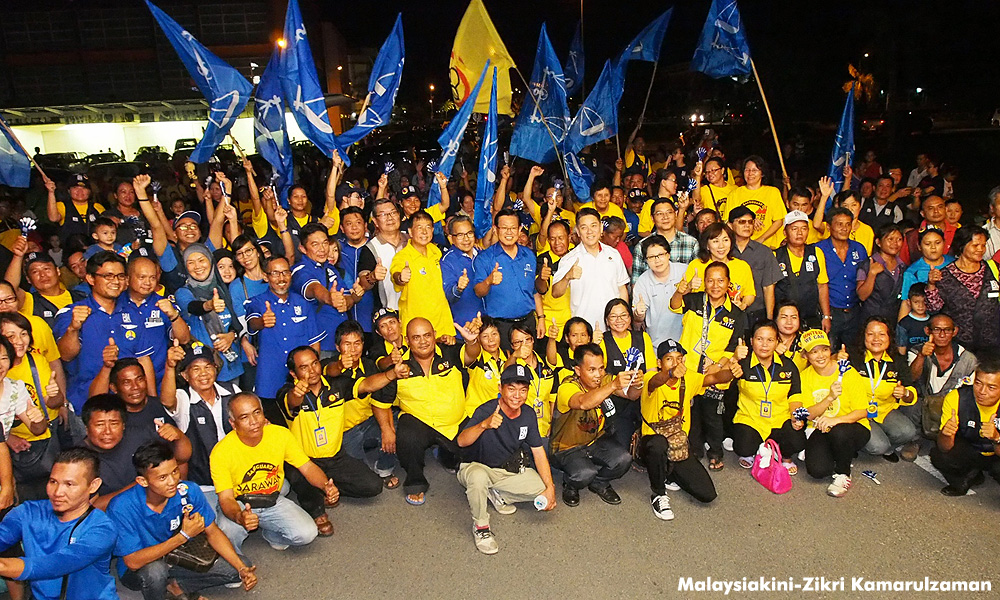 Now 54 years later and with the growing voices of discontent among my fellow Sarawakians towards Malaya, with some even calling for secession, my conscience suddenly pricks me. Did I betray my dear homeland, Sarawak, and my people by signing the MA63 without fully understanding its implications?
I think I have to concede that it was foolish of me to sign MA63 blindly. I was bodoh.
If not, why must Abang Jo pledge to continue negotiations with Putrajaya to reclaim Sarawak's rights as provided under the Federal Constitution and MA63?
About the Pan Borneo Highway, I am happy that, at long last, my home state will have a superhighway. I am happy too that the Barisan Nasional, under the dynamic and caring PM Najib Abdul Razak, now sees it fit to keep his pledge made during the 2013 general election.
Questions on Pan Borneo Highway
But I am also bodoh because I am afraid to ask pertinent questions surrounding the multi-billion ringgit Pan Borneo Highway project.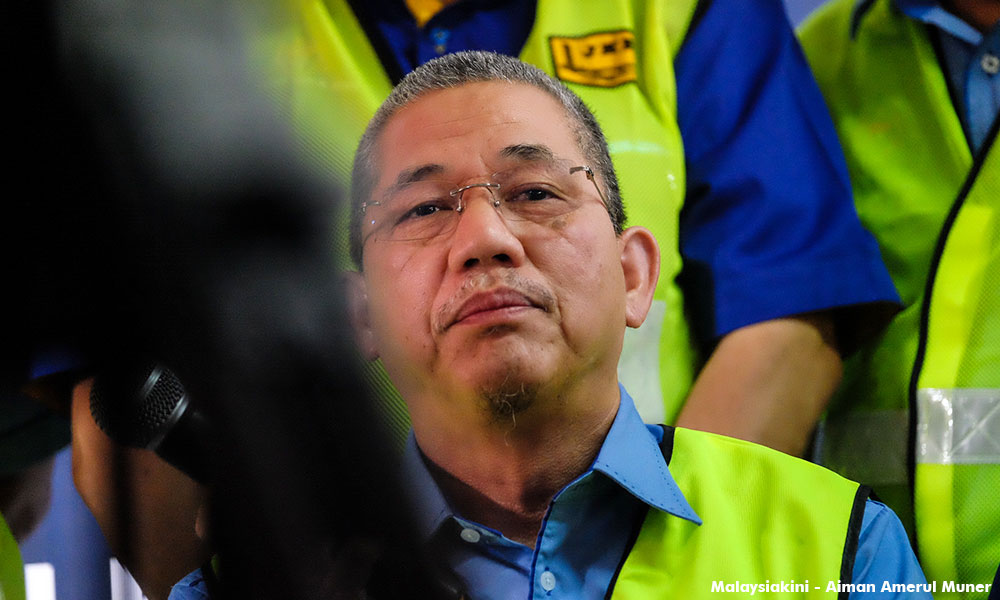 The first question I didn't ask and, which I should is: "Why was Fadillah Yusof (photo), a relatively unknown leader of Abang Jo's Parti Pesaka Bumiputra Bersatu (PBB) suddenly appointed to head the senior Works Ministry in the federal cabinet in 2013?"
Fadillah is only the PBB Youth leader. Never has a junior person like a PBB Youth leader ever been entrusted with a senior federal ministry. Hey, the Works Ministry was helmed by none other than the MIC supremo S Samy Vellu for years.
Even the UMNO Youth leader and chairperson of BN Youth, Khairy Jamaluddin, was only given the junior Youth and Sports Ministry. And the MCA Youth leader, Chong Sin Woon, was only appointed as a deputy education minister. Isn't MCA the second biggest BN partner?
The next question I have not asked is: "Was Fadillah appointed as the works minister just because his brother, Bustari Yusof, is the head honcho of the Pan Borneo Highway project? And Bustari was recently described in the media as the "No 1 go-to person in the Najib administration" and "the man who quietly guides Najib's hand".
Oh, I am bodoh. I fail to see the link. So I kept quiet, even now.
Now, what about Abang Jo's allegation that Mahathir has since sacrificed his own principles by working together with DAP stalwart Lim Kit Siang (photo), whom he had demonised in the past?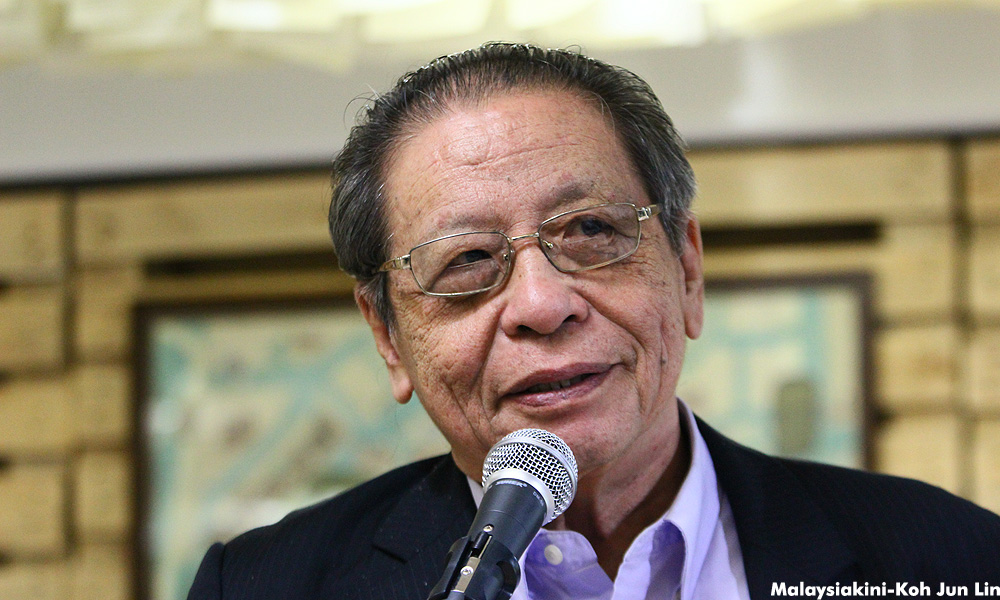 Oh, that Chinese chauvinist Kit Siang! He is a racist to the core! He has even received RM1 billion from Mahathir because Mahathir wants to be chairman of Pakatan Harapan. And Kit Siang also wants to be the next Prime minister of Malaysia. Yes, let's have a good chuckle over those allegations against the DAP veteran.
But if Kit Siang is a Chinese chauvinist and a racist, I didn't speak up against him when DAP started its foray into Sarawak in 1979. I was bodoh then.
It is now an open secret that the then Sarawak Chief Minister Abdul Rahman Yakub was the one who wanted DAP in Sarawak to compete with the Chinese-based SUPP. Rahman was having problems with SUPP, its Secretary-General Stephen Yong in particular. Rahman was a shrewd politician and a master tactician. He wanted DAP to neutralise Chinese support for SUPP.
Even though I knew it was not right to back-stab a component party member, I was afraid to speak up against Rahman because he was a powerful chief minister and he usually gets what he wants.
Now, I know I was bodoh because I didn't have the guts to put things right even though I knew it was wrong.
Today, DAP is the strongest opposition party in Sarawak. Serve me right!
Abang Jo also stated that with Najib at the helm in Putrajaya now, he would be negotiating for more rights to royalty from oil and gas activities for Sarawak.
"During Mahathir's time, we can't ask these questions because we are in fear", the chief minister said.
My interpretation is this: I lived in fear of Mahathir in the past. Now with Najib, I am not afraid anymore.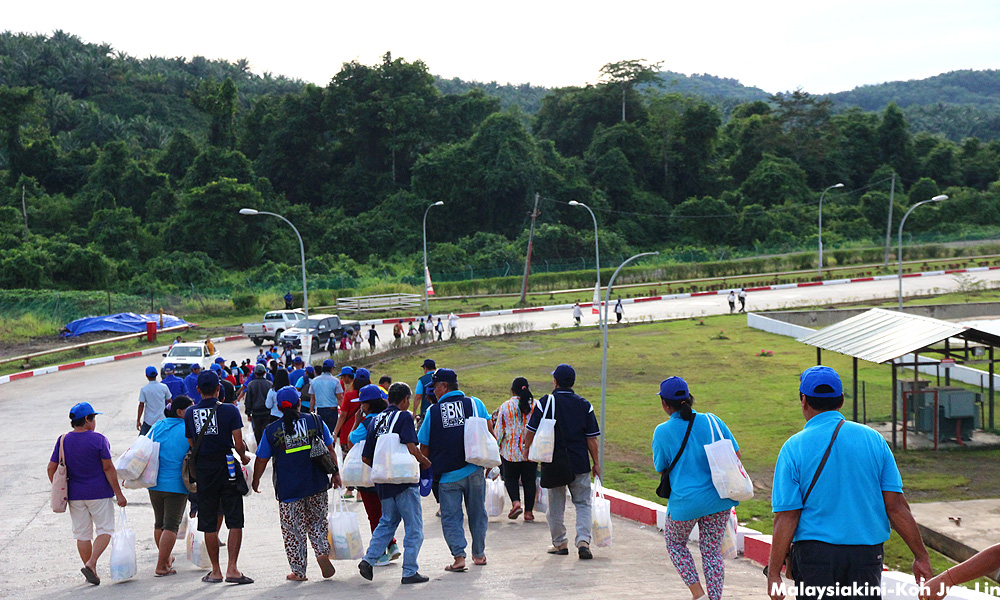 You see, I was so bodoh. Even though I am in BN, I fear Mahathir and I didn't dare to tick him off even when he did not fulfil his promises to Sarawak, for whatever reasons.
But with Najib now, I dare to do so. Come to think of it, I am still bodoh. Why must I kow-tow to Najib? Right now, he needs Sarawak more than Sarawak needs him. He is fighting for his political survival.
If I still have to beg Najib for development projects for Sarawak, I am a fool. Things are not going right for Najib. He is a desperate man. Now is the time to demand, not beg. If we, Sarawakians, do not know how to take advantage of the situation now, then let us forever be condemned as Sarawakians who are bodoh.
Or, in Abang Jo's own word – "paloi"
---
FRANCIS PAUL SIAH heads the Movement for Change, Sarawak (MoCS) and can be reached at sirsiah@gmail.com