September 7, 2018
Tough Love: Longing for a kinder, compassionate, more humane and freer Malaysia.
by Zainah Anwar
THIS time last year, I wrote about my longing for a better Malaysia, and how my utter belief that this was possible would always triumph over my many moments of despair. There was just too much good in this country for us to ever give up hope.
And this year, as we celebrate our 61st year of Merdeka, I am simply thrilled. Thrilled that what most people thought was impossible, became possible. Malaysia bucked the global trend and voted into power a reformist government, throwing out a kleptocratic government and a ruling party that had held uninterrupted power since independence in 1957.
The election of a reform-minded government that believes in an inclusive Malaysia and eschews the use of race and religion for political gain does not of course mean we are home free. It is important that we who voted for change remain vigilant that the Pakatan Harapan government delivers on its promises of transformation. And to do this transparently and in consultation with stakeholders.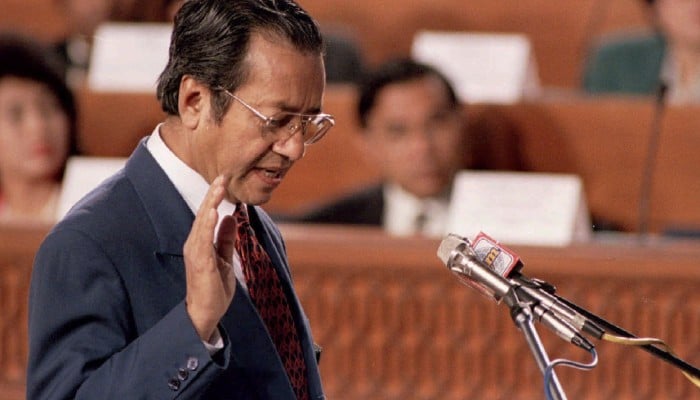 Malaysia's autocrat turned reformer: at 93 can he deliver?
Politicians and voters now realise the power of the ballot box. It cannot be business as usual, replacing one set of economic and political elites with another set whose priorities will be to divide the spoils of victory.
As we welcome the first Merdeka and Malaysia Day under this new Malaysia, I have many wishes for the kind of country I want to live in.
First, I wish to see our ministers summon the political will and courage, and build their knowledge and strategies on how to deliver their reform agenda. And not least, how to stand their ground and defend what is just and what is right, in the face of opposition. We in civil society are tired of seeing too many ministers over the decades retreating in the face of criticism from ideologues, instead of defending a principled position.
Many NGOs, activists, academics, professionals who have long been working on issues such as human rights, women's rights, education reform, poverty eradication, and economic justice, stand ready to support this government with the kinds of data, analysis, policy instruments, arguments and strategies needed to deliver on the reform agenda and build public support for this urgent necessity for change.
We want to see this government succeed in making this country a just home for all. We pray this government does not squander that goodwill.
Second, I wish to live in a kinder, compassionate, more humane Malaysia. It pains me to see the frenzy of hate, attacks, violence, demonisation of the LGBTIQ community in the country. Why this obsession with another citizen's sexual orientation and gender identity? The debate is not about same-sex marriage or even about the halal or haram of their sexuality. It is about the right of LGBTIQ people to freedom of movement, their right to work, to health and to live a life free from violence. Why should that be contentious? They are citizens of this country and entitled to the same fundamental rights that other citizens enjoy.
It is obvious that the issue has been whipped up as a political tactic to generate hate and fear, spearheaded by those opposed to the reform agenda of the new government. So they stir up controversies in order to rebuild lost ground. And politicians fearful of losing popular support cave in, so quickly, so easily, so thoughtlessly.
How could a small, oppressed, and discriminated community who actually live in fear on a daily basis, and who long to live in peace and dignity ever pose a threat to Malaysian society? How could an all-knowing compassionate God ever condone cruelty against his own creations just because they are different? So let's be confident in our faith and believe that if God really wanted all of us to be the same, he would have done so.
Third, I wish to see an end to corruption that has been long fuelled by the intricate web of business and politics in this country. Professor Terrence Gomez's just released research findings on Government in Business reveal a mind-boggling labyrinth of thousands of GLCs at federal and state levels, most of them unlisted and thus, unscrutinised. There are of course GLCs that are professionally run. But many also serve as tools of patronage and as vehicles to provide politicians with monthly directors' fees to support their political ambition – at best.
At worst, official investigations and media revelations of outright corruption, criminal breach of trust, and asset stripping display a spectacle of unbelievable greed and betrayal of trust.
Tun Dr Mahathir Mohamed himself has called such GLCs "monsters" that have deviated from their original noble intention of helping the poor.
The Head of the Council of Eminent Persons, Tun Daim Zainuddin, has promised that this time the government wants to get it right in delivering its bumiputra empowerment policy.
We all wait with bated breath, for this country cannot endure, economically, politically and socially, yet more decades of affirmative action on the basis of race rather than need, and all the consequent distortions and abuses that had benefited the economic and political elites.
Fourth, I wish to live in a country where the political leaders and the citizens embrace our diversity as a source of strength, and not a threat. And to walk the talk. It is imperative that the new government sets the tone that it will not tolerate further manufacturing of a siege and crisis mentality among the Malays and supremacist speeches in the name of race and religion to incite hatred and fear of "others".
This country was on the verge of implosion, and it was the wisdom of the rakyat that saved us, when with courage we voted into power a reformist party.
I was in Bangkok last week to give a talk on identity politics in South-East Asia together with speakers from Indonesia and Myanmar. They were depressed about the political developments in their countries, and my optimism on Malaysia was tempered by the reality that they too had earlier voted in reformist leaders who have now succumbed to the politics of race and religion in order to remain in power.
But I would like to believe that Malaysia is different as we have strong antecedent resources that will put us in good stead in moving forward on a reform agenda. Most importantly is the entrenched belief that this country cannot survive nor prosper without the three major races accepting each other and learning to give and take in sharing equitably the wealth of the nation. It can never be a winner take all game in Malaysia.
Second, we have a significant minority population. This means there is a limit to how far the majority group can use race and religion to serve the interest of the ruling elite, before paying a high political cost for its relentless transgressions, or complicity in its inaction and silence.
Third, while things are far from perfect, our long record of economic growth, poverty reduction, and strong state apparatus put us in good stead that a more open and robust democracy will not be destabilising, and can lead to a more inclusive Malaysia.
Moreover, a large educated Malaysian middle-class and a strong business community eschew any hint of violence or chaos or extremism, and there is a growing critical mass of voters, not least from among the young, who expect their freedoms and rights to be upheld.
And more than anything, the rakyat feel very precious about what we have achieved. As much as we are willing to give Pakatan Harapan the support it needs and the time, too, to deliver on its reform agenda, we have learnt from the mistakes made in the past. We are no longer willing to acquiesce in silence in the wrongdoings and abuses in powerful places, in return for stability and prosperity.
This is the new Malaysia where it will be tough love for all.