September 20, 2017
North Korea

: Dealing with the "Rocket Man"via Negotiation, not Threats
by Editorial Board, East Asia Forum
http://www.eastasiaforum.org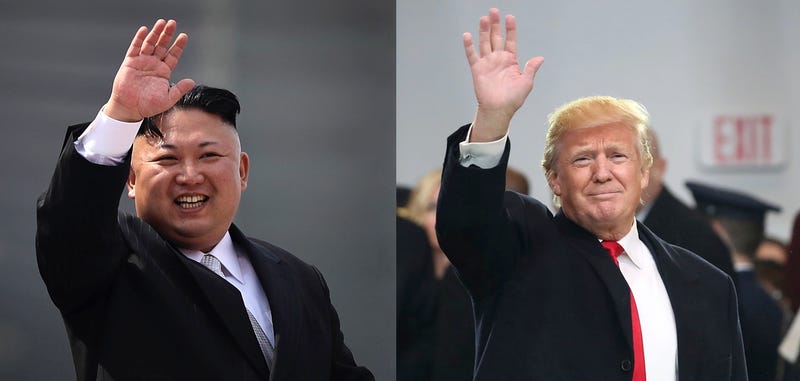 War? "Look at the Map", says French President Emmanuel Macron in an interview with CNN's Christiane Amanpour at United Nations, New York
The North Korean nuclear threat has ratcheted up in recent months, following new rounds of missile and nuclear weapons tests by Pyongyang. In July, North Korea undertook two tests of an intercontinental-range ballistic missile (ICBM). Then on 3 September, it undertook its sixth nuclear test of a new thermonuclear bomb designed to be used with its ICBMs. US President Donald Trump responded to the ICBM tests by promising to deliver 'fire and fury' if North Korea again threatened the United States, to which North Korea responded in turn by threatening to deploy missiles into the seas near US military bases in Guam. And in the midst of all this, Pyongyang continued to unnerve the Japanese government and population by launching two ballistic missiles into the seas beyond the island of Hokkaido.
The "Rocket Man" says to President Donald Trump: "Show me some respect. I am the leader of North Korea,an independent and sovereign nation. My duty is to protect my people from warmongers like you and to act in the best interest of my country. Aren't you doing the same for your people when you say to the world, "America First"?
North Korea's most recent tests and launches are significant. Like it or not, they demonstrate that the regime has crossed the technical threshold of being able to target the continental United States — as well as US allies in Asia — potentially with a nuclear warhead.
Throughout the growing crisis, the Trump administration — along with most of the international community — has viewed China as the key player in bringing North Korea to heel. This perception of China's special leverage stems from China's decades-old treaty of friendship and mutual assistance with the North Korean regime and, even more importantly, the fact that around 90 per cent of North Korean trade now takes place with or through China. Given North Korea's near total dependence on China for its international economic ties, the United States and others have consistently called for China to tighten economic sanctions.
China had resisted tightening sanctions on North Korea for fear that economic pressure could prompt massive inflows of refugees into China's Northeast, or even the collapse of the North Korean regime. Although North Korea remains China's most troublesome and unpredictable neighbour, it also serves as a strategic 'buffer' between China and US forces stationed in Japan and South Korea.
Yet a combination of growing international pressure, and Beijing's own frustration with Pyongyang over its unwelcome nuclear program, has made China more willing to apply sanctions and other economic measures. In February, in the wake of North Korea's test of a short-range missile into the Sea of Japan, and the assassination in Malaysia of Kim Jong-un's half-brother, China announced it was suspending coal imports from North Korea for the remainder of 2017. More significantly, on 11 September China (and Russia) agreed to a new round of UN Security Council sanctions which will ban North Korean textile exports, freeze its imports of crude oil at current levels and introduce a cap on its imports of refined petroleum. These are the most far-reaching sanctions that have so far been applied to North Korea. In addition, Chinese state-run banks have begun to ban North Koreans from opening new accounts and to suspend transactions on accounts already held by North Koreans.
Yet the key problem in all of this is that there is little evidence that sanctions applied in the past have worked in checking North Korea's nuclear program. Most regional analysts are fairly pessimistic that even this latest round of sanctions will have much effect on the regime's nuclear development plans.
In our two lead pieces this week, Chen Dongxiao of the Shanghai Institute for International Studies, and Jia Qingguo of Peking University, underscore the urgent need for new thinking in managing the North Korean nuclear issue. Both highlight diplomatic engagement, with Pyongyang and among other key states in the region, as the only way forward.
Chen suggests that it is futile to hope that increased Chinese pressure will somehow encourage North Korea to relinquish its nuclear weapons. He underlines Pyongyang's lack of regard for China's interests to date, suggesting that, 'Pyongyang will never shy away from pressing for more concessions by leveraging its nuclear weapons program, even at the expense of China's national security interests and overall regional stability'.
Instead, the region must find new diplomatic and economic incentives to encourage Pyongyang to come back to the negotiating table. As a first step, both authors nominate China's 'two suspensions' proposal as a way to reduce the dangerous tensions between Pyongyang and Washington. This proposal would see 'North Korea…suspend nuclear and missile tests in exchange for suspension of joint US-South Korea military exercises', explains Jia.
As a second step, Jia calls on Beijing to begin active 'contingency planning' talks with Washington and Seoul. In the past, Beijing has been hesitant to take part in such talks, out of concern for the signals that this would send to Pyongyang. Jia and Chen carry clear messages for Pyongyang and Washington. Given the gravity of the situation and the risk that North Korea may continue to ignore Beijing's diplomatic efforts, it is now time for China to put aside its hesitation and engage in serious talks with Washington and Seoul, Jia argues.
Contingency planning talks should cover a range of critical issues including: who would control North Korea's nuclear weapons arsenal in the event of a collapse of the regime; how to deal with the North Korean refugee problem; who would be responsible for restoring domestic order in North Korea in the event of a crisis; post-crisis political arrangements on the Korean Peninsula; and removal of the Terminal High Altitude Area Defense (THAAD) system when and if North Korea's nuclear program has ended.
Each of these issues is a source of considerable anxiety in Beijing, and so far they've stymied closer regional cooperation on the North Korean nuclear issue. Indeed, these issues have, in Chen Dongxiao's words, showcased the 'deeply entrenched strategic suspicion' between the US and China. Dialogue and negotiation on these questions may therefore help to alter the current impasse between China and the United States, and lessen Pyongyang's ability to exploit the lack of unity among its neighbours.
As is now widely understood, both in Pyongyang and around the region, there are no good military options for resolving the North Korean nuclear issue. That will crucially require countries to get much better at talking to their adversaries and negotiating on fundamental, long-term political and security questions.
The EAF Editorial Board is comprised of Peter Drysdale, Shiro Armstrong, Ben Ascione, Amy King, Liam Gammon, Jillian Mowbray-Tsutsumi and Ben Hillman, and is located in the Crawford School of Public Policy in the ANU College of Asia and the Pacific.