June 5, 2018
Man of the Moment: Meet  Attorney-General Tommy Thomas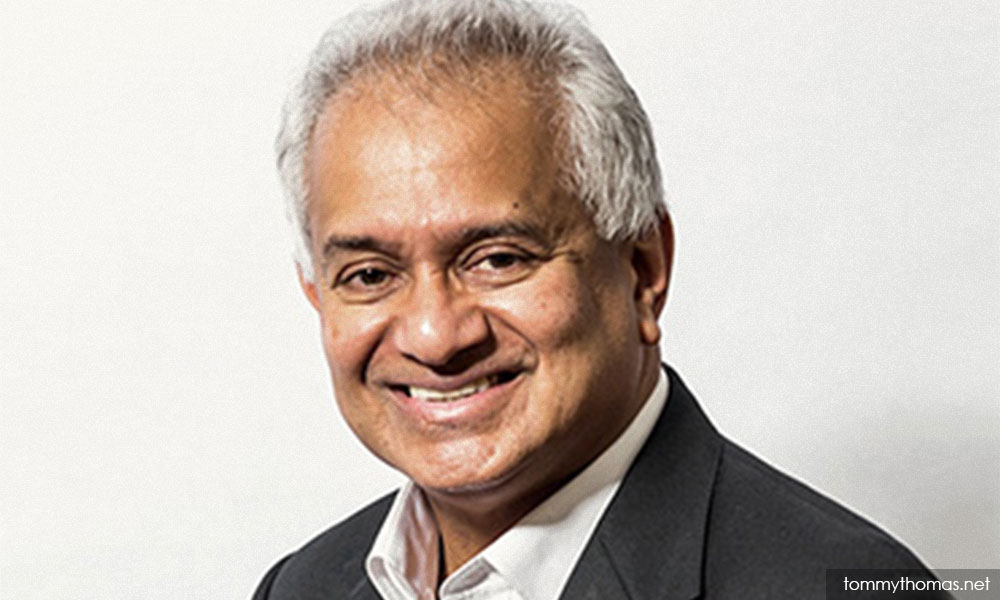 Born in 1952 in Kuala Lumpur, the father of three received his early education at Victoria Institution. He then pursued his law degree at the University of Manchester in England and subsequently received an MSc from the London School of Economics. He then became a barrister at Middle Temple, London.–Hafiz Yatim
Malaysians woke up this morning to the news that Tommy Thomas has been appointed as the new attorney-general by the Yang di-Pertuan Agong Sultan Muhammad V, replacing Mohamed Apandi Ali.
Born in 1952 in Kuala Lumpur, the father of three received his early education at Victoria Institution. He then pursued his law degree at the University of Manchester in England and subsequently received an MSc from the London School of Economics. He then became a barrister at Middle Temple, London.
He is a founder and partner at Tommy Thomas, a litigation firm with an office in Bangsar, Kuala Lumpur. According to the firm's website, Thomas specialises in administrative law and judicial review; intellectual property; arbitration; land; banking and finance; oil and gas; commercial property; company law; securities law; constitutional law; and insolvency and wills.
He was involved in numerous landmark cases and appeared before the Privy Council, which was Malaysia's highest court in London, until 1985.
Thomas has published two books titled "Anything But the Law: Essays on Politics and Economics" and "Abuse of Power: Selected Works on the Law and Constitution".
Besides being a well-known lawyer, he also participated in several Bersih rallies in the past.
An active member of the Malaysian Bar, he held the post of secretary of the Bar Council from 1995 to 1997.
Among his well-known cases were Metramac vs Fawziah Holdings, and as noted by Prime Minister Dr Mahathir Mohamad, he appeared for BN in several cases concerning election petitions.
Thomas has also appeared for the PAS Kelantan and Terengganu oil royalty case against Petronas and the federal government, and also represented Selangor government lawyer Fahda Nur Ahmad Kamar against Syarikat Bekalan Air Selangor (Syabas) in the latter's bid to cite the former for contempt of court.
Thomas also represented Malayan Communist Party Secretary-General Chin Peng in his application to return to Malaysia, and former Penang Chief Minister Lim Guan Eng in contempt proceedings filed against him by Apandi.
Meanwhile, Thomas' law firm greeted his appointment with pride.
"He successfully led our team in two of the best-known bond recovery cases in the courts of Malaysia: Pesaka Astana and Aldwich Berhad. And as corporate asset recovery is topical, with the government focused on recovering the assets of 1MDB, there is no doubt in our mind that they have appointed Malaysia's finest barrister in that field, with the knowledge, experience and industry to lead the 1MDB litigation, whether civil or criminal," said the firm in a statement.
The firm noted that Thomas was an established corporate and commercial barrister, having acted successfully in some of the landmark cases on corporate debt and asset recoveries, such as Amos William Dawe and Mosbert; Lian Keow v Overseas Credit Finance; and Bank Bumiputra v Lorrain Osman.
More recently, he acted for the Securities Commission against Swisscash, the worldwide Ponzi scheme hatched in Malaysia – tracing the funds in the Ponzi scheme to banks in Hong Kong, and the Jersey and British Virgin Islands; obtaining worldwide Mareva injunctions, and what the firm claimed to be the largest reparation of funds for the victims of the Ponzi scheme.
According to the firm, Thomas had handled some of Malaysia's largest and most complex cases, and in addition to his outstanding track record on commercial cases, he had a strong public law practice, having acted on major judicial reviews and constitutional cases.
"A significant percentage of his practice has been pro bono work, for the less privileged and oppressed.While we shall obviously miss him, we are delighted for our country, as Thomas' combined talent, integrity, legal knowledge and experience, gives Malaysia one of its best and brightest barristers as its next Attorney-General. We wish him every success as Attorney-General of Malaysia," it said.
Thomas met Prime Minister Dr Mahathir Mohamad at the Prime Minister's Department at 8.30am today.