September 25, 2018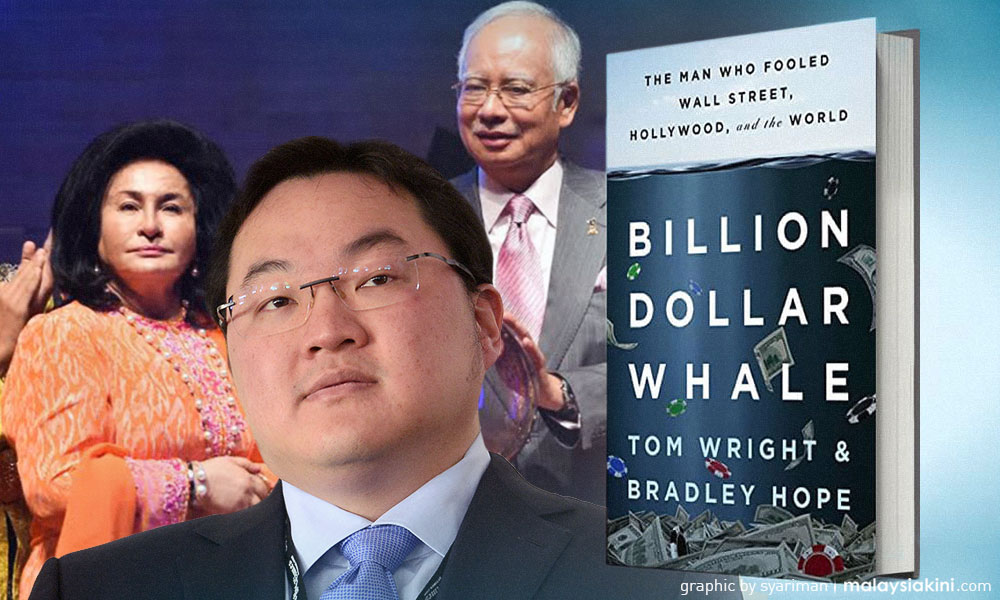 'Billion Dollar Whale' won't exonerate Najib – and Shafee knows it
COMMENT | Muhammad Shafee Abdullah, the lead counsel of former Prime Minister Najib Abdul Razak, affirmed last week that Tom Wright and Bradley Hope's 'Billion Dollar Whale: The Man Who Fooled Wall Street, Hollywood, and the World' can strengthen the case of the defence.
The book apparently describes Low Taek Jho as the "puppet master" who led Najib into various fake and nefarious financial transactions with 1MDB, many of which are now hanging like the sword of Damocles over the head of Najib and his wife, Rosmah Mansor.
Since Low is the mastermind, the argument goes, all responsibilities of financial misdoings can be attributed to him. There is a huge flaw to this argument, and Shafee knows it.
In all cases of criminal breach of trust and money laundering, the deed has to pass through four vital stages. First, there must be the intention or plan to cheat, which is clearly manifested in 1MDB, since it was essentially a special purpose vehicle (SPV) that was meant to be a false sovereign fund.
Low Taek Jho + FLOM Rosmah Mansor= 1MDB Scandal= Najib in Sungei Buloh
This SPV has had no business model from its inception in 2009. While it could pile on debt, even remove the whole board at will, it never come close to having any revenue-generating activities. Thus, the intention to cheat was inherent from the very beginning.
Secondly, there has to be a plan of implementation. The financial transactions in Dubai, Geneva, Hong Kong, Singapore and the offshore financial accounts in Seychelles and the British Virgin Islands, there was indeed a grand plan to transfer the money in and out of the global financial system.
Opening the door
Shafee Abdullah should know that the buck stops at Najib'desk, or is he too dumb?
Indeed, if Shafee (photo above) wants to use the book by Wright and Hope to bolster his legal defence, then other sections of the book are equally illuminating.
The authors argue, for example, that without the seedy offshore financial system, Low could not have pulled off the world's biggest heist. This was a white-collar crime of the utmost size and magnitude, that eventually brought down Najib and the whole government of BN government on May 9.
Also, criminal breach of trust and money laundering both involve implementation. Despite revelations on possible wrongdoing by MPs and various reports, it remained parked under the Finance Ministry. Throughout the whole process, there was no plan to unearth any evidence of wrongdoing, and no arrests were made.
Plus, it wasn't just Low and his accomplices who enjoyed a wild life, but Najib and Rosmah as well, especially given their lavish lifestyle.
Lastly, if they could live beyond their means, it can only mean that they breached the ceiling of their spending powers many times over – especially since Najib, from the age of 23, was not supposed to benefit from any trappings of public office other than that which the government has provided.
Thus, the intent, planning, implementation and accomplishment were all there from 2009, only to be exposed more globally by 2015.
As far as Malaysians are concerned, the fall of UMNO and BN is indictment enough. But it helps if the courts can indict not just the mastermind and Najib, but every unsavoury character in the madcap charade that burned through public funds – the lack of which is preventing the new government from having the necessary financial means to help the country prosper immediately again.
Given the huge national debts and contingent liabilities of RM1.09 trillion, which is almost 80 percent of the GDP, it goes without saying that Shafee may not be cognisant of the sheer gravity of his client's alleged crimes.
Little wonder that Shafee himself is being charged over receiving RM9.5 million to prosecute Anwar Ibrahim in 2014, whose guilty verdict has since been expunged from all criminal records due to a full royal pardon.
Shafee looks to be entering the wrong defence, precisely because he has zero options left. Using a book cannot exonerate Najib and his spendthrift wife any more than the salacious details of the book can be prevented from being known by the public.
It is all too late for the wolves of Putrajaya.
---
PHAR KIM BENG was a multiple award-winning Head Teaching Fellow on China and Cultural Revolution in Harvard University.
The views expressed here are those of the author/contributor and do not necessarily represent the views of Malaysiakini.