February 3, 2018
FA Abdul defends the Right to Protest
by FA Abdul@www.malaysiakini.com
COMMENT | "Stupidity of the highest order."
"Drama queen."
"Better stay at home."
"Not gonna change anything."
"Causing trouble to others."
Ms. FA Abdul
These were some comments I received from friends when I shared posts about Bersih 2.0 rally on social media a few years ago. Clearly, they did not think much about the movement then, what more of its ability to bring about changes in the government through a peaceful protest.
However, it never stopped the rally organisers form keeping the movement going until Bersih 5 in 2016. At the same time, supporters of the rally continued marching the streets of Malaysia with their yellow spirit intact.
For those who took part in the rallies, their protest meant something. It was beyond their campaign's objective which was to demand for a clean and fair elections.
Everyone who participated in those rallies had their own reasons for marching on the streets. Some wanted a new government; some wanted racism and bigotry to end; some wanted the corrupt to be prosecuted; some wanted Bangsa Malaysia; yada yada yada.
They all wanted change. However, despite wanting things to change in Malaysia, they were wise enough to know that the changes they desired, was not going to come just rolling to their feet following street protests. They knew it wasn't going to be that easy.
Dr. Kamsiah Haider and Din Merican joined BERSIH 4.0 in 2015 because they wanted  clean, free and fair elections to elect a government which is competent, accountable and transparent. They supported civil society activists–Dato' Ambiga Sreenevasan, Maria Chin, and Haris Ibrahim et.al. In 2018, Malaysians are being put in a situation of having to choose either Pepsi (UMNO-BN) or Coca Cola (Pakatan Harapan). What would you do?–Din Merican

Yet, they continued taking part in the rally from 2011 to 2016. And some, even began wearing their Bersih yellow T-shirts proudly every Saturday throughout the years.
What were they trying to achieve? Nothing much, really. They just wanted to make a statement – that they were unhappy with the current situation and wanted things to change.
Today, we come across another movement who claim to be unhappy with the current situation and want things to change. Yes, I am talking about the #undirosak movement.
Just like the Bersih supporters were condemned back then, today the #undirosak supporters, too, are condemned using similar words.
"Stupidity of the highest order."
"Drama queen."
"Better stay at home."
"Not gonna change anything."
"Causing trouble to others."
Hypocritical
Oddly, most of those who are throwing this flak are none other than those who used to march the streets of our country proudly clad in their yellow Bersih tees.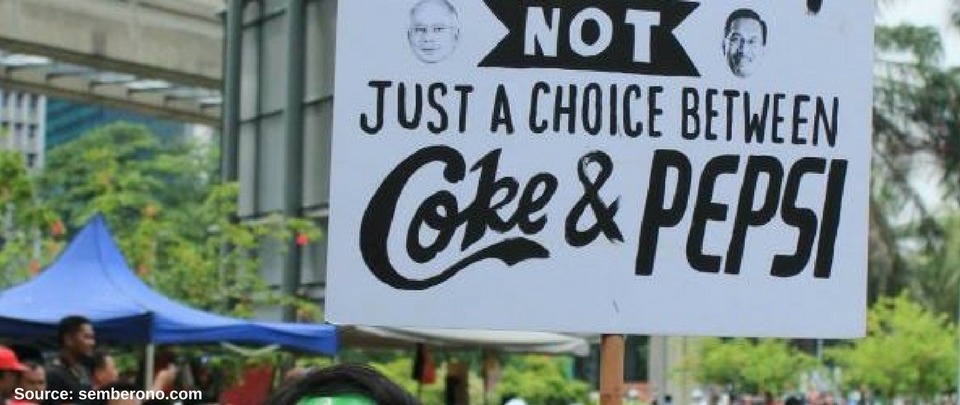 While they believed it was their right to freedom of expression to make a statement (never mind how others perceived it) today they seem to be quick enough to mock and bully others who choose to stand on the same principle.
Why the hypocrisy? Voting is a statement. Be it a cross for BN or a cross for the Opposition. A spoilt vote is also a statement. A stronger one, if I may say so. I may not support the #undirosak movement, but I respect their stand and I acknowledge their statement. I don't expect others to do the same – but at least respect their right to do so.
Everyone has the right to dissent and protest. Bersih rally supporters had the right back then and the #undirosak supporters should be given their right today.
Malaysia's Born Again Democrat and Reformer
After all, what is democracy if not the freedom to protest?
---
FA ABDUL is a passionate storyteller, a growing media trainer, an aspiring playwright, a regular director, a struggling producer, a self-acclaimed photographer, an expert Facebooker, a lazy blogger, a part-time queen and a full-time vainpot.