October 24, 2018
Rejoice, for this is genuine Rule of Law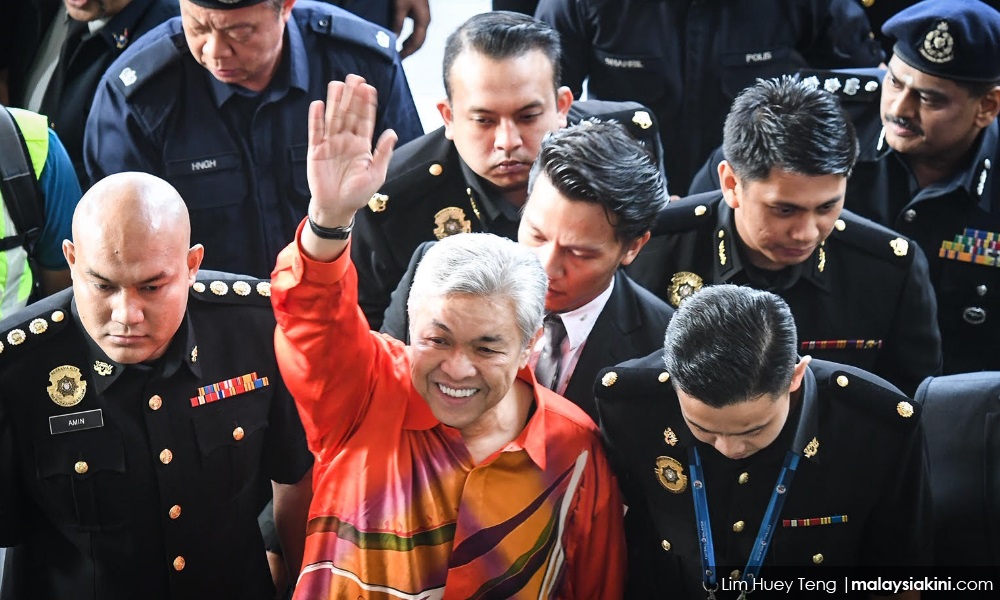 COMMENT | Feelings of schadenfreude, the expression for which we're indebted to German, and is defined in English as 'pleasure at learning of or witnessing the troubles, failures or humiliations of others' may not be a terribly noble, but it's a fact of life that this happens to be one of the many ways in which we humans are flawed.
Or at least I'm happy to admit that I am.
If there's one class of fellow humans I hate, it's liars, frauds and fakes. And thus I'm over the moon at the spectacle of former prime minister Najib Abdul Razak, former first lady of Malaysia Rosmah Mansor and current UMNO President Ahmad Zahid Hamidi facing their moments of truth.
Of course, none of them has admitted the truth of the countless charges or masses of evidence against them.Nor, admittedly, as some readers are sure to rightly remind me, are they required to do so, given their right to be presumed innocent until proven guilty.
A situation that is far more generous than prevailed back when fake UMNO-BN "justice'" was meted-out against innocent witness Teoh Beng Hock, who fatally "fell" from a 14th-floor window at MACC headquarters; Scorpene-scandal translator Altantuya Shaariibuu who was shot and then disposed of with C4 explosive and countless "suspects" summarily executed in suspicious "shoot-outs" with the police.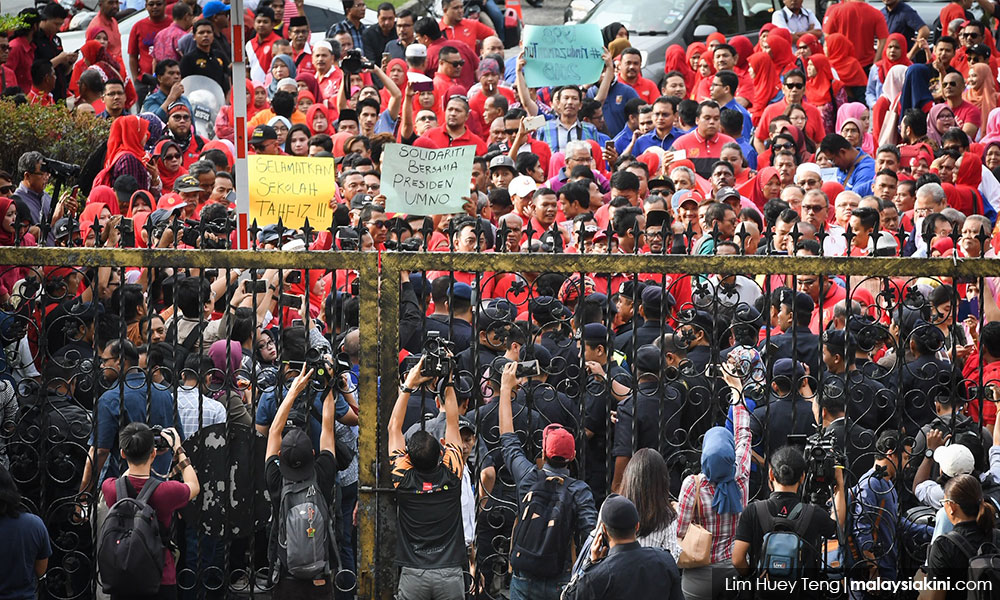 But these UMNO-BN suspects have at least been questioned, investigated, accused and charged, and thus I feel justified in feeling a small frisson of schadenfreude in anticipation of a far bigger one when they eventually face trial and thus the possibility of conviction and imprisonment.
And not just imprisonment, as that would be mere retribution. They should also be required to make restitution to Malaysia and Malaysians of all their fraudulently-acquired assets.
Unfortunately, such a desirable and indeed delightful result is way in the future for the few big fish the law has netted so far, but there are plenty of smaller-fry alleged UMNO-BN fraudsters for the forces of law and order to bring to book and thus sustain our schadenfreude in the meantime.
In fact, many of them, both already and yet-to-be charged, are apparently so incurably addicted to falsehood, fakery and fraudulence as to be beyond redemption.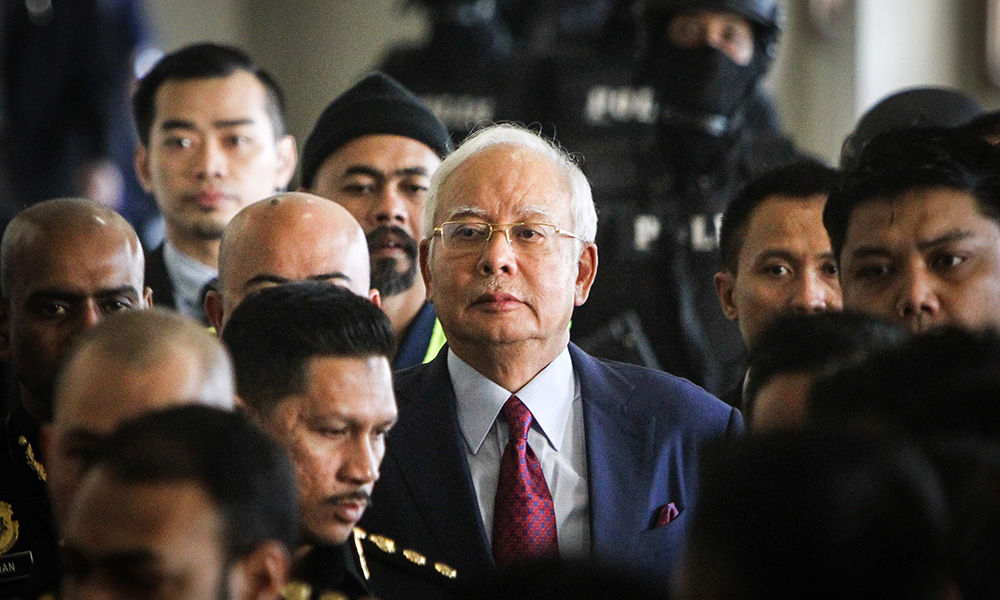 Najib (centre in photo), for example, had the effrontery, not to mention the deficiency of any sense of irony, to claim that he turned up in court yesterday to lend Zahid his "moral" support.
And for his part, Zahid himself saw fit to engage in his customary fake piety, proposing that the same God he formerly credited with choosing him for high political office is now putting him to a test that he intends to pass by clearing himself of the charges he faces.
'Trying times'
Meanwhile, as usual, his sanctimonious accomplices and supporters in his alleged preying on the populace were urgently praying and urging others to pray to the same God.
UMNO Vice-President Ismail Sabri Yaakob urged "all Malaysians, supporters and members of UMNO to stand firm (in support of Zahid) and pray."
And similarly, Wanita UMNO Chief Noraini Ahmad declared that "the movement was praying for Zahid in hope that God would help him through this (sic) trying times."
Zahid's wife, Hamidah Khamis  had a somewhat different take on the Divinity's role in the situation, making the point that "calamities as a punishment from God would hit Malaysia if problems such as the LGBT movement and alcoholic parties" – as well, implicitly as Zahid's prosecution – "were not prevented."
All such fantasies on the part of the fraudulent are nothing but further fuel for us schadenfreude fans, of course. But, to finish this column on a more positive note, as dedicated as I and doubtless many others are at seeing as many frauds as possible getting their just desserts, we're also delighted that lots of genuine people will benefit.
Our honest, upstanding friends in the legal fraternity, for example, who have years of prosecution and defence briefs to look forward to now that the genuine rule of law appears to be back in force.
Not to mention the majority of true, honest-to-goodness Malaysians who have spent so many years waiting, and some of them possibly even praying, for freedom at last from UMNO-BN-style lies, fraud, fakery and also far worse.
---
DEAN JOHNS, after many years in Asia, currently lives with his Malaysian-born wife and daughter in Sydney, where he coaches and mentors writers and authors and practises as a writing therapist. Published compilations of his Malaysiakini columns include "Mad about Malaysia", "Even Madder about Malaysia", "Missing Malaysia", "1Malaysia.con" and "Malaysia Mania".
The views expressed here are those of the author/contributor and do not necessarily represent the views of Malaysiakini.