October 16, 2018
Mahathir's UN Speech proposed as basis of Foreign Policy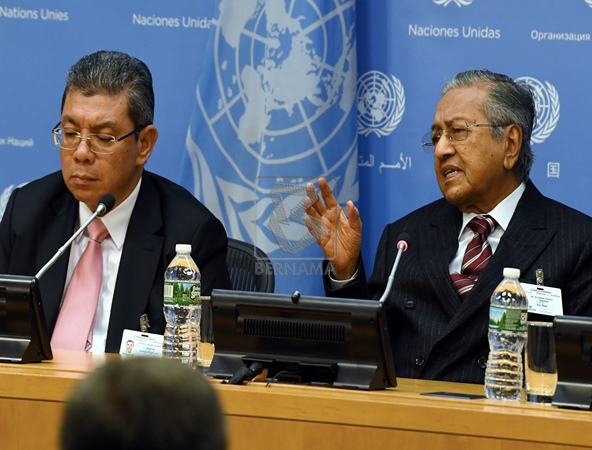 PARLIAMENT | The Foreign Ministry today tabled a motion in the Dewan Rakyat for the speech of Prime Minister Dr Mahathir Mohamad at the 73rd United Nations General Assembly in New York on Sept 28 to be set as the basis of Malaysia's foreign policy.Foreign Minister Saifuddin Abdullah also proposed that the Dewan Rakyat agree with the direction of the country's foreign policy as stated in the Address of the Prime Minister.
Agriculture and Agro-based Industry Minister Salahuddin Ayub seconded the motion.
In tabling the motion, Saifuddin said the prime minister's speech outlined, among others, the position and foreign policy of the country based on principles such as not favouring any power, neutrality and practising the "prosper thy neighbour" philosophy.
"The Prime Minister also emphasised Malaysia's relations with the world's major powers, as well as other issues such as the situation in Palestine, the plight of the Muslims in Rakhine (Myanmar) and the trade war between the economic powers," he said.
Saifuddin said Mahathir also noted the importance of the UN as a key platform to resolve universal issues and expressed the hope that the UN will continue to play an important role in maintaining international peace and security.
"The Prime Minister's speech also outlined the objectives and plans of the foreign policy of the New Malaysia to support the sustainability of economic, political and social developments within our own country," he said.
Saifuddin said the motion was tabled to enable the government to obtain inputs, views and feedback from the members of the Dewan Rakyat because the government needed to have a foreign policy framework as a select committee on foreign policy has yet to be formed and the new Parliament has yet to have a caucus of MPs on foreign relations.
"We propose that Malaysia's foreign policy framework comprises four key components, the major strands of foreign policy which have been largely disclosed in the Prime Minister's speech at the UN; empowering the foreign ministry; strengthening inter-agency cooperation; and increasing the people's participation," he said.