June 21, 2018
1MDB case must be watertight, says Malaysia's Mahathir

 
As prime suspect – and defeated Prime Minister – Najib Razak holidays in Langkawi, Malaysia's new leader says it is better to build an indisputable case than be swayed by populist sentiment into hasty action.
http://www.scmp.com/week-asia/politics/article/2151474/1mdb-probe-needs-time-be-watertight-malaysias-mahathir-calls-cool
The Malaysian government is taking time to build a watertight case in the 1MDB financial scandal and not be swayed by populist sentiment, according to Prime Minister Mahathir Mohamad.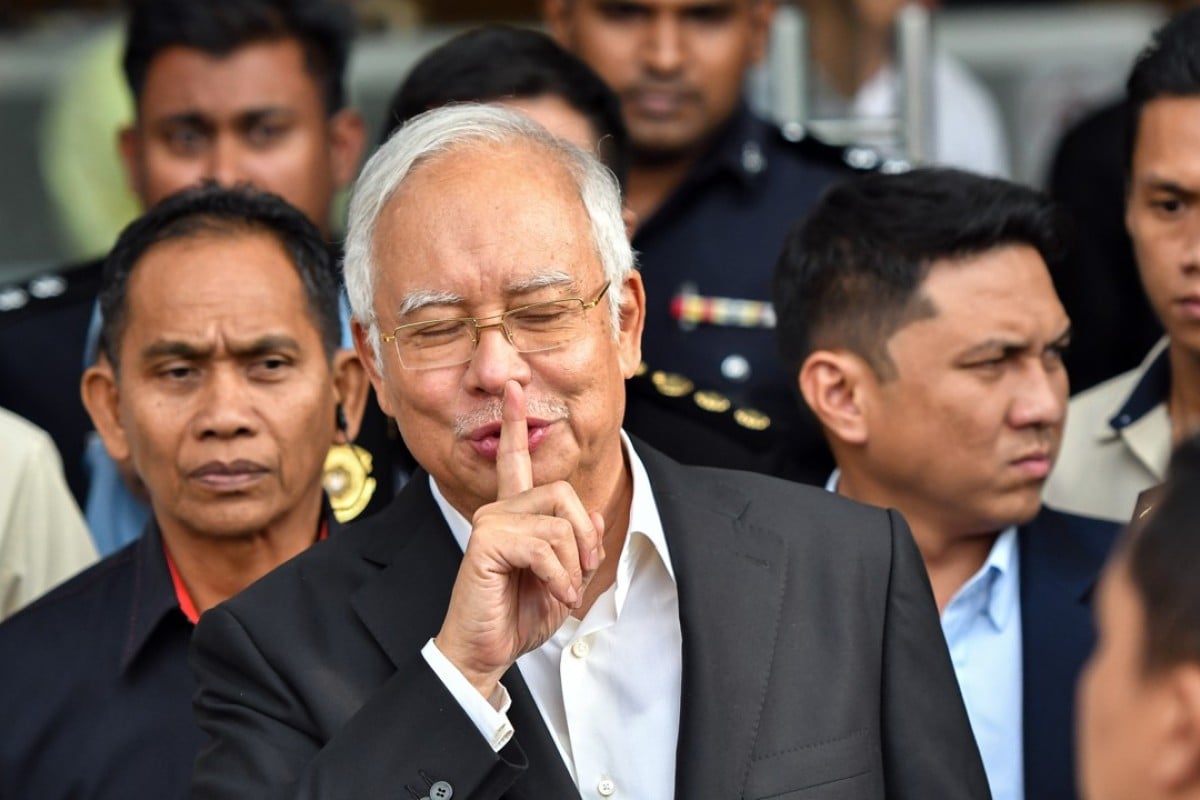 His predecessor Najib Razak is the prime suspect under investigation and has been banned from leaving the country. This week, Najib's decision to go on holiday to the resort island of Langkawi – which coincidentally is the parliamentary seat of Mahathir – sparked fears he was trying to slip out of Malaysia.
The government and the people know that billions have been stolen, Mahathir said. But, calling for cool heads, Mahathir said in an interview with the South China Morning Post that the government wanted indisputable evidence. "So the prosecutors now are gathering that evidence so that when they go to the court of law, the judges don't base their judgment on sentiment, but … on facts and evidence shown in the court of law. So that is why we are taking a little bit more time than we expected."
He declined to give a timeline on the next stage of the investigations, even as speculation swirled in Malaysia that the charges could be filed against Najib as soon as the next two weeks.
But on Tuesday afternoon, he was quoted as saying that charges would be filed on key suspects – Najib, businessman Jho Low and "a few others" – within months, while a trial would begin later this year.
Charges against Najib would include "embezzlement, stealing government money, and a number of other charges," he said in the interview with Reuters.
The 1MDB probe extends across six jurisdictions, including the United States, Switzerland and Singapore. It has also targeted Najib's wife, Rosmah, known for her flagrantly ostentatious taste in luxury goods. Set up in 2009 as an infrastructure fund drawn from oil revenues, it has lost US$4.5 billion and is now insolvent. Around US$731 million allegedly ended up in Najib's personal account. The beleaguered former premier has denied any wrongdoing, insisting that the money was a donation from an Arab benefactor.
Pakatan Harapan: Vulnerable?
In the interview with the Post, Mahathir, who won a stunning election on May 9, was asked about his views of a rising China and the region. In addition to taking questions about the 1MDB scandal, he was also asked to comment on the possible vulnerabilities of his Pakatan Harapan coalition.
While Pakatan now claims 125 seats in the 222-seat Parliament, a recent survey by the reputable think-tank Merdeka Centre has found that the coalition did not win over the majority of Malays, who make up 65 per cent of the population.
According to the Merdeka Centre survey, UMNO retained 35-40 per cent of the Malay vote, while the rest was almost evenly split between Pakatan and the Islamic-based party, PAS. In comparison, 95 per cent of Chinese voters chose Pakatan.
Malays have special rights granted by Malaysia's Constitution. Almost all Malays follow Islam, the official religion of the country. Under the previous Barisan Nasional coalition, the Malay-based United Malays National Organisation was the dominant component party led by Najib. Umno had increasingly played the ethnic and religious cards in elections over the decades.
Commentators credited Mahathir for attracting enough Malays into the Pakatan camp to tilt the balance decisively in its favour. Mahathir has immense stature among Malays as a respected former Prime Minister who held office from 1981 to 2003. The argument, if correct, begs the question of whether Pakatan will be able to retain Malay support after Mahathir steps down, which he has promised to do after two years.
In the interview, Mahathir said there was a clear swing of Malay votes from the Barisan coalition to the opposition in the recent election compared with the previous one in 2015 that contributed to their victory.
But the Malay vote itself was split between the rural, suburban and urban areas. It was in the latter two areas that Malays had turned against the previous government because they were disenchanted with the "bad things" happening within Umno, especially the corruption scandal.
For rural voters, he said, such issues were harder to grasp but they could understand cost of living woes.
He shrugged off his own personal appeal in winning the Malay vote for the future, saying: "Well, I can't always be popular, one day I will become unpopular because when you are in the government, you have to do unpopular things. That is not something permanent." But for now, people were upbeat and they felt that life during his first tenure as Prime Minister was better than during Najib's time, he said.
Let's Get Physical
Mahathir, who turns 93 on July 10, was also asked about his physical energy. He laughed, saying it was the number one question he was asked. Although Mahathir, a trained medical doctor, has had two heart bypass operations, he feels fortunate not to have suffered debilitating diseases such as cancer.
His secret to good health? "I think simple things like not putting on weight, not eating too much, proper sleep, a little bit of exercise," he said, adding that he gets "enough" sleep – about six hours. When he is not able to do that, he has short power naps.
In May, a picture of him at the dining table with just a few spoonfuls of rice on his plate caught the attention of internet users. But then a close-up showed that next to his plate was a small green canister of multivitamin supplements, Berocca. Sales of the supplement received a sudden boost.
Moving On
Under a pact made with his former nemesis turned coalition partner, former deputy premier Anwar Ibrahim, he is supposed to hand over the prime minister's position after two years. However, there have been hints recently that Mahathir intends to stay beyond two years.
Asked about this, he admitted there was a lot to be done. Would he stay beyond two years? "Well, I don't know whether people will permit me to stay longer. If there is some work I can still do, if I am still healthy, I can think and talk."
But would he do so as Prime Minister? He demurred smilingly and said softly: "Ya".
Throughout the interview, he answered questions evenly in his trademark unflappable tone, as an aide kept a strict watch on his time. Asked by a photographer for an autograph, he obliged willingly, noting aloud the date to write to accompany his signature. When the Post invited him to visit Hong Kong, the headquarters of the publication, Mahathir politely remarked about the times he spent there.
"My first ever visit to Hong Kong was in 1960. Where were you?" he quipped to his much younger interviewers.