December 3, 2018
Singapore's uphill battle to maintain ASEAN Unity
by Joel Ng, RSIS
http://www.eastasiaforum.org/2018/11/30/singapores-uphill-battle-to-maintain-asean-unity/
As year as the ASEAN chair was marked by several milestones in the deepening of regional peace and security. Ahead of the 33rd ASEAN summit from 11–15 November 2018 that finished with Singapore's official handing over of the chairmanship to Thailand, Singaporean Foreign Minister Vivian Balakrishnan stated that ASEAN 'actually achieved far more than I dared to anticipate'.
As a small nation, Singapore cannot impose its own ideas in regional or global settings. Instead it has the much trickier challenge of convincing other players, each with their own contexts and agendas, that strengthening the multilateral framework is in their best interests.
Tensions in the South China Sea, North Korea's long-range missile tests and threats of a US–China trade war clouded the end of 2017 and presented a considerable challenge to ASEAN's ongoing efforts to enhance regional cooperation. Despite the uphill battle, ASEAN and Singapore have played an integral part in ameliorating tensions on all three fronts.
Most recently, the 33rd ASEAN summit made an important contribution to the easing of regional tensions, with China agreeing to participate in talks on the long-proposed South China Sea Code of Conduct (COC). China offered a timeframe of three years for COC negotiations to be completed, which Singaporean Prime Minister Lee Hsien Loong declared as good progress.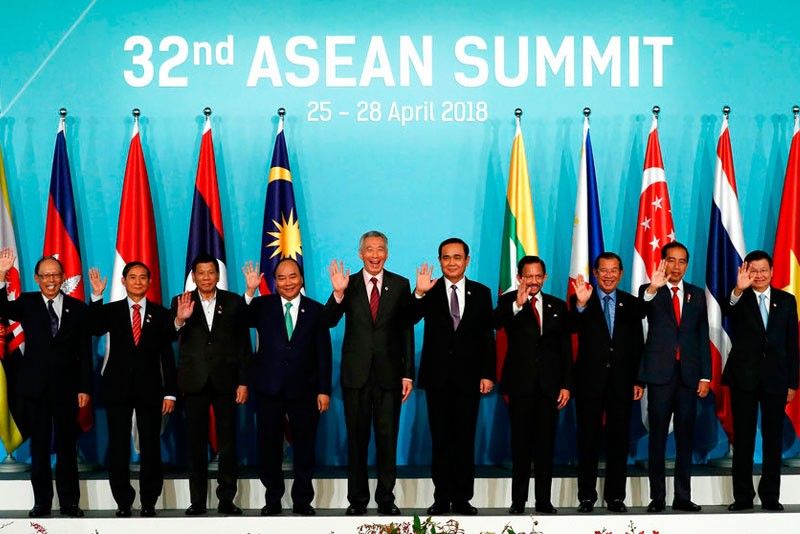 The COC is perhaps the most important document related to the South China Sea disputes. With competing states attempting to apply different rules to claim legitimate sovereignty over the waters, fears have arisen that conflict could break out over misunderstandings or maritime encounters going wrong. The COC has been in gestation since the 2002 Declaration on Conduct in the South China Sea, but has barely progressed in the intervening years.
Claimants agreed upon a draft negotiating text for the COC earlier this year, ahead of the ASEAN–China Post Ministerial Meeting in August 2018, and now China has committed to signing the COC within three years. While this may sound like piecemeal progress, it is important to remember the headwinds facing the discussion: as a much larger power, there is little incentive for China to sign anything at all.
Keeping all parties on board while pushing consensus and norms forward — at a pace that divergent parties can accept — is something ASEAN does well. With Singapore at the helm, ASEAN has helped to keep the COC moving forward without alienating any of the negotiating parties. The significant difference in 2018 has been China's explicit commitment to a rules-based order, a position it believes distinguishes itself from the United States.
Perhaps the most surprising event of 2018 was the US–North Korea peace talks in Singapore. As recently as 2017, both sides had issued threats against the other. North Korea continued to conduct missile tests, and the murder of Kim Jong-nam had soured its previously cordial relations with Malaysia. Singapore was one of the only plausible choices as a venue because of its high security, positive relations with both sides and an avowed impartiality.
While talks were initially cancelled just weeks before they were to be held, Singapore remained alert and ready for their resumption. The country's experience in hosting summits put it in good stead for facilitating the dialogue, regardless of uncertainties on either side. The eventually successful engagement demonstrated the importance of Singapore as an open, inclusive and highly efficient state ready to contribute to international security.
ASEAN has paddled against global currents in 2018 to offer hope that multilateral initiatives will continue to bring states closer together on common objectives. But trade tensions between ASEAN's two largest partners — the United States and China — continue to concern the region. Progress on the Regional Comprehensive Economic Partnership (RCEP) remains a priority for ASEAN to offset this concern, though negotiations will continue into 2019 after RCEP partners failed to meet the November 2018 deadline.
The initial impetus for Southeast Asia to unite as a region was to buffer individual countries against the pull of larger powers, whose efforts to draw smaller states exclusively towards them are often driven by whimsical domestic agendas. As Prime Minister Lee noted during the opening ceremony of November's ASEAN summit, ASEAN has raised its standing in the world and made itself greater than the sum of its parts by maintaining a collective voice on global issues.
Singapore's chairmanship offered a strong restatement of ASEAN's aims and bolstered the frameworks that were devised to address the myriad concerns of its members. Maintaining unity in the face of these external pressures is probably the best way for ASEAN states to maintain a strong position and secure the best outcomes for their continued growth.
Joel Ng is a Research Fellow in the Centre for Multilateralism Studies at the S Rajaratnam School of International Studies (RSIS), Nanyang Technological University.
A version of this article originally appeared here on RSIS.