November 17, 2018
Rafizi Ramli: I conceded defeat for the greater good
By http://www.malaysiakini.com
PKR POLLS | Rafizi Ramli said he conceded defeat to Mohamed Azmin Ali in the PKR Deputy Presidency race, despite having reasons to appeal, for the greater good of the party.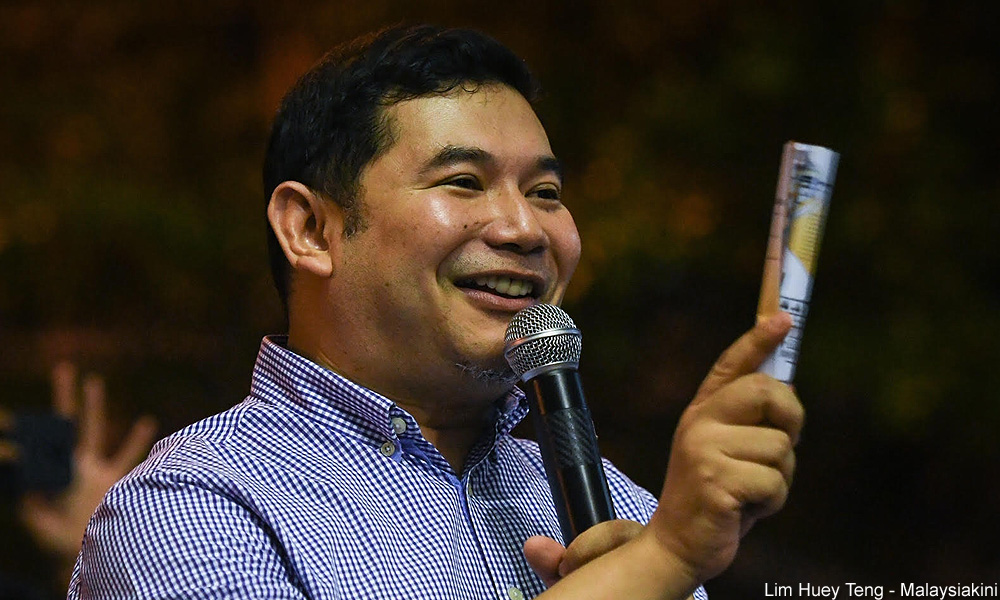 Rafizi Ramli: Be honest with yourself and admit you lost to Economics Minister Azmin Ali. Learn to accept the choice of PKR members and fall in line.–Din Merican
In a lengthy statement this evening, Rafizi said he would not have suffered the same impact as Azmin had the latter lost the race.
"He is a senior minister, a two-term incumbent and former Menteri Besar. Losing to an unemployed person will force him to disappear from the political arena," said Rafizi. In view of this, Rafizi said it was unlikely that Azmin's supporters would have taken defeat easily.
Economics Minister Dato Seri Azmin Ali  defeats Rafizi Ramli
Throughout the statement, Rafizi mentioned four times that Azmin's winning margin was only two percent of the total votes cast.
"The election result is very clear. Azmin's popular vote is only 51 percent – that's a two percent margin over mine. It reflects the (diametric) directions (in the party) which are equally strong and important.
"The message being sent by the members, which allowed Azmin – a senior minister, incumbent of eight years and former Menteri Besar – to win with less than two percent (margin), is a message which he has to reflect upon," said Rafizi.
Given that the winning margin was so small, Rafizi said that the many irregularities he had raised in the past – unfair handling of the elections, missing votes, "data wiping" in Julau and the disruption of Internet connections, among others – were reasons to hold a fresh election, but he didn't pursue it.
"I have a strong case to insist on fresh elections … However, I am aware that the interest of the party and our struggle was above all. "We offer ourselves (as candidates) to serve the public … If the party is embroiled in a protracted feud, then it contradicts our purpose, which is to serve," he said.
He said that, for example, had he pursued fresh elections for the Julau division and won, which he was confident that individuals such as Sarawak PKR information chief Vernon Albert Kedit would have lodged a report with the Registrar of Societies and brought the matter to court.
During the election on November 10, the unofficial results indicated that some 1,600 members from the Julau division had voted in favour of Rafizi over Azmin, who received about 240 votes.
Rafizi had claimed that the tablets used for the e-voting system were compromised and demanded fresh elections. The elections committee (JPP) head Rashid Din said that this was not true and instead accused Rafizi of having a case of sour grapes after failing to mobilise members to vote.
Had the dispute over the party elections continued this weekend, when the party was holding its national congress, it would only bring the new PKR President and Prime Minister-in-waiting Anwar Ibrahim into disrepute, said Rafizi.
Looking ahead, Rafizi said his next mission was to meet PKR grassroots in order to help them organise themselves. He also pledged to set up a co-operative to help PKR members who "did not benefit from this struggle".
He also thanked supporters from across the country who helped him campaign for free. "I do not have any (government) positions and I am not wealthy enough to pay you all, but you all served as volunteers," he said.
Rafizi will speak as the outgoing PKR Vice-President during the party's national congress in Shah Alam, Selangor on Sunday.