September 6, 2018
ISTAC and The Closing of the Malay Mind (?)
Dr. Maszlee Malik was appointed Minister of Education to enhance Pakatan Harapan's Malay-Islamic credentials
COMMENT | Any specialist on think tanks will tell you that 80 percent of the think tanks in the world were formed right after 1950. This was a period marked by the ascendance of the Cold War.
When Cold War ended in 1989, think tanks remained. Some tried to reinvent themselves by holding marquee events like the World Economic Forum (WEF) in Davos.
In Japan, the Nikkei Asia Review does not have a think tank but is nevertheless made more pronounced by the annual Nikkei Asia Conference which Dr Mahathir Mohamad never seems to miss.
In China, the Boao Forum for Asia in Hainan Island was formed with the goal to supplant and replace WEF while the Shangri-La Dialogue in Singapore seeks to gather all the defence ministers in one spot over a period of three days or less.
At last week's Bumiputera Empowerment Congress, which in 1962 and 1965 spawned the creation of MARA and Bank Bumiputera (now absorb by CIMB Bank Group), there were a series of resolutions that read like a laundry list of motherhood statements.
This is usually the first sign that things are about to fail. When driven to the extreme, where ideas are sparse, just pull any proverbial rabbits out of the hats.
Among others, it affirmed the centrality of the International Institute of Islamic Thought and Civilisation (ISTAC) as the prime vehicle to transmit the right values to help Malays and bumiputeras become competitive again.
Yet, ISTAC has had a checkered history. When it was first created in 1987, its location was just a stone's throw away from the old International Islamic University Malaysia (IIUM) campus in Petaling Jaya.
Professor Syed Muhammad Naquib al-Attas (pic above) was the leading founder of Istac.  His goal was to revive the salience of the philosophy of Imam Abu Hamid al-Ghazali. Anyone who failed to abide by this dictate was not considered his 'murid' (student).
Subsequently, it was moved to its own campus in Damansara Heights, adorned with its own Spanish Muslim or Andalusian motifs to give it a sense of crowning intellectual glory.
Before ISTAC could establish itself as a world-class institution, the politics of 1998 had thrown a curve ball at it.
ISTAC found itself embedded into IIUM's new Gombak campus once more, and towards the end of the tenure of Najib Razak tenure as prime minister, most of the professors in Istac were either retired, or impelled to leave; some sadly were teaching three credit hours a year.
So much for respecting the intellectual authority and pre-eminence of the academics. It was Rais Yatim, as the IIUM President, who tried to add a dash of relevance by connecting ISTAC to the Malay world.
After all, rather than a singular focus on Imam al-Ghazali, the same intensity can be zeroed in on Hamzah Fansuri, a top spiritual thinker in Aceh, Indonesia, in the 16th century.
Malay, Islam, or both?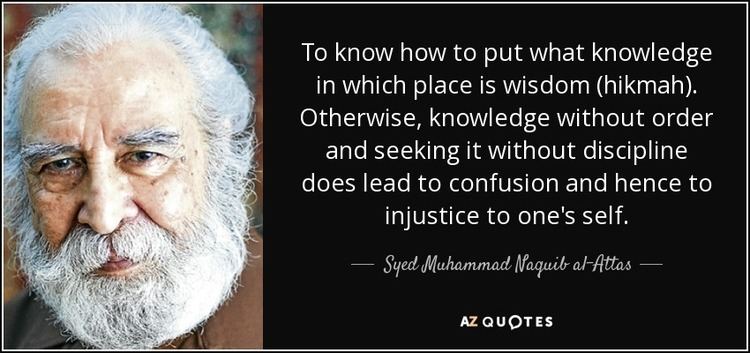 When the authorities resort to moving the goalpost once too often, what is originally a sound academic institution would be enveloped by a foreboding atmosphere of fear and intellectual intimidation. Should we focus on Islam or the Malay world or both? In other words, academics who signed on to teach in ISTAC would be immediately aware of its sketchy history.
Instead of challenging the students to think in a critical and creative manner, the academics themselves would be looking over their shoulder if any authorities are watching over them when they teach subjects that are seemingly politically or ethnographically incorrect.
Must they teach Islam alongside with Malay history when the two can be separate disciplines?
The sciences of Quran and Hadith, for example, have their strong and long pedigree. But so does Sufism of various strands. Would a scholar be punished for teaching Ibn Arabi, instead of Ibn Farabi? No one knows. Precisely because the prior failed experimentation with creative Islamic thought had sent Muslim thinkers careening into various directions.
Do they just stick to their jobs and teach run-of-the-mill courses dictated by the authorities above or do they take the risk of teaching thoughtful and challenging subjects?
When scholars themselves are enveloped in an atmosphere of uncertainties, the process of transmitting the right values to the students are usually facile, fake, and artificial.
Not surprisingly, IIUM produced two groups of students in the last 20 years. Some were committed to reforming Malaysia, others who worked alongside Najib, saw no wrong in the kleptocratic excesses of the regime.
How can IIUM students fail on such a simple moral issue? Stealing was wrong yet many went with it at the Prime Minister's Office. When scholars cannot predict their own fate, how can they help students grapple with their own?
Way to move forward
Indeed, Neil Postman, a top critic and educator, affirmed that the classroom is a seat of "negotiation". When students and staffs are trapped in the same classroom, they have to challenge and confront one another's ideas, albeit differently.
What emerges from the austere setting of the classrooms are not just information and knowledge per se, but the appetite to ask even more questions in the following days or weeks.
Paul Freire, a Brazilian thinker, argued in 'The Pedagogy of the Oppressed' that if students and staff members do not resort to outright argument and counter-argument, they would be importing all the logic of domination – and hegemony – that are all too apparent out there into their own mental conditioning.
If Malays are deemed as an "uncompetitive race" and this notion is left unchallenged in the future classes of ISTAC, then the students and staff members would not be able to break the chain of such mind-numbing stereotypes that are transported into the academic setting.
Students and faculty members would be attempting a safe and septic way to put their views across, which for the lack of better word, is what the late Professor Allan Bloom pointed out in the American campuses at the start of his 'The Closing of the American Mind' – no one wants to ask hard questions.
Indeed, the Bumiputera Empowerment Congress can lead to the Closing of the "Malay mind" too.
At the one-day conference, where the leaders talk down to the audience, where the latter in turn pretends to listen out of the polite fiction to portray their sheer compliance to the new government of Pakatan Harapan, there is no "breakthrough" at all.
Indeed, even if Education Minister Maszlee Malik as the IIUM president wants to focus on transforming Istac, the latter is an institution that is distinguished by two mediums of instructions – Arabic and English.
Malays were at their phenomenal best in MARA, subsequently, Bank Rakyat and Bank Negara, when they could excel in Malay and English, only then Arabic. If it is the latter, a third language, one would have to spend a considerable time memorising the grammar, syntax and rich vocabularies.
While learning a third language is good, the issue at play is economic competitiveness of the bumiputeras and Malays now, which means they have to make their proficiency in Malay and English work first, only then a mastery of Arabic. Either way, they must compete in an Anglo-Saxon world.
Mahathir and Anwar Ibrahim are not masters of Arabic. Neither is Daim Zainuddin. In fact, none of our previous prime ministers or education ministers has had any command of the Arabic language, except perhaps Maszlee who did a language stint in Jordan. But one cannot expect a first-term minister to lionise the whole country at the first instance. He can't. The struggle over black shoes versus white shoes was enough to reflect the difficulties that he may have found himself dragged into.
To be sure, the idea of using ISTAC to transfuse the right values into the bumiputeras is a lovely premise. But a wrong one.
Anyone who has been associated with ISTAC in any way and form will also know that the institution does not normally cater to large segment of students. They offer advanced graduate classes at Masters and PhD levels. How can bumiputeras and Malay graduates be transformed only at the top, when those howling for help and jobs are those at the heap of the bottom?
Somehow the proposition on Istac as the locomotive of 'revolusi mental', or mental revolution, seems like a return to the 1990s when the Malaysian and global economy both moved so far along to produce platform, honeycomb, sharing, and gig economy – all of which are driven by artificial intelligence, algorithm, big data analytics and automation.
How can ISTAC transform Malays and bumputeras to adopt Industrial Revolution 4.0 when the focus on ISTAC itself, both institutionally and otherwise, remain unclear?
The success of MARAa has proven that Malays are quite adept at learning the best technologies, sciences and communication media; without which Malaysia would not have produced a capable group of officers and captains of industries.
But ISTAC has to either be merged with MARA, or converted into an entity that can cater to the bumiputera and Malay masses.
When it does, ISTAC has to then cultivate an ethic to learn, unlearn, and relearn, without fail, as futuristic Alvin Toffler and Heidi Toffler warned. Without such a curiosity, it will be another project that is high on rhetoric and low on delivery.
---
PHAR KIM BENG was a multiple award-winning Head Teaching Fellow on China and Cultural Revolution in Harvard University.
The views expressed here are those of the author/contributor and do not necessarily represent the views of Malaysiakini.