July 2, 2018
New UMNO-Baru President Zahid Hamidi

is good for Pakatan Harapan: He

is a Plutocrat, not a Reformer

by Mariam Mokhtar@www.malaysiakini.com
Deputy Prime Minister Ahmad Zahid Hamidi was chosen as UMNO-Baru President. Forget about reforms. Forget change for the better of Malaysian society as a whole. Think more of the "same-old, same-old" Malay supremacy, and Islam will continue to be their best rhetoric.–Mariam Mokhtar
COMMENT | UMNO-Baru leaders crave respect. What they cannot have by proper means, they will grab through violence or by the creation of fear. Some senior leaders and key members of society are aware that the only way for these leaders their careers to advance was to be loyal to the leader.
While Malaysia was gripped by change and the need to reinvent itself as a proper multi-cultural, equal and just society, many UMNO-Baru members appear to have been in denial.
To make UMNO-Baru acceptable, a few drastic changes will have to be implemented. The deadwood must be thrown out. The concerns of the young and the grassroots must be addressed. Their intolerant racial and religious rhetoric have to be switched off.
Their leaders must dare to be different and stop blaming others for their faults and misdemeanors.
To show the rest of the country that they mean business, the leaders would need to charge those who were let off lightly, or those who evaded prosecution for crimes committed in the past, because certain members of the judiciary were their "members".
There exists in the party, a give-and-take community. The leader promised dedak or positions of power; his minions offered their allegiance in exchange for these offerings.
Last Saturday, we saw the fruits of this labour, when former Deputy Prime Minister Ahmad Zahid Hamidi was chosen as UMNO-Baru President. Forget about reforms. Forget change for the better of Malaysian society as a whole. Think more of the "same-old, same-old" Malay supremacy, and Islam will continue to be their best rhetoric.
Good at manufacturing respect
UMNO-Baru leaders are good at manufacturing respect. Every five years, They make the poor queue-up to receive aid in the form of money, or food parcels. It is pitiful to watch sane, able and decent men and women rush forward to receive aid, especially after a ceramah. It is dehumanising.
The leaders probably felt a rush of adrenaline as the taxpayers' money was used to demonstrate their largesse. They wanted to buy the people's respect.
Perhaps, the recipients of the aid had little choice. What chance would they have of enjoying these simple perks, at other times? Little did they know that, over the years, they were so accustomed to receiving "freebies" that successive governments have found it difficult to wean them off this dedak (bribery) and handout culture.
Sadly, the UMNO-Baru party presidential election is a reflection of this dedak phenomenon.
Long before the members of UMNO-Baru voted for their President, most Malaysians wished them well. Concerned Malaysians hoped that in the interests of true democracy, a strong leader would guide UMNO-Baru and form a worthy Opposition party.
The party and Malaysian society have long been tarred with accusations of money politics and corruption. UMNO-Baru members swore blind loyalty to the leader, allegedly took money he offered in exchange for their silence, closed one eye to corruption, and despite allegations in overseas reports of rampant theft of the taxpayers' money, were full of praise for their leaders.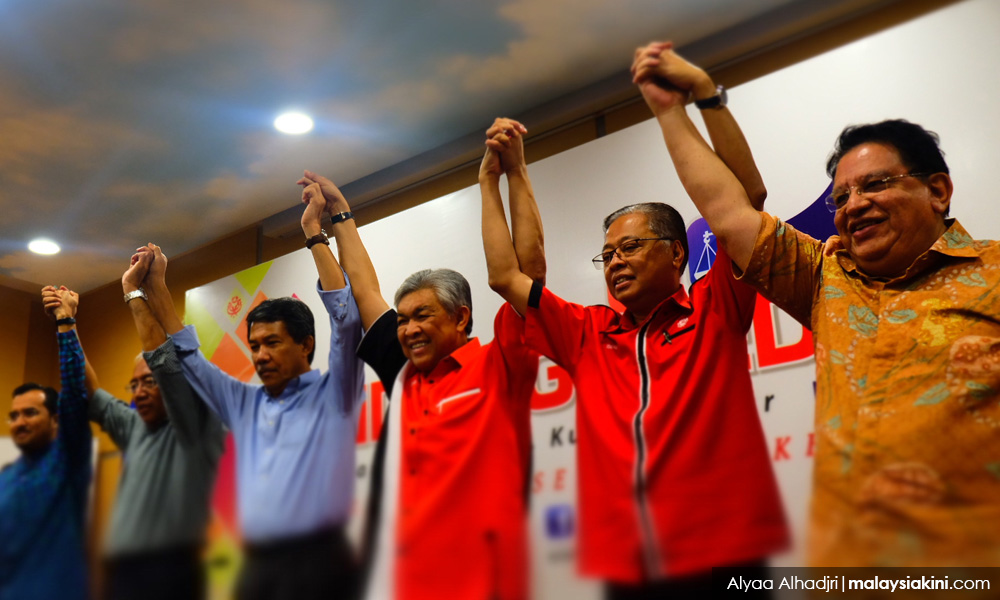 UMNO-Baru–The Status Quo  Dedak Team
They may have been shocked by the excessive lifestyles of the leaders (and the leaders' families). They may have been secretly envious of the trappings of power that the leaders enjoyed, but few senior politicians said anything.
Greed had enslaved both them and their leaders. Fear of losing their position and being left out in the cold, when favours were being dispensed, preyed on their minds.
In the run-up to the UMNO-Baru presidential election, we wished common sense would prevail and they would reject tarnished candidates, but this was an impossible task.
From the start, the three most experienced and viable candidates were the same recycled politicians. Two other candidates had attempted to bid for the presidency but they were not household names.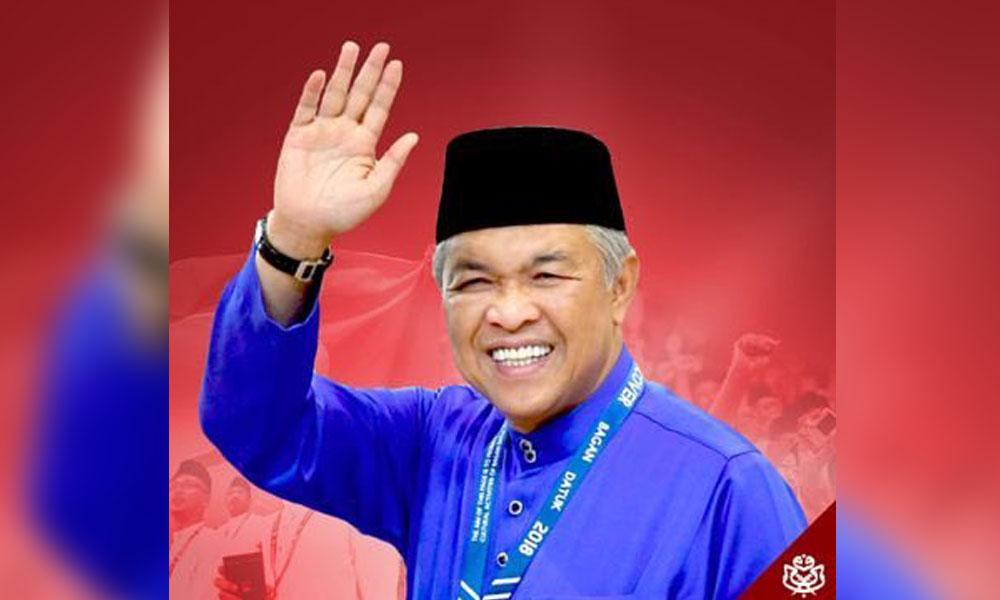 He is no Reformer–He is a Plutocrat cum Dedak in Chief
When the results were finally made known, later in the day, it was clear to all, that they had sealed the fate of the party. Their choice of Zahid does not bode well for the party or the nation. Perhaps, miracles can happen.
The man whom many despise for attacking Prime Minister Dr Mahathir Mohamad for his great-grandfather's foreign roots was allegedly born in Indonesia, to Indonesian parents (in Ponorogo).
At least Mahathir's grandparents and parents were Malayan, but not Zahid, whose parents were definitely Indonesian, until they allegedly decided to settle in Malaysia, in the early 1960s.
When the former, disgraced PM, Najib Abdul Razak knew he had to face the 93-year-old Mahathir in GE14, his cabinet, especially Zahid, were prepared to sling as much mud in Mahathir's way as they could find.
As then Home Minister as well, Zahid would dismiss claims by the people that violent crime was rising. He claimed that Malaysians were confused by the "perception" of rising crime.
When your Home Minister says you are wrong, who do you approach to help you, when it is your word, your trauma and your loss, against the authorities?
You may think that the business of UMNO-Baru and the election of Zahid as president is not our business. On the contrary, it is!
Malaysia will be held to ransom unless UMNO-Baru members stage an internal revolt or vote of no confidence. New blood is needed to rejuvenate the party – or form a new one.
---
MARIAM MOKHTAR is a defender of the truth, the admiral-general of the Green Bean Army and President of the Perak Liberation Organisation (PLO). Blog, Twitter.
The views expressed here are those of the author/contributor and do not necessarily represent the views of Malaysiakini.