June 8, 2018
Read what I wrote, not what others quote, says Kadir Jasin
Dato Seri Anwar Ibrahim,
Having Kadir Jasin's article in Sinar Harian and his blog post of June 4, I now ask you what is your game plan and what is your motive in making Royalty a political issue. It is totally unhelpful to Pakatan Harapan government.
Allow Dr. Mahathir who has been given the mandate to govern to lead the country until your turn comes. You will do us a great service if you can refrain from running a parallel government. There shall be only one captain of the Malaysian ship. That captain is Tun Dr. Mahathir Mohamad.

I agree with Dato A Kadir Jasin that any institutional reform that the government proposes to undertake should include a critical examination of the role of our esteemed Rulers in our system of governance. Let us eliminate any constitutional ambiguities that may exist. But Malaysia will remain a democracy with a constitutional monarch. —Din Merican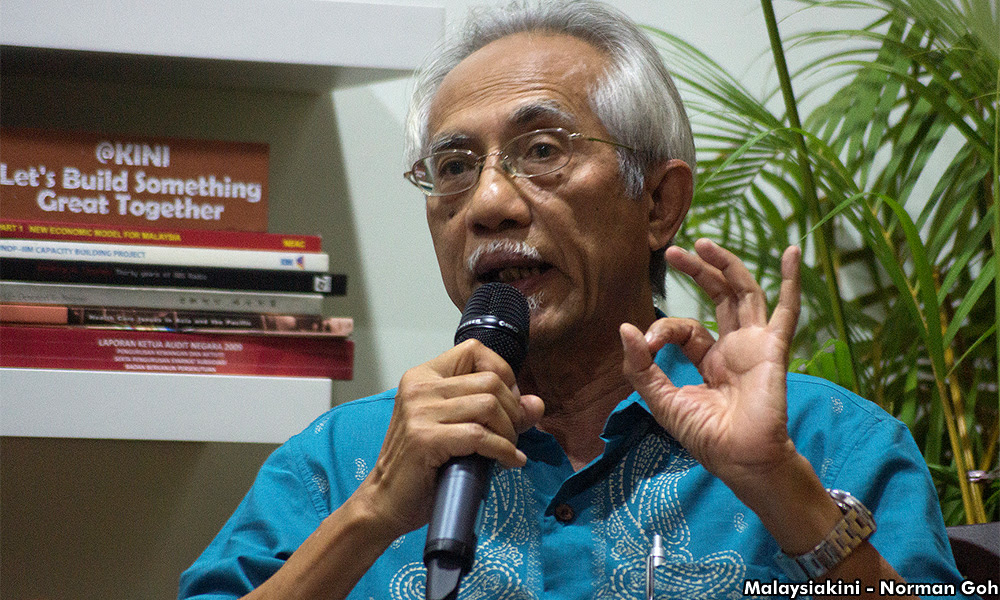 Following criticism from PKR de facto leader Anwar Ibrahim, former journalist A Kadir Jasin has urged members of the public to judge him by his writings and not what others quote from it.
In particular, he referred to his column titled "Masukkan Institusi Raja Dalam Reformasi" ("Include the Royal Institutions in the Reform") that was published in Sinar Harian on May 27, and his blog post dated June 4, titled "Constitution: The King and the Pauper".
"I will leave it to readers and speakers to judge me based on Anwar's 'criticism' by re-reading and understanding my arguments on those issues," the Bersatu supreme council member said in a blog post today.
He stressed that he was speaking in his personal capacity and not those of any positions he holds.
He was responding to Anwar's statement last night accusing Kadir of issuing disparaging remarks against the royal institution.
Anwar said that while individuals have the right to express their views, Kadir should have shown more respect and decorum, and give the rulers an opportunity to respond and clarify.
"To give disparaging remarks without giving the rulers the opportunity to clarify, that's not healthy, especially when you use your position and be seen to be close to people in the government.
"I've also seen some of the assertions, and there are some major factual errors there. I think we should be mindful of that," he told reporters.
He said it had been an "arduous" process to reassure the Malay rulers regarding Prime Minister Dr Mahathir Mohamad's administration. As such, individuals should be mindful in making their remarks.
Kadir, who is also the Council of Eminent Persons' spokesperson, denied that he is using his position to attack the royal institutions because the foreword to his articles clearly stated that the writings are his personal opinions.
He said if there are "questionable" facts in his writings, then those facts should be questioned and the correct facts should be provided.
"If I am mistaken, I will make a correction and apologise," he said. He also denied questioning the necessity for Anwar to meet the Malay rulers.
"I merely said that the kings don't need any guarantees or comforts because their position is guaranteed by the constitution.
"I don't deny the fact that Pakatan Harapan had to work hard to win the support of the Malay rulers, just that I later learned that apart from Anwar, other Harapan leaders also had audiences with the rulers.
"I don't wish to start polemics with Anwar because this is unnecessary. Anyone who wants to understand what I wrote can read the two articles in the links I've provided.
Read what I wrote and not what is quoted and purported by various parties," he said.
Masukkan institusi raja dalam reformasi
TINDAKAN kerajaan baharu Pakatan Harapan (Harapan) nampaknya mula memberikan keyakinan bahawa ia sedang mengotakan apa yang dijanjikannya.
Seperti saya catatkan dalam tulisan minggu lepas, pasaran saham, mata wang dan bon tidak mengalami pergerakan negatif walaupun berlaku penyesuaian di sana sini.
Harga di Bursa Malaysia naik sedikit sejak kemenangan Harapan dalam PRU14 9 Mei lalu. Bagaimanapun ia turun pada 23 Mei sebagai tindak balas kepada pendedahan bahawa hutang kerajaan jauh lebih tinggi daripada yang didakwa oleh kerajaan lama.
Perdana Menteri, Tun Dr Mahathir Mohamad, dan Menteri Kewangan, Lim Guan Eng, mendedahkan bahawa hutang kerajaan kini melebihi RM1 trilion (RM1,000,000,000,000) bukan RM685 bilion seperti bekas Perdana Menteri Datuk Seri Mohd Najib Razak dakwa selewat 12 Mac lalu.
Selaras dengan janji 100 harinya, kerajaan telah mengambil beberapa langkah bagi mengukuhkan kewangan negara. Antaranya memotong 10 peratus gaji menteri, menutup jabatan dan agensi yang bertindih atau yang menjalankan tugas politik Barisan Nasional (BN). Projek-projek mega dikaji semula dan sesetengah agensi utama mendapat ketua baharu.
Kes penyelewengan 1MDB dan SRC International Sdn Bhd (SRC) dibuka balik. Banyak orang yang berkaitan dengannya, sama ada sedang disiasat oleh SPRM atau PDRM. Ada yang sudah disekat daripada meninggalkan tanah air.
Dalam proses penyiasatan dua kes rasuah terbesar dalam sejarah negara itu, peranan raja-raja menarik minat ramai. Ketua Pesuruhjaya SPRM yang baharu, Datuk Seri Mohd Shukri Abdull, mendakwa "SPRM hampa" dalam usaha mendapatkan campur tangan Majlis Raja-raja. Beliau membuat dakwaan itu dalam sidang akhbar 22 Mei.
Sejak itu, Majlis Raja-raja telah mengeluarkan kenyataan menyangkal dakwaan berkenaan. Saya tidak berani mengatakan sejauh mana percubaan meminta bantuan raja-raja itu telah dibuat. Yang saya masih ingat ialah pada 5 Oktober 2015 Raja-raja telah mengeluarkan kenyataan meminta kerajaan mempercepatkan siasatan kes 1MDB dan mengambil tindakan wajar ke atas pihak-pihak yang terbabit.
Saya tidak tahu sejauh mana titah itu dipedulikan. Yang kita tahu ialah tidak sampai empat bulan kemudian, Peguam Negara baharu ketika itu, Tan Sri Mohamed Apandi Ali mengisytiharkan tidak ada kes jenayah melibatkan 1MDB. Mohd Shukri mendakwa SPRM menemui Majlis Raja-raja dua kali untuk memaklumkan mengenai siasatan 1MDB/SRC yang melibatkan Mohd Najib.
Dalam konteks yang lebih luas, mungkin baik kita menilai semula tindak balas raja-raja terhadap aduan berkenaan 1MDB, khususnya dan hal-hal lain yang melibatkan institusi raja kerana negara kini ditadbir oleh kerajaan baharu.
Kerajaan Harapan mungkin dituduh gagal dalam tugasnya menyelamatkan negara dan menyejahterakan rakyat jelata kalau institusi raja tidak dikaji dan difahami. Ini adalah kerana raja berperlembagaan adalah antara institusi utama negara.
Dalam kempennya, Harapan mendakwa kerajaan pimpinan Mohd Najib telah menodai dan merosakkan banyak institusi utama negara lantas berjanji melakukan reformasi institusi (institutional reforms). Maka wajarlah institusi raja dikaji dan, jika perlu, direformasi.
Hal ini sangat relevan kerana majoriti yang mengundi Harapan adalah generasi muda dan ramai daripada mereka tidak begitu memahami institusi raja. Kata pepatah, tidak kenal maka tidak cinta.
Raja-raja kita adalah raja-raja berperlembagaan. Kuasa dan kegiatan mereka tertakluk kepada perlembagaan. Lebih daripada itu, sumpah jawatan mereka dibuat dengan nama ALLAH. Mereka adalah ketua agama Islam.
Mereka dibayar gaji oleh rakyat jelata dan segala keperluan rasmi mereka ditanggung oleh kerajaan. Dalam keadaan di mana hidup rakyat susah dan kewangan negara sempit, kerajaan tidak boleh sekali-kali membazirkan wang untuk sesiapa pun. Biarlah saya kata macam ini: Istana-istana yang ada itu sudah mewah.
Raja-raja juga tidak kekal. Yang di-Pertuan Agong misalnya boleh disingkirkan oleh Majlis Raja-raja dengan lima daripada sembilan Raja-raja Melayu menyokong ketetapan berkaitan dengannya.
Dalam usaha kerajaan baharu mempertahankan hak rakyat jelata dan melindungi institusi negara daripada sebarang bentuk pencabulan maka adalah penting diambil tahu pembabitan raja atau istana dalam kegiatan-kegiatan tidak rasmi seperti perniagaan dan sosial.
Kalau perlu kita kaji semula perlembagaan dan kontrak sosial bagi mengambil kira suasana dan realiti yang ada pada hari ini bagi mengharmonikan perjanjian antara raja dan rakyat jelata.
Wallahuaklam.
* Penulis ialah Tokoh Wartawan Negara dan kandungan kolum ini adalah pendapat peribadi beliau semata-mata