January 13, 2018
The Constitution is Supreme not Speaker Parliament Pandikar Amin !
by Din Merican in Phnom Penh, Cambodia
Speaker of Dewan Rakyat or  a Buffoon?
On Thursday  January 11, 2018, I noted that the media in Malaysia reported about an interesting incident in Court where a former Member of Parliament — the son of the late Deputy Prime Minister, Tun Dr.  Ismail Abdul Rahman— filed a suit against the Speaker and Secretary of the Dewan Rakyat for wrongfully tabling a Bill by PAS Chief Hadi Awang ("Hadi's Motion") seeking to amend the Syariah Courts (Criminal Jurisdiction) Act 1965 ("RUU355").
It was reported that Tawfik Tun Dr Ismail (pic below) had challenged in court that Speaker Tan Sri Pandikar Amin Mulia committed contempt against the Sultans by playing politics in Parliament when he allowed the tabling of Hadi's Motion and RUU355. This was unconstitutional as the Conference of Rulers, as the Heads of Islam, had not been consulted with earlier in breach of Art. 38(2) and Art 38(4) of the Federal Constitution.Tawfik also contended that the RUU355 itself is in violation of Article 8 of the Federal Constitution and would create inequality in the law amongst Malaysians especially Muslims for purported Syariah criminal offences.
Tawfik  Tun Dr. Ismail
Hadi's Motion had caused a great deal of unrest and showed it was nothing more than a political game. Sometime in March 2017, Deputy Prime Minister Dr. Zahid Hamidi announced that UMNO had a pact with PAS and the RUU355 will be tabled by him as a Government's Bill. Subsequently, Prime Minister Najib Razak said that BN component parties were against it and that it will not be a Government's Bill. Zahid lost face and got played out by Najib. Serves him right for trying to play politics with religion!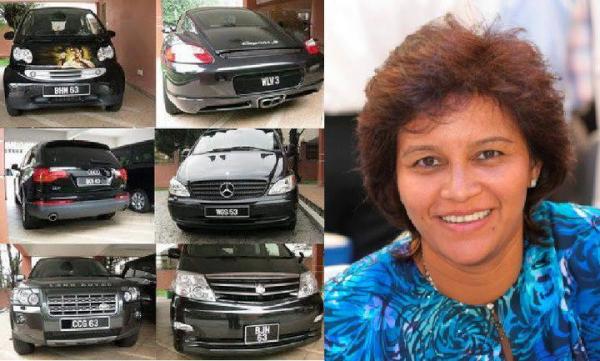 Butch Minister Azalina Othman Said (2018)
I recalled there was widespread discontent and anger on April 6, 2017 when Speaker Pandikar played a trick on the opposition. After tabling Hadi's Motion, the butch Minister Azalina Othman proposed that the House sitting be adjourned. Pandikar then quickly ended the session and ran out to the calls of "Takut" and "Ayam". That was how RUU 355 came to be tabled as first reading in Parliament without any debate – by trickery.
Such is the quality of this cowardly Speaker who goes by the name of Pandikar but who behaved like a pondan. When asked to explain his unusual conduct, Pandikar tried to show he is smart when he answered -"If you have power, you are powerful. If you don't use that power, you are a bloody fool!"
Again in court, Pandikar did not dare fight Tawfik. Instead he asked the A-G Chambers to strike out Tawfik's suit. Pandikar claimed that as Speaker he has absolute power and is not subject to the courts by claiming Parliamentary supremacy.
Not to be fooled by Pandikar's cowardly ways, my friend Lawyer Rosli Dahlan, who represented Tawfik, pointed out that Pandikar was misleading the court by relying extensively on English cases on parliamentary supremacy and privilege. He showed that the doctrine of Parliamentary supremacy does not apply in Malaysia as it does in the UK. In Malaysia, even the Speaker is subject to the Constitution and the Court is the bulwark to ensure that the Speaker does not abuse his powers.
The most interesting part about Tawfik's case is that all previous lawsuits were to strike down bad laws by Parliament. This is the first time that the Speaker is being sued for abusing parliamentary privileges and claiming he is above the constitution and the Court. I hope Judge Dato Wira Kamaludin Said will deliver the correct decision in law and put this Speaker Pandikar in his proper place.
The RUU355 case filed by Tawfik and argued by Lawyer Rosli reveals the abuse of parliament by the politicians to pass bad laws for political mileage without concern for the Rakyat especially Muslims. It also shows treason by the Speaker by his disloyalty and disregard to the Conference of Rulers by flexing his muscle that he is more powerful than the Malay Rulers, when he arrogantly  announced :
"If you have power, you are powerful. If you don't use that power, you are a bloody fool."
I have just managed to obtain a copy of Rosli's written rebuttal to the A-G Chambers' argument which shows that the Speaker of Parliament is also subject to the Court's jurisdiction. I would be pleased to share it with you who are legal eager beavers if required.
From the grapevine, I heard that Rosli had the assistance of Emeritus Professor  Dato Dr Shad Faruqi, the eminent constitutional expert of Malaysia. I whatsapp Rosli to ask if it was true that the most eminent academia in Malaysia is supporting him. As usual, Rosli is tight-lipped about the cases he handles. However, his cryptic answer was very revealing. He said – "Isn't it good for the country if they are behind me as they see this as ultimate Patriotism in fighting for the Rulers , the Constitution and the Rule of Law."
I hope Rosli and Judge Kamaludin will show to Speaker Pandikar who is the ultimate bloody fool!
Also read:
The plaintiff's written rebuttal