July 27, 2017
Getting to the Bottom of Bank Negara's Forex Losses in 1994
by P Gunasegaram
QUESTION TIME | The Royal Commission of Inquiry (RCI) if it competently, fairly and independently investigates Bank Negara Malaysia's foreign exchange losses of an estimated RM31 billion in the early 90s, will unearth many interesting facets of the episode and put a stop to speculation over them, even if it is 25 years too late.
Dr. Mahathir and his Forex Teacher, Noh Mohamed Yakcop (now Deputy Chairman, Khazaanah Nasional Berhad)
Ironically, DAP's Lim Kit Siang had called for an RCI on the forex losses way back in 1994 when the scandal came to light, only to see it happen now, when the then Prime Minister Dr Mahathir Mohamad, his bitter political foe before, became an ally under Pakatan Harapan.
No doubt that was partly why the RCI came into being – to tarnish Mahathir's image, and Lim's and Anwar Ibrahim who was Finance Minister from 1991 to 1998, which covered the period during which the forex trading took place. It will also deflect attention from 1MDB for a while.
Mahathir (and Anwar) subsequently took great pains to conceal the details of the forex losses–P. Gunasegaram

The RCI report will likely be damaging to Mahathir the most, followed by Anwar with some collateral damage on Lim, now allied to Mahathir. Lim, to his credit, was the fiercest critic then against the forex losses and spoke up in Parliament repeatedly, blaming both Mahathir and Anwar.
But what would have been right is to have had an RCI simultaneously on 1MDB as well, where a similar amount of US$7 billion (currently RM30.1 billion) is unaccounted for, according to press reports quoting the auditor-general's report, which remains hidden under the Official Secrets Act.
These are, after all, the largest losses made to date by Malaysian state-owned institutions and it will be very informative and instructive to find out how these losses happened, and from where the final instruction came which resulted in these institutions losing a combined sum of more than RM60 billion.
In fact, an RCI for 1MDB is even more urgent, considering that this is an ongoing event and a quick investigation can help recover much money, about which evidence very strongly indicates has already been stolen. Establishing early where the money is increases chances of recovery substantially. But that RCI won't happen now but might in future, at least one hopes so.
Still, the RCI forex investigation is an opportunity to put the facts right. Some key questions: How much was lost? Who was responsible? Who gave the order to engage in forex trading? Is there any written order or was it by word of mouth? The answers to these will finally exorcise the ghosts of the forex losses.
Unfortunately, one of the persons who has all the answers – then Bank Negara Governor Jaffar Hussein – passed on in 1998. The other is then Bank Negara Adviser (now referred to as Assistant Governor) Nor Mohamed Yakcop, currently Deputy Chairperson of Khazanah Nasional Bhd and before that a cabinet minister and special economic adviser to Dr Mahathir Mohamad after the 1998 Asian financial crisis.
Tan Sri Jaffar Hussien–I never figured out how an otherwise careful and meticulous person could have been so careless.– P.Gunasegaram
I interviewed Jaffar several times during my days as a financial reporter in the 80s, both at Bank Negara and at Malayan Banking where he was CEO. His obvious integrity and knowledge impressed me and if not for that forex loss, the only blight on a distinguished career, he would have retired in glory instead of ignominy. I never figured out how an otherwise careful and meticulous person could have been so careless.
Both of them resigned in 1994 after Bank Negara's press conference in March to release its annual report for 1993, where the full extent of the central bank's forex trading losses became clearly apparent for the first time. Even then, the exact figure for the losses was not immediately obvious and is still not certain, although most reliable estimates and sources put it at around RM30-32 billion.
Did Mahathir know?
Others in the know could include then Bank Negara Deputy Governor Dr Lin See Yan and officials who worked in the foreign exchange department of Bank Negara at the time. They, plus records of the central bank, should help the RCI piece the necessary information together quite easily.
The first question that the RCI will probably consider is how much Bank Negara lost from forex trading. This is quite straightforward – just look at the full accounts for the period 1989-94, when the trading and losses were incurred.
Most put the figure at around RM30-32 billion, a figure in line with my own sources. Former Finance Minister Anwar, in an interview with Malaysiakini over a decade ago in 2007, put the figure at RM31.3 billion, after netting off profits.
Bank Negara's "active management" (read: taking leveraged positions on currencies) of its reserves started in 1989/90 and is unlikely to have taken place without the tacit support and approval of then Prime Minister Mahathir, who frequently hit out at developed countries for influencing currency values.
This is exemplified in a Bernama report (see image below) on November 5, 1990, which is reproduced in verbatim below:
"Kuala Lumpur, Nov 5, (Bernama) – Bank Negara's currency dealings in the foreign exchange market were aimed at protecting and stabilising the ringgit, Prime Minister Datuk Seri Dr Mahathir Mohamad said today.
"The dealings were not meant to make profits, he added, pointing out that the revaluation and devaluation of foreign currencies had caused Malaysia to suffer huge losses previously.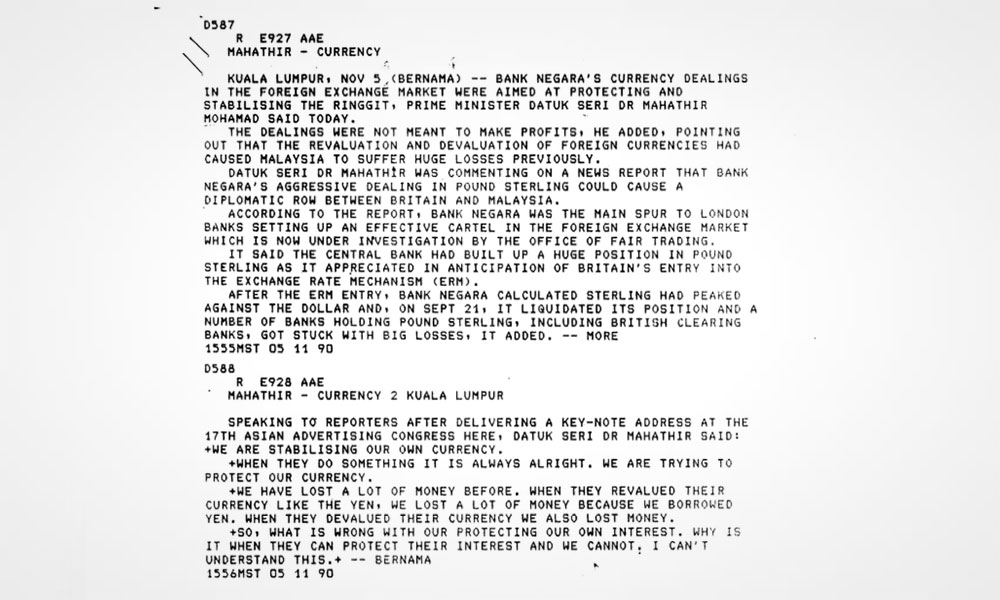 "Datuk Seri Dr Mahathir Mohamad was commenting on a news report that Bank Negara's aggressive dealing in pound sterling could cause a diplomatic row between Britain and Malaysia.
"According to the report, Bank Negara was the main spur to London banks setting up an effective cartel in the foreign exchange market which is now under investigation by the Office of Fair Trading.
"It said the central bank had built up a huge position in pound sterling as it appreciated in anticipation of Britain's entry into the Exchange Rate Mechanism (ERM).
"After the ERM entry, Bank Negara calculated sterling had peaked against the dollar and, on Sept 21, it liquidated its position and a number of banks holding pound sterling, including British clearing banks, got stuck with big losses, it added.
"Speaking to reporters after delivering a keynote address at the 17th Asian Advertising Congress here, Datuk Seri Dr Mahathir said, 'We are stabilising our own currency.
"'When they do something it is always alright. We are trying to protect our currency.We have lost a lot of money before, when they revalued their currency like the yen. We lost a lot of money because we borrowed yen, when they devalued their currency we also lost money. 'So what is wrong with our protecting our own interest, why is it when they can protect their interest and we cannot. I cannot understand this.'"
Sins of the past
This is vintage Mahathir. First, he does not deny the report but the way he responds he indicates he knew about Bank Negara's actions. And then he says the actions were justified because of forex losses made by Malaysia on its foreign loans, never mind that Malaysia did nothing to hedge the currency exposure.
He was referring to the Plaza Accord of 1985, an agreement between the governments of France, West Germany, Japan, the United States and the United Kingdom, to depreciate the US dollar in relation to the Japanese yen and German deutsche mark by intervening in currency markets.
To him, it did not matter that it was unprecedented and extremely foolhardy for a central bank to act in that manner, putting its reserves under serious risk. Two years later, in 1992, Bank Negara was left holding the wrong end of the stick when it bet for the pound and lost, eventually losing more than RM30 billion as it unwound the positions it had taken.
Anwar in his 2007 interview put the loss at RM33.8 billion in forex speculation from 1989 to 1993. Offset against RM2.5 billion in profit in 1990, the loss eventually worked out to RM31.3 billion, he said, adding that it was based on figures audited by the auditor-general.
While he was Finance Minister from 1991 to 1998, Anwar denied that he was aware of the forex speculation at the time, although Bank Negara comes under the Finance Ministry.
As far as Mahathir is concerned, it is clear from that Bernama report that he condoned and was aware of the Bank Negara actions. The fact that both Jaffar and Nor Mohamed faced no other punishment, beyond resignation, is indication that they did not act on their own accord.
Mahathir (and Anwar) subsequently took great pains to conceal the details of the forex losses, with Lim constantly hounding them in Parliament and elsewhere. Lim even wrote a book titled "The Bank Negara RM30 Billion Forex Losses Scandal" in 1994.
In 2004, when Nor Mohamed was appointed Finance Minister II, Lim had this to say: "Nor Mohamed's first job as Finance Minister II should be to issue a White Paper to 'exorcise the ghost' of the RM30 billion Bank Negara foreign exchange (forex) losses a decade ago, (in) which he had played such a pivotal role, to establish his suitability as the Second Finance Minister – that apart from professionalism, he is fully committed to the principles of accountability, transparency and good  democratic governance.
"Up to now, the government has failed to come clean on the colossal Bank Negara forex losses as a result of speculation in the international currency markets from 1992-1994, with the losses cited as ranging from RM10 billion to RM30 billion.
"In Parliament in 1994, I had given reasons as to why Bank Negara's forex losses, as a result of its forex speculation operations, could have amounted to as high as RM30 billion, which had not been seriously rebutted by any top government leader or Bank Negara official."
The full statement is here.
A quarter of a century later, he has his wish, but he is finding out that his and Pakatan's association and alliance with Mahathir has great risks – almost as great as the one Bank Negara took.
And there may well be more in store for that forex loss, as we all well know, is only one of Mahathir's great sins. Anwar and Lim, who suffered perhaps more than anybody else under Mahathir, should have known better than to bring this upon themselves.
One last thing. This RCI is a reminder to Malaysian Prime Ministers that if they have been remiss in the past, it is always possible that the future leadership will allow an RCI to dig up the details. Hopefully, future Prime Ministers will be more careful about what they do.