June 10, 2017
The Costs and Benefits of SOCIAL INCLUSION
by Dr. Lim Teck Ghee@www.malaysiakini.com
COMMENT | Amongst inclusion, integration, affirmative action, ethnic preference or similar policies implemented to redress perceived socio-economic differences or imbalances in social groups, probably the longest lived and arguably most successful of those pursued by the world's nations have been those of Malaysia in the field of education.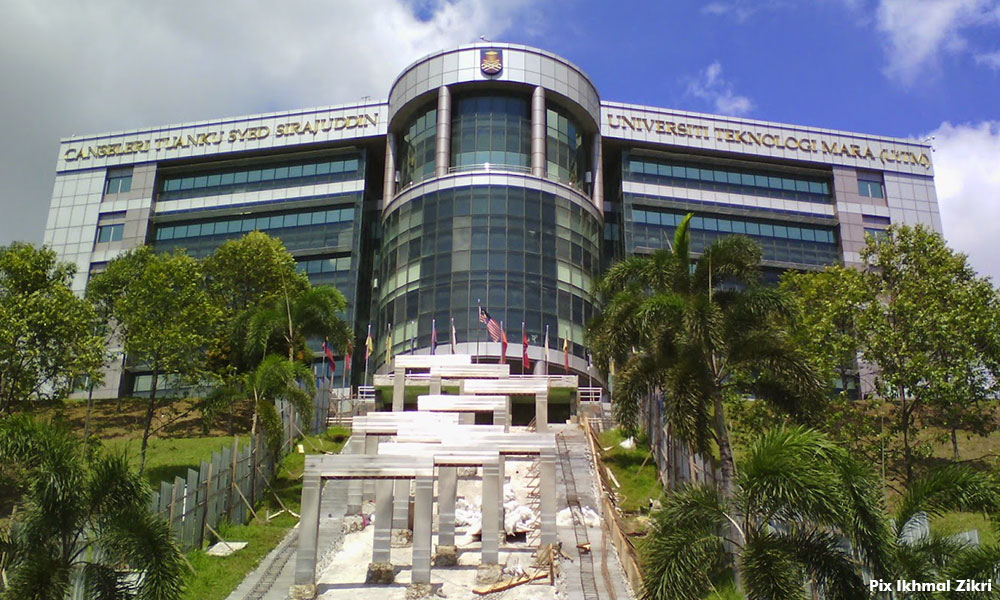 The beginnings of this achievement in education can be traced to active measures undertaken by the British colonial government to upgrade the economic progress of Malays in 1950 through the establishment of the Rural Industrial Development Authority (Rida).
According to an official history account, Rida had first opened its doors to some 50 students to help in the training of rural Malays in 1956.
Following independence and the May 13 racial violence, Rida morphed to become Majlis Amanah Rakyat or Mara as everyone today knows it.
Since then, this modest educational component of Rida/Mara has grown to become the largest higher education institution in the nation.
Today, Universiti Teknologi Mara (UiTM) comprises one main campus, 13 state campuses and 22 satellite campuses. With 17,000 academic and non-academic staff, UiTM offers over 500 programmes ranging from foundation to postgraduate level.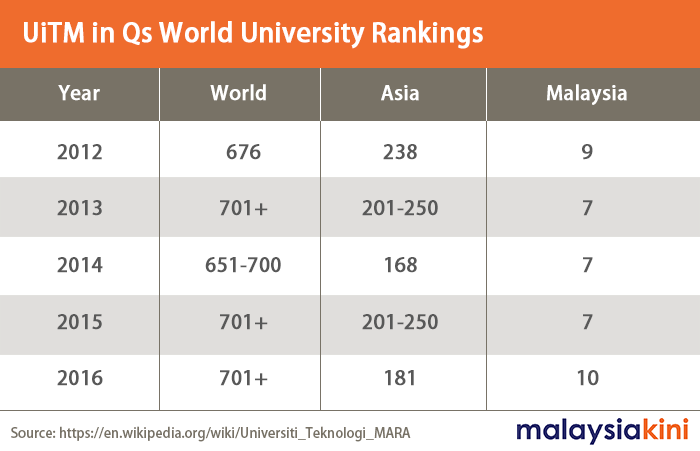 It has some 170,000 students – all bumiputeras and a small number of international students – and teaching is fully conducted in English.
There is no disputing the benefits and advantages that ethnic preference policies in higher education have had for the Malays. UiTM can be said to have spawned an entire generation of the Malay middle and upper class. It has also been the catalyst to the rapid proliferation of Malays in key targeted professional and high income groups during the New Economic Policy (NEP) and post-NEP era.
Putting UiTM under the microscope
The Economic Planning Unit does not appear to have updated a key table showing the racial proportion of professional and high income groups for some years now.
This is probably because Malays have comprised the largest number among accountants, architects, dentists, medical doctors, lawyers, veterinary surgeons, engineers and surveyors in the country for at least one decade, if not longer now.
Less easy to assess are the costs and the impact of this racially structured affirmative action education and training agency on the country's manpower needs and talent pool. The most contentious issue relates to the closing of the university's doors to non-Malay students.
Although the university's Pro-Chancellor, Arshad Ayub, in 2015 called for opportunity to be given to non-bumiputeras to study there, so as to encourage healthy competition and produce more intellectuals among students, his proposal – even though he qualified it by stating that these opportunities should be opened at post-graduate levels and not at diploma and bachelor's degree levels – has proven to be a political minefield and non-starter.
Contentious issues aside, it is also unclear today the extent to which the Malay poor – indeed, the entire bumiputera poor – are the prime beneficiaries according to the mission objectives of the institution.
Or whether the institution is catering to a privileged Malay middle and upper class which can well afford to meet its educational needs in the same way that the rest of the country's citizenry are doing. If the latter is happening, not only are non-Malays being marginalised, but also poor Malays and poor non-Malay bumiputeras.
According to a recent report, 3,000 Sijil Pelajaran Malaysia (SPM) and Sijil Tinggi Pelajaran Malaysia (STPM) school-leavers who failed to pursue further studies despite obtaining excellent results were offered placements at UiTM in 2016.
Vice-Chancellor Professor Emeritus Hassan Said said the opportunity was being given to to students from poor families and rural areas who could not continue their studies due to various factors, among them financial constraints. This total – even if increased greatly – will be a miniscule of the total number of 200,000 students envisaged for the year 2020.
A stand alone comprehensive and independent review of UiTM is not only necessary. It is overdue for at least three reasons.
One is the dominant role of UiTM in the country's higher education and manpower planning system.
The second is the very large amount of public expenditure that has been spent during the past four decades on the institution. According to the latest data, the operating budget for UiTM alone in 2016 came up to RM2.23 billion of the total RM7.57 billion allocated to all 20 public universities in the country, or nearly 30 percent.
Even after the latest round of budgetary cutbacks, UiTM is slated to receive an allocation of RM1.67 billion of the RM6.12 billion allocation for all public universities in 2017.
Finally, a rigorous assessment is necessary because the government is continuing to position Mara and UiTM as the crucial driver of bumiputera economic and educational development for the coming decades.
Meanwhile there should be concern about the quality of higher education provided by UiTM. In the current Wikipedia article on UiTM, the table below shows that hardly any progress has been achieved by the university in its standing among universities in Malaysia, the region and world.
What is preventing UiTM from living up to its self characterised description of being "a research-intensive entrepreneurial university' leading the way for Malaysia to become an innovation-based and knowledge-based economy are just two of many questions that need to be asked by all concerned Malaysians, not just politicians and the university's staff and alumni.