May 25, 2017
Anwar Ibrahim is my Prime Minister and why
by http://www.malaysiakini.com
No Politician in Malaysia has been challenged, tested, and made to suffer like Anwar Ibrahim. Yet he has remained steadfast to his cause. It takes a lot of willpower and character. Nurul Izzah Anwar told me when I met her recently in Phnom Penh that her father refused asylum in the United Kingdom and a professorial position at the prestigious Georgetown University in the United States because he would not abandon his struggle for freedom, justice and democracy.–Din Merican
Comment: It is life's irony that a man who was regarded a "Malay Ultra" by the Late Lee Kuan Yew and a long serving 4th Prime Minister with blemished track record of failed institutions and Malay-centeric policies is the preferred choice to be the Prime Minister should Pakatan Harapan win the GE-14 elections.
It shows to me at least how desperate Malaysians have become to want a 92 year old ex-UMNO President to lead our country. This is good news to the incumbent Najib Razak because he can beat Dr. Mahathir  quite easily. He has enough information about his predecessor twice removed to sway voters against Pakatan Harapan.  It will then be from "Ada Harapan to Tiada Harapan" (Hope to No Hope).
I make no bones about my choice as our country's next Prime Minister. He is no other than the village boy (he is not a member of the Malay aristocratic class) from Chrok Tok Kun in Penang called Anwar Ibrahim. He is not perfect (neither am I and you) but he is the most experienced Malaysian politician and a charismatic personality cum public intellectual with ideas about democracy, freedom, social justice and good governance. He has been through a lot as a result of being in jail on trumped up charges of sodomy. Yet Anwar is unwavering in his commitment to the people of Malaysia the way Nelson Mandela was to the people of South Africa. Mandela became President after spending 27 years in jail.  Anwar can be Malaysia's Prime Minister.
I should know about Anwar Ibrahim as I was once working for him in 2007-2009. In 2008, I traveled with him in his car day and night to campaign throughout the length and breadth of our country. We spent countless hours chatting about his vision for Malaysia and empathy for the ordinary man. He united the Opposition including PAS and created a movement that eventually led to the political demise of Abdullah Badawi, our inept and sleepy head 5th Prime Minister. He replaced by Najib Razak, Mahathir's choice as UMNO President and Prime Minister.
Unfortunately for Anwar and us Malaysians , Najib Razak was able to create Sodomy 2 (I am not sure if Tun Dr. Mahathir and his associates had hand it in this) that landed him in Sungei Buloh for the second time.  Today, he remains our prisoner of conscience, who is strong in will and very committed to the cause of justice, freedom and dignity for Malaysians. Here is to you, Anwar Ibrahim: Salam Reformasi. Lawan Tetap Lawan. –Din Merican
Desperate Malaysians prefer Tun Dr. Mahathir as Prime Minister again
by http://www.malaysiakini.com
An overwhelming majority of Malaysiakini's readers have endorsed Dr Mahathir Mohamad as Pakatan Harapan's Prime minister candidate.
According to the 12,777 who voted in the new portal's poll, 8,926 (69.9 percent) said Mahathir should be made a candidate while 3,276 (25.6 percent) disagreed. A small group answered "Not sure" or "Don't care" in the poll, which ran for six days since May 19.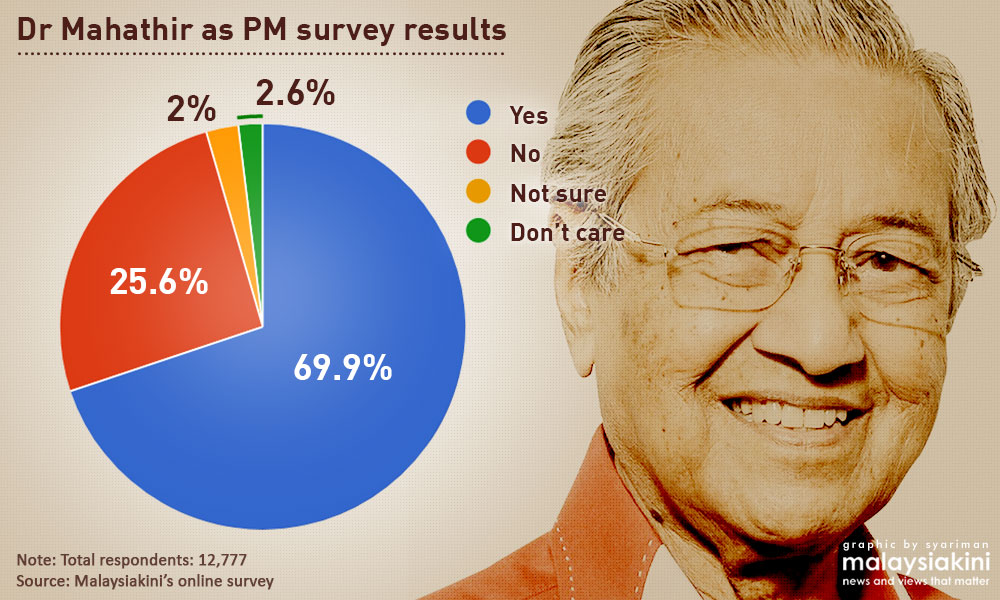 As the poll was conducted in three languages, the results showed different voting patterns among the various demographics.
Respondents who took part in the English-language version were the most supportive of naming Mahathir as a candidate for the premiership, compared to Bahasa Malaysia or Chinese-language readers.
Of those who answered the English-language poll, 76.6 percent were in favour of naming Mahathir as prime ministerial candidate while 68.6 percent of those who answered through the Bahasa Malaysia poll voted the same.
However, only 51 percent of those who answered the Chinese-language poll backed Mahathir for the top post, with 43.9 percent disagreeing.
One of the reasons for the Chinese-language poll results could be related to Mahathir's words and deeds during his tenure as Prime Minister, for example, the Suqiu election appeals issue. In 2000, even DAP supremo Lim Kit Siang, who has since buried the hatchet with Mahathir, lambasted the former Premier over the Suqiu matter.
After accepting Suqiu's election appeal, which included a review of the National Economic Policy, Mahathir, following the 1999 polls, had likened the movement to the communists. Another reason for the lack of support among Chinese-language readers is perhaps because they prefer jailed opposition leader Anwar Ibrahim to helm the nation.
Harapan has been under pressure of late over their nominee for Prime Minister, with BN claiming that this proves that the opposition coalition was not united.