February 11, 2017
Cambodia: King Sihanouk and Zhou Enlai
Note: All students of Cambodian History and Foreign Policy should read Charisma and Leadership–The Human Side of Great Leaders of the 20th Century by Prince Norodom Sihanouk with Dr. Bernard Krisher (Phnom Penh: The Cambodia Daily, 1990). Why? Leadership matters in today's world, especially with the election on November 8, 2016 and the  inauguration of Donald J. Trump as the 45th President of the United States on January 20, 2017.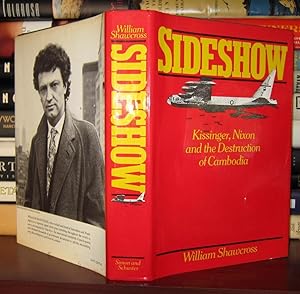 His Majesty  King Norodom Sihanouk's Impressions on Zhou Enlai appear on pp.45-66.  The Intellectual Cambodian Monarch
Samdech Euv (Khmer: សម្តេចឪ
)'s
My War with The C.I.A
(Baltimore:Penguin Book,1973) with Wilfred Burchett, and William Shawcross,
Sideshow: Kissinger, Nixon, and the Destruction of Cambodia
(
New York: Si
mon and Schuster, 1979) which deal with Cambodia-US Relations should are also on my recommended read list.–Din Merican
Chairman Mao Zedong and Premier Zhou Enlai asked Deng Xiaoping and Ye Jianying to see Sihanouk and his family members off. Picture taken on September 9, 1975, Sihanouk (middle), his wife (left) and Deng Xiaoping traveled in a motorcade.

20 years friendship: Sihanouk and Zhou Enlai
http://english.cntv.cn/program/newsupdate/20121015/104851.shtml
Cambodia's Samdech Euv (King-Father) Norodom Sihanouk's friendship with China began with his first encounter with the then Chinese Premier Zhou Enlai, in 1955 at the Bandung Conference which was hosted by President Ahmed Sukarno of Indonesia. Their friendship lasted for more than two decades until Zhou Enlai's death in 1976.
Chinese Premier Zhou Enlai met Norodom Sihanouk for the first time at the Bandung Conference on April  18, 1955.
In the morning, when most of the delegation was outside the venue waiting for the host, Indonesia's first President  Ahmed Sukarno, Zhou Enlai met the 33-year-old Sihanouk, the then Cambodian Prime Minister.
Cheng Yuangong, Zhou Enlai's FMR guard, said, "Premier Zhou was talking to other people when he found that Norodom Sihanouk was some seven meters away. Premier Zhou stepped up and began talking to him. Sihanouk was very touched by the Chinese Premier's friendly move."
During the six-day conference, Zhou Enlai made a statement, applauding Cambodia's fight for independence led by Norodom Sihanouk. He said China fully respected Cambodia's sovereignty and territorial integrity.
During the conference, Zhou Enlai also gave a banquet for the Cambodian delegation. In Norodom Sihanouk's memoirs, he called it an unforgettable invitation. Zhou Enlai's welcome made him feel part of a brotherhood.
Ten months after the Bandung Conference, Norodom Sihanouk visited China for the first time. One month later, Zhou Enlai was invited to Cambodia. It was very rare in world diplomatic history for two countries to welcome delegations without establishing diplomatic ties.
In 1958, China and Cambodia formally established ambassador-level diplomatic relations. In 1970, Norodom Sihanouk was forced into exile in China when Lon Nol clique staged a coup d' etat . China continued to support him, and he lived in Beijing for the next five years.
Zhou Enlai would never miss Sihanouk or his wife's birthday unless he was on a visit abroad. In 1975, Sihanouk decided to return to Cambodia when the Lon Nol government was overthrown.
At that time, suffering from cancer, Zhou Enlai weighed just 30 kilograms. But he still insisted on making detailed arrangements for Sihanouk. The two old friends said their final goodbyes on August the 26th, 1975. 6 months later, Zhou Enlai died in Beijing. But Sihanouk's friendship with China never wavered.
READ This:
https://cross-currents.berkeley.edu/sites/default/files/e-journal/articles/jeldres_1.pdf