November 22, 2016
Ignominious 'Victory' for Najib and Zahid
 by Lim Teck Ghee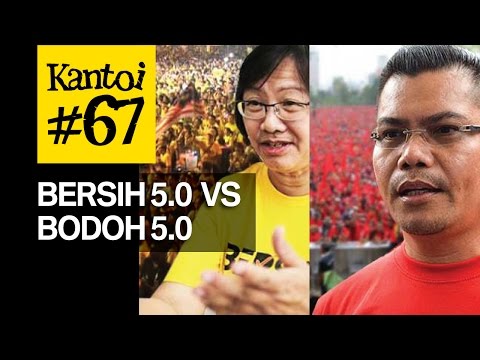 As to be expected, the combined forces of UMNO and some BN leaders adept at political spinning are crowing that they have won a famous victory by their 'success' at containing the BERSIH protest rally on 19 November. And some 'independent' officially linked media commentators and analysts are playing ball to this fiction by claiming that the peaceful nature of the assembly was because of "the steps taken by the authorities" to ensure that there would be no untoward happening.  
On which planet are these people living? Every possible provocation and trick was tried by UMNO and the authorities beholden to their political master to prevent Bersih protestors from converging and exercising their right of peaceful assembly and lawful dissent. The preferred weapon of de-legitimization and demonization of BERSIH was the Malay media and JAKIM-controlled mosques. This propaganda artillery was principally targeted at the Malay community.
 Closely following the blatant attempt at compelling the Malay community to view the rally through racial lenses was the high level strategy aimed at undermining the larger public's confidence and participation. This strategy included the initial demands, which rapidly escalated to harsh warnings, by the Inspector General of Police; admonitions and ultimatums from UMNO's leaders; threats of punishment directed against civil servants and university students who may have contemplated participating; instigation of UMNO-friendly traders to use the court of law to stop the BERSIH rally; and a myriad of other dirty tricks, including the resort to over the top scare mongering implying the possibility of violence and bloodshed should the rally proceed.   
Jamal Yunos and his Red Shirts were supposed to be UMNO's trump card in ensuring that the BERSIH rally would not take place. Hence the turning of the official blind eye and refusal to act against him and his supporters, despite his numerous hate speeches, calls for the shedding of innocent blood, and various intimidatory actions directed at the BERSIH convoy during its seven-week roadshow to promote the BERSIH 5 rally.
When it became clear with each passing day closer to the rally that BERSIH organizers and supporters would not be cowed into surrendering their right to dissent, a change in the UMNO game plan was needed. UMNO members were given the go-ahead to join Jamal's band of political rempits. Surely a force of 300,000 troopers – promised by Jamal on the eve of the rally – confronting BERSIH's supporters and the promise of violence and 'flying parang' would impress on BERSIH's supporters to stay at home.  And wouldn't a crowd of 300,000 in their red shirts marching in counter protest also be the most potent image of UMNO's hold over the Malay masses?
 So when the rally finally took place was it such a clear victory for Najib, Zahid and the status quo; and a defeat for BERSIH and others seeking reform and change?  Unofficial media accounts estimate the number of BERSIH participants at more than 50,000 with thousands more unable to reach the main convergence areas due to Police road closures and barricades put up.
The thinly-veiled plot to label it as a Chinese-orchestrated and Chinese-dominated rally also fell flat. Malays made their way to the rally in large numbers from different parts of the country and some of the most fiercely anti-Government rhetoric and arguments for a change of government were by Malay participants.
 The contrast between Malay participation in the Redshirt and BERSIH rallies could not have been more striking. Redshirt participants – even with UMNO's blessing and strong support – probably did not exceed 8,000. It was certainly a smaller number compared with their yellow shirted counterparts.
 It is not from size alone that one can draw deductions. Many among what appears to have been a participant-for-rent grouping lacked the stamina and fortitude to press their demands on the BERSIH participants and made their way home quickly when they were not allowed to bully or pick up fights. BERSIH participants on the other hand were a much more determined and clearly not-for-sale group, committed to their cause and staying on until the end.
The presence of so many young Malays concerned for their own future as well as that of their community's and challenging UMNO will be the main reason for the nightmares and sleepless nights that UMNO's leadership must now be experiencing after BERSIH 5.
 What this group of young Malays has experienced will be widely shared in social media and the Malay heartland. No amount of counter propaganda from UMNO can take away their sense of accomplishment at passing this test of moral courage or detract from the brave way in which they stood up for clean government and clean elections while rejecting the crude racist and religiously-bigoted accusations hurled at Bersih's leaders.
What Do Foreigners Really Think of Government And BERSIH?
 Besides the national constituency, there was one other audience that Najib and Zahid wanted to impress – that of foreign governments and businesses whose continued support the BN Government is increasingly reliant for survival.
 Some years from now when the foreign despatches sent from Kuala Lumpur are revealed over Wikileaks or some other whistle-blowing outfits, I wonder what the Ambassadors and envoys to this country will have written to their governments about the state of democratic freedom in Malaysia under these two leaders and this particular episode.
Among other questions, I am sure that they must be puzzled – as with many Malaysians – why it was not possible for our Prime Minister and Deputy Prime Minister to direct the Police to ensure that the Red Shirts movement hold their counter rally at a different time or a different location to prevent them from clashing with Bersih supporters. Would this no-brainer instruction be seen as interfering with the freedom of assembly of Jamal and his men?  Or perhaps the Home Ministry could not issue this directive since the Police are an 'independent force' acting without any interference whatsoever from their political master? 
 Or could it be that the two top leaders did not have the national interest, or even BN's, at heart – only UMNO's – when they engineered this ignominious victory for Najib's survival and UMNO's right wing.