November 17, 2016
Berish 5.0: Taking on corrupt UMNO Prime Minister
Electoral reform group Bersih does not regard the red-shirts as their enemy, as the purpose of the November 19 rally is to protest against corruption and Prime Minister Najib Abdul Razak's alleged wrongdoings.
In a statement today, its chairperson Maria Chin Abdullah said the public have a right and a duty to voice their displeasure over these issues.
"Red-shirts leader Jamal Md Yunos is not our enemy. We are not hitting the streets to fight Jamal and his band of thugs. We are not flexing our muscles or showing who has bigger numbers.
Malaysia's Corrupt Couple–A National Disgrace
"We are protesting because keeping silent on corruption and abuse of power is not an option. We are gathering because we have a right to protest against Najib (over his alleged) mega scandals which gave our country the 'kleptocracy' label.
"Jamal is just a decoy to shift attention away from public enemy number one: None other than the Prime Minister himself.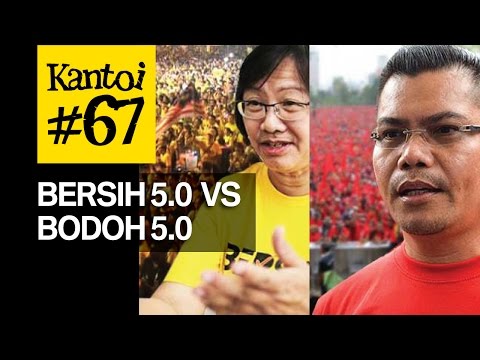 "We must focus on Bersih's demands (for clean elections and eradication of corruption), which seek to make Malaysia a better place for our children," she said.
'Cops will help us'
Maria expressed confidence that the Police will help facilitate a peaceful and orderly rally, just as they did for Bersih 4.
I was at Bersih 2007, and Bersih 4.0 but my academic duties in Phnom Penh prevent me from joining you this Saturday. However, Dr. Kamsiah and I wish our friends like Ambiga, Maria, Cynthia Gabriel, Dr. Subramaniam Pillay, and fellow Malaysians all the best for a peaceful and orderly protest against this corrupt Rosmah controlled regime.
Beware of agent provocateurs led by buffoon Jamal Ikan Bakar in your midst. Special Branch agents will also be in your company. Exercise restraint and respect public property.–Din Merican in Phnom Penh, Cambodia 
"Last year, we saw how the Police kept the peace during the 34-hour long protest, where the red-shirts appeared only at the end. We hope that the Police will be prepared for provocation by Jamal's camp to divert attention from Bersih's objectives," she said.
In view of this, Maria urged Malaysians not to be concerned over Jamal's threats. They should take part in the Bersih 5 rally and show the world how much Malaysians we detest Najib Razak and his kleptocrats.
The Police have claimed that the notices submitted by Bersih, as part of the requirement under the Peaceful Assembly Act 2012, were defective and thus the rally on Saturday was unlawful. Nevertheless, Bersih has claimed it has fulfilled the legal requirements and will be pressing ahead.