November 4, 2016
Foreign Policy:  Malaysia's Najibian tilt towards China
by Tunku Zain Al-'Abidin
http://www.themalaymailonline.com
"…while foreign policy is not usually a matter that excites the public, when so much of our infrastructure and everyday goods and services depend on the trade relations enabled by it, surely we deserve a clearer insight into the motives and long-term implications of significant changes in direction." –Tunku Zain
China answered his prayers for Tolong Gua
I was glad China dominated the world the other day. Although the Americans covered a sizeable chunk of the planet, a combination of superior espionage, massive cultural output and, in the end, better technology and cunning diplomacy meant that China edged ahead.
I was playing as China in Civilisation VI, the latest instalment in a computer game series that began in 1991 in which the player chooses a leader from a civilisation from actual world history, starts with a mere villager and, by investing in expansion, military might, science, culture, trade and so on, advances through the ages.
Victory can be achieved in a number of ways depending on playing style and unique characteristics of the civilisation (a powerful early gunpowder unit and the Great Wall in the case of China). Regardless of which leader you choose, there are always compromises to make, some of which literally have impacts that can last hundreds of years.
In real world, the apparent dominance of China in recent times has produced a vast amount of geopolitical analyses and speculation about what the world will look like in decades to come.
Chinese investment and migration to Africa have led it being termed "China's Second Continent", and China's relationship with ASEAN has always been a feature of regional forums ever since I started attending them a decade ago.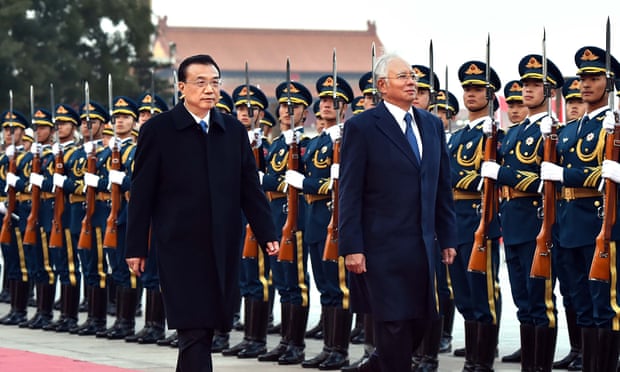 China lays the Red Carpet for Malaysia's Prime Minister Tun Abdul Razak
This has taken the form of concerns about China's influence in Cambodia, Myanmar, Laos and Vietnam (CLMV), its activities in the South China Sea, and more recently trade issues particularly with the emergence of the US-led Trans-Pacific Partnership Agreement (TPPA) juxtaposed with China's own Maritime Silk Road initiative, the Regional Comprehensive Economic Partnership (RCEP) and Asian Infrastructure Investment Bank.
But the last two weeks have seen significant bilateral shifts between China and two ASEAN countries, at the expense of the United States. Speaking in Beijing on October 20, Philippine President Rodrigo Duterte announced his "separation from the United States," as China and the Philippines signed an estimated US$ 24 billion (RM100 billion) in funding and investment pledges and agreed to resume a dialogue on their dispute over the South China Sea. This after an arbitration tribunal in The Hague ruled overwhelmingly in the Philippines' favour in July — quite a shift from previous assertions about the West Philippine Sea.
In the last few days Malaysia's relationship with China has also seen a major upgrade: Perhaps the most significant since Tun Razak established diplomatic relations in 1974. We will buy at least four littoral ships (vessels typically used for coastal defence and rescue operations) at approximately RM300 million each, while an agreement has been signed setting the stage for China to build and finance the RM55 billion East Coast Rail Line (ECRL) project.
Defence Minister Dato' Seri Hishammuddin Hussein said the four LMS ships purchased from China would be built by a joint venture between Boustead Naval Shipyard and China Shipbuilding & Offshore International. — Picture by Yusof Mat Isa
A list of 14 further agreements and memoranda of understanding between Malaysian and Chinese companies worth RM144 billion were also signed.
Naturally there will be much scrutiny on the beneficiaries and the extent of public funds that will be used. But the underlying reasons for our major geopolitical shift have already been a cause of much speculation, with suggestions that it is not just about trade and investment.
The editorial written by the Prime Minister in the China Daily also gave a hint: "It is not (for former colonial powers) to lecture countries they once exploited on how to conduct their own internal affairs today." Everyone would agree with that, just as everyone should understand that illegal activity committed in another country can trigger lawsuits in that country's justice system, or that de facto transfers of sovereignty to other countries can occur in many ways.
Indeed, "threats to our sovereignty" have often been played up to mobilise criticism of policies in the past, and one wonders whether usually vocal ethno -nationalists will approve of all these deals, especially given some of their confrontational views on local inter – ethnic dynamics too.
After independence, Malaya's stance on China was transparent and ideological. The Prime Minister Tunku Abdul Rahman and External Affairs Minister Tun Dr Ismail were both utterly anti-communist — though they did have a spat when the former stated that Malaya would eventually have to recognise the People's Republic of China. Of course, China itself has changed tremendously and the ideological backdrop of the Cold War no longer exists.
Still, while foreign policy is not usually a matter that excites the public, when so much of our infrastructure and everyday goods and services depend on the trade relations enabled by it, surely we deserve a clearer insight into the motives and long-term implications of significant changes in direction.
For in the real world, this geopolitical game won't be played by the same person forever.
* Tunku Zain Al-'Abidin is founding president of Ideas.