August 23, 2o16
Lessons out of Africa for scandal plagued Malaysia
by Michael Vatikiotis
Beset by scandal, a murky Malaysia could take heed of recent political developments and a new transparency in South Africa and Mauritius.
Many Malaysians are despairing about their political system, in which institutional checks and balances against the abuse of power fail to work, and the opposition lacks the capacity to provide voters with a means of punishing the government at the ballot box.
The damning revelations about the abuse of funds in 1MDB, a development fund headed by Prime Minister Najib Tun Razak, have generated corruption allegations so big that the US Department of Justice, as well as authorities in Switzerland and Singapore, have all weighed in to investigate.  Yet, the political opposition at home in Malaysia has been unable to do what a loyal opposition does in a parliamentary democracy, which is to freely air grievances and sanction the sitting government in a no-confidence vote. Neither have any formal legal proceedings been successfully brought forward in Malaysia's supposedly independent courts. Instead, a group of Malaysians has launched a class actions suit in the US.
The government meanwhile, has launched its own investigation, which has cleared the Prime Minister of any wrongdoing, but has refused to release details of what state auditors found.   An executive order removed a sitting Attorney General, and several senior party officials from the ruling United Malays National Organisations have been summarily sacked after expressing concern about the situation.
 UMNO is doomed 
For many Malaysians, what is emblematic about 1MDB is less the alleged corruption on a massive scale, but just how disempowered they feel as lawyers, members of parliament and ordinary citizens; there seems to be absolutely no redress to what is plainly evident to anyone outside the country – and they feel ashamed.  The government meanwhile, is prone to accusing those who dream of a more accountability of being unduly influenced by Western liberal values that have no currency in Asia or the developing world.
Recent events and political trends in southern Africa indicate such claims are nonsense and are worth examining in the light of the current situation in Malaysia.
The outcome of local elections held this month in South Africa and the conduct of political affairs in the small island neighbouring state of Mauritius suggest, that countries in the developing world afflicted by the scourge of corruption do have civilised ways of dealing with the abuse of power, which leave them economically stronger and socially more cohesive.
ANC under Zuma –rejected by voters
Local elections held in South Africa on 3 August saw the ruling African National Congress lose significantly, especially in urban areas.  For the first time since winning power after the dismantling of apartheid in 1994, the ANC's share of the vote fell below 60 per cent.  The final tally was barely 53 per cent. Most analysts attributed the loss to dissatisfaction with ANC leaders, specifically its President Jacob Zuma, whose term in office has been dogged by accusations of corruption.
Voters appear to have based their decision on a clear process of legal investigation that has shown itself to be somewhat immune to political interference and whitewash.  In June, a South African court rejected President Zuma's attempted appeal against a ruling that he should face as many as 800 charges of corruption, which include fraud and money laundering while he was in office.  In March this year, Zuma was found guilty of violating the constitution over the use of public funds to upgrade his private residence.
In the light of 1MDB, Malaysians won't be shocked by these allegations, but what they might find surprising is that the courts in South Africa are ruling on them without fear or favour.  As a result, the party that has led the country since liberation, like UMNO in Malaysia, is no longer immune to scrutiny and the weight of public opinion.  Moreover, instead of blaming other groups or races for its loss, the ANC leadership has declared it will take collective responsibility.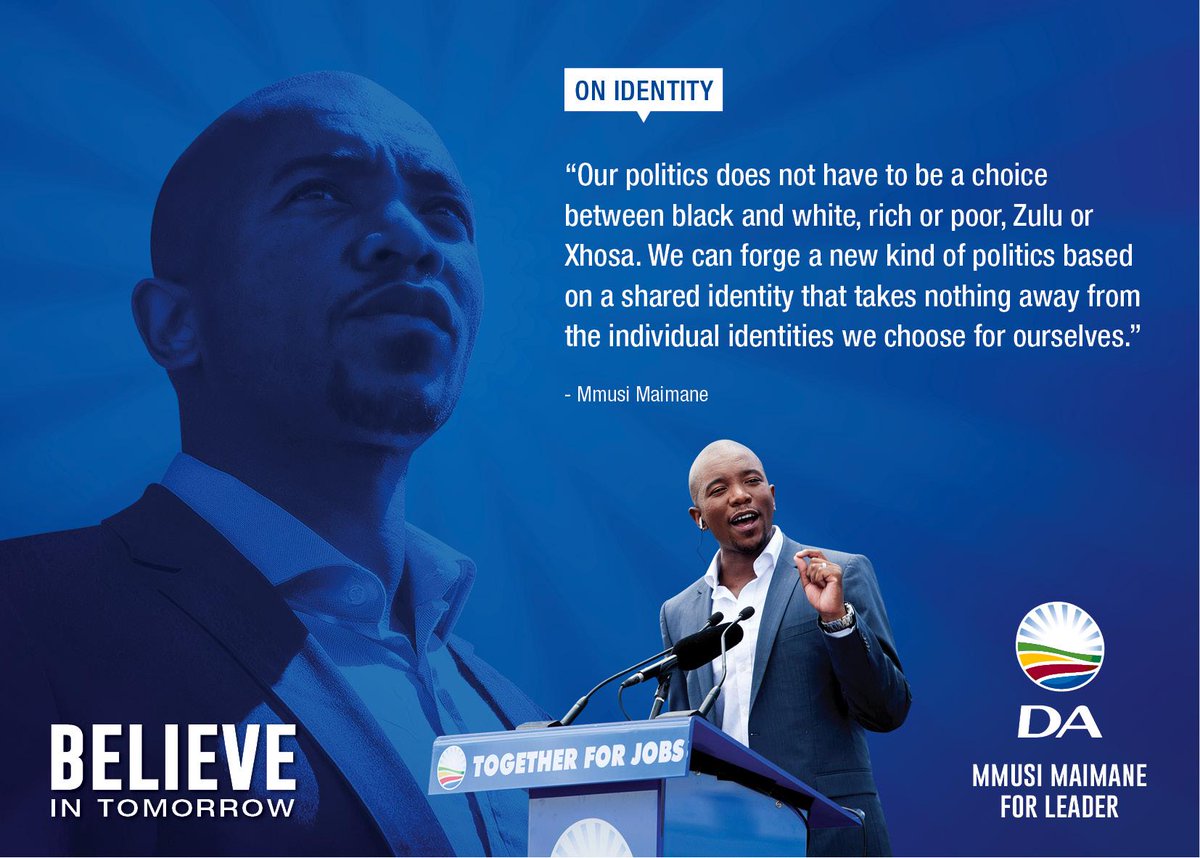 New Hope for South Africa–Mmusi Maimane
More noteworthy still is how the opposition has responded in the South African context.  The winner in the August local election was the old White-dominated liberal party, the Democratic Alliance, that has strongholds in urban areas, rather like the Malaysian opposition.  The DA's new leader, a black man from Soweto, called Mmusi Maimane, sometimes dubbed South Africa's Obama, led the party to gain almost 30 per cent of the vote, up from less than two per cent in 1994.  Since the white population of South Africa represents only eight per cent of the total, many brown and black people must have shifted their allegiance from the ANC to the DA.
There are two lessons here for Malaysia: the first is that it is not a given that the party of liberation must rule the country forever; the second is that political affiliation need not correspond to ethnic identity.  South Africa is now the continent's largest economy, having displaced Nigeria.  With the message delivered to the ANC at the local elections this month, many South Africans are hopeful that the country's economic promise will no longer be squandered by leaders who use affirmative action to line the pockets of cronies and relatives.
 Mauritius: Checks and Balances are working
Meanwhile, next door in the tiny island of Mauritius, which has long had a close relationship with Malaysia, there are also signs that politicians who abuse their power are increasingly subject to the law.  In June last year, Pravind Jugnauth, the son of current Prime Minister Anerood Jugnauth (pic above), was found guilty as Minister of Technology of conflict of interest in the purchase of a health clinic.
Pravind appealed the verdict and claimed trial, a decision he won, which has enabled him to serve as Finance Minister in the cabinet.  Remarkably, given that Pravind is considered Prime Minister in waiting to take over from his father, the Deputy Public Prosecutor is appealing the court's decision – and he has kept his job.
The political set up in Mauritius is similar to that of Malaysia — a multiracial society composed of Hindu Indians, Muslim Indians, Chinese, Creole, and a smattering of established white families governed by a parliamentary system with courts and other regulatory bodies closely modeled on British institutions.  Also like Malaysia, there has long been tension between the manner in which the courts and the media hold politicians accountable, and political efforts to manipulate them.
It would seem that in the case of Mauritius, the checks and balances are working. Former Prime Minister Navin Ramgoolam, who was accused of using the courts to try to muzzle the media, is now under police investigation after more than US$ 6 million in cash was found at his home after he lost the election in 2014. Ramgoolam claims the money was a donation from supporters for use in the election campaign.  Sound familiar?
Michael Vatikiotis is Asia Regional Director for the Centre for Humanitarian Dialogue.