August 18, 2016
The Horrors of the War in Syria–Failure of Diplomacy
by Elle Hunt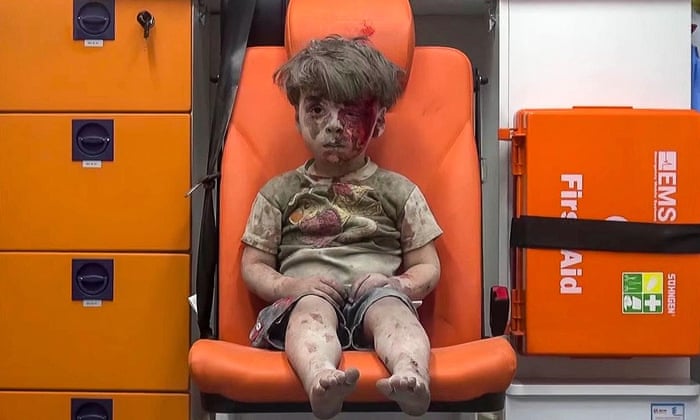 A photograph of a boy sitting dazed and bloodied in the back of an ambulance after surviving a regime airstrike in Aleppo has highlighted the desperation of the Syrian civil war and the struggle for control of the city. The child has been identified as five-year-old Omran Daqneesh, who was injured late on Wednesday in a military strike on the rebel-held Qaterji neighbourhood.
The startling image shows him covered head to toe with dust and so disoriented that he seems barely aware of an open wound on his forehead. He was taken to a hospital known as M10 and later discharged.
The image is a still from a video filmed and circulated by the Aleppo Media Centre. The anti-government activist group has been contacted to confirm details about when and where the footage was shot. The group posted the clip to YouTube late on Wednesday, shortly after Omran was injured.
The fight for control of Aleppo has intensified in recent weeks following gains made by rebel groups battling the forces of the Syrian president, Bashar al-Assad.
The fighting has frustrated the UN's efforts to fulfil its humanitarian mandate, and the world body's special envoy to Syria on Thursday cut short a meeting of the ad hoc committee chaired by Russia and the United States tasked with deescalating the violence so that relief can reach beleaguered civilians.
The UN envoy, Staffan de Mistura, said there was "no sense" in holding the meeting in light of the obstacles to delivering aid. The UN is hoping to secure a 48-hour pause in the fighting in Aleppo.
https://www.theguardian.com/world/2016/aug/18/boy-in-the-ambulance-image-emerges-syrian-child-aleppo-rubble?CMP=soc_567