May 4, 2016
The terminally ill Malaysian media
by Zakiah Koya
http://www.theheatmalaysia.com/
The mass media is perhaps the biggest victim in Malaysia's political landscape, as it struggles to bring the truth to the people in the midst of restraining laws and politicians who hinder it at every step.
While those on print and broadcasting hold themselves back in touching on matters which may not palatable to some at the top, they still try to write between the lines. But the gaps to write between those lines are almost disappearing and newspapers and TV stations are seen to be completely government mouthpieces.
For even on the internet, which is supposedly to be a completely free world, as long as you have proper connection, in Malaysia, portals and its journalists are watched like a hawk by the government 'Big Brother' Malaysian Communication and Multimedia Commission (MCMC).
Najib's Penang Born Arlab Donor
This year's World Press Freedom Ranking has placed Malaysia at 146 out of 180 other countries. We had climbed a notch from last year but we are still sadly at the bottom of the pile. Even lesser developed countries such as Burma, Bangladesh and Gambia are ranked above us. We can only boast that we are better than Pakistan, Russia and Mexico, not really much of a compliment in any way.
The Reporters Without Borders (RSF) in its website stated that the main reason we had such a ranking is because the media is "persecuted by the Prime Minister".
"Prime Minister Najib Razak wages a personal war against independent media and does not hesitate to order police raids on newsrooms. These heavy-handed operations often result in arbitrary arrests. The persecution of outspoken journalists extends to the Internet, where sites such as Sarawak and The Edge have been blocked for reporting alleged corruption involving government officials. In the absence of judicial independence, the government does not hesitate to harass media outlets by taking them to court," stated RSF.
This year alone, one of the more popular news sites The Malaysian Insider had been blocked by providers which insisted on reporting on the 1MDB scandal which involved the PM. The blocking led to poor access, one of the main reasons which led its owners The Edge-Insider to deciding to close its operations.
Malaysia also remembers the World Press Freedom Day with a heavy heart as one of its main warriors of the fourth estate Said Zahari passed away last month. Said, a former Utusan Editor in chief, fought against the main ruling party UMNO from taking over the Utusan newspaper. He failed and paid for it by being exiled and spent years in a Singaporean jail.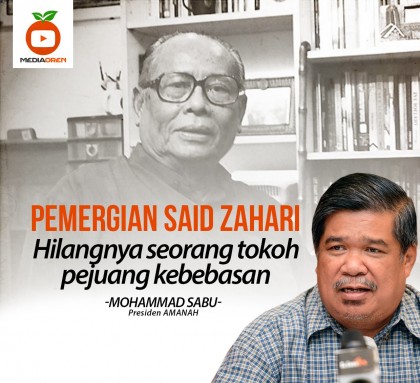 There is much to be done by the government and the public if the ranks of Malaysia in press freedom is to improve internationally.  For one, political parties should not be allowed to own mass media and if they do want to, it should be as party organs and not masqueraded as mass media.
Utusan Group Chief Datuk Mohd Noordin Abbas himself, while claiming the newspaper has credibility and responsibility, today in a BFM radio interview conceded that Utusan has lost the trust of Malaysians.
Secondly, the laws against the freedom of media, such as Printing Press and Publications Act 1984, Sedition Act 1948, Official Secrets Act 1972 and MCMC Act 1998, should be amended to ensure that journalists are not harassed and hauled to court for merely doing their duty of reporting the truth.
Last but not least, the government and politicians should change their mentality that the media exists to be at their beck and call. They should realise that it is time Malaysian media is allowed to mature, for it should exist as the voice of the people for the people.