April 27, 2016
Malaysia's Reputation Takes Another Hit as 1MDB Defaults
by Shamim Adam@shamimadam
Y-Sing Liau and David Yong@dyong126
http://www.bloomberg.com/news/articles/2016-04-26/1mdb-says-it-s-in-default-after-missing-interest-payment
Malaysia–A Land of Broken Dreams ruled by a cabal of Malay rogues
The Malaysian government's reputation took another hit on Tuesday after state-owned 1Malaysia Development Bhd. defaulted on a $1.75 billion bond. The ringgit fell and 1MDB's dollar debt slumped.
The development fund withheld a $50 million coupon payment amid a wider dispute with Abu Dhabi's International Petroleum Investment Co., the co-guarantor of the bonds. The missed payment triggered cross defaults on 7.4 billion ringgit ($1.9 billion) of 1MDB debt, including borrowings that are guaranteed by the Malaysian government, the fund said in a statement on Tuesday.
Prime Minister Najib Razak and his Accomplices
The default is the latest episode in financial scandals that have rocked 1MDB, whose advisory board is headed by Malaysian Prime Minister cum Finance Minister Najib Razak. The fund is at the heart of investigations at home and abroad, including in Switzerland, the U.S. and Singapore, over allegations it was used to funnel money to politically-connected individuals. 1MDB has consistently denied wrongdoing.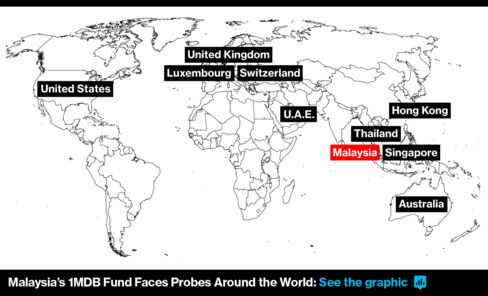 "It's never good news" when there's a default, said Tim Condon, Head of Asia Research in Singapore at ING Groep NV. "Investors view it as a complication with corporate governance implications for Malaysia, but not a threat to the sovereign's balance sheet."
Markets Rattled
The default rattled markets, with the ringgit headed for the longest stretch of losses since November, and 1MDB bonds maturing in March 2023 halting a five-day gain. The cost to protect Malaysia's sovereign notes with credit-default swaps increased.
IPIC guaranteed two separate dollar-denominated bonds for 1MDB in 2012 in deals arranged by Goldman Sachs Group Inc. The default concerns the debt with a 5.75 percent coupon sold in a private placement in October that year. A $1.75 billion offering with a coupon of 5.99 percent sold by Goldman in May 2012 hasn't had any missed payments.
1MDB's non-payment is another blow to Najib's efforts to halt months of political attacks and draw a line under allegations of irregularities surrounding the fund. A Malaysian parliamentary committee this month identified at least $4.2 billion of unauthorized or unverified transactions by 1MDB, including some that involved Abu Dhabi companies.
 Turnaround Plan
1MDB President Arul Kanda has spent the past year trying to turn the fund around and sort out a debt burden he inherited when he took over in January 2015. 1MDB has 11 times the amount needed to cover the $50 million coupon, he said in an interview last week. He said IPIC agreed to pay interest on the bonds and should make the payment. IPIC said on Monday it will pay bondholders should 1MDB default.
Opposition lawmakers were quick to point the blame for the latest glitch in the government fund. Najib "must provide a full and satisfactory explanation on the financial disaster taking place before our eyes and outline the steps which will be taken to remedy the situation," said Tony Pua, an opposition lawmaker with the Democratic Action Party and a member of the parliamentary committee that probed 1MDB.
'Ample Liquidity'
The Soon to Retire Bank Negara Governor
Najib's office didn't immediately provide a comment on the implications of the default on the country. 1MDB said it will meet all of its other existing financial obligations and has "ample liquidity" to do so.
Malaysia warned investors during a bond sale this month that it faces as much as $4.5 billion in potential liabilities should 1MDB default. The fund amassed more than 50 billion ringgit of debt over six years, using some of it to buy energy assets, including joint ventures with companies in Saudi Arabia and Abu Dhabi.
Authorities around the world are trying to determine if some of the billions of dollars that 1MDB raised were siphoned out inappropriately. Swiss prosecutors asked Luxembourg and Singapore for help this month with a criminal probe into allegations of bribery and corruption at 1MDB.
Questionable Transactions
Transcripts from a Malaysian parliamentary hearing into the troubled fund highlight Najib's involvement in decisions on questionable transactions that bypassed the board of directors and finance ministry, the sole shareholder of 1MDB.
While the Prime Minister has faced calls to step down over mismanagement at 1MDB and after he received a $681 million personal donation from the Saudi royal family in 2013, he retains the support of the bulk of senior officials in the ruling coalition. He has denied wrongdoing and the attorney-general cleared him of any graft in January.
"Most investors feared more of the political impact of the 1MDB saga than anything," said Edwin Gutierrez, head of emerging-market sovereign debt at Aberdeen Asset Management in London. "But with Najib having survived the threat, I think most investors are focused much more on the economic fundamentals."
1MDB's $3 billion 4.4 percent notes dropped 3.7 cents to 86.55 cents on the dollar to yield 6.89 percent as of 3:25 p.m. in Hong Kong, according to prices compiled by Bloomberg.
Sovereign Protection
The ringgit fell 0.8 percent in Kuala Lumpur, according to prices from local banks compiled by Bloomberg. The cost to protect Malaysia's sovereign notes with credit-default swaps jumped 1 basis point to 165 basis points, prices from Nomura Holdings Inc. show. It earlier rose 4 basis points. That leaves the measure set for its highest close since March 9, according to data provider CMA.
1MDB has been locked in a dispute over debt obligations to IPIC under an agreement reached in May 2015. As part of the pact, IPIC said it would assume obligations to pay interest due for $3.5 billion of 1MDB bonds that it guaranteed. The Abu Dhabi fund said this month that 1MDB was in default of the agreement after the Malaysian entity failed to pay it more than $1 billion in connection with a loan.
Moody's Investors Service said its view on 1MDB is "relatively intact" because of the IPIC guarantee, while Standard & Poor's says it doesn't see an impact on Malaysia's rating for now. 1MDB's default may prompt other bondholders to demand payment earlier than scheduled, said YeeFarn Phua, an S&P analyst in Singapore. He said he expects the Malaysian government to make good on the debt it has guaranteed or supported.