April 25, 2016
Hey, Najib, what are you waiting for: 1MDB in Cross Default over its Loans
by Sarawak Report/Malaysia-Chronicle
Time for you and your Cabinet of Dungoos to go
So, after over a year of presiding over the most humungous cover-up of the most humungous scandal, Arul Kanda appears to be planning to depart – on the brink of what he suggests will be a massive cross default by the fund he managed, triggering untold damage to the Malaysian economy.
His remarks to The Edge, boil down to a single admission, which is "OK I acknowledge the game is up – actually we should have paid that US$1.15 billion way back in December!"
Therefore, he reckons, this is the right moment to down tools and walk off.  He is tired, explains Kanda. It didn't turn out to be the job he thought he had signed up to.
After a year of trenchant denials and counter-accusations, he also accepts there "could have been" a massive, multi-billion dollar fraud after all (but, we note, no apologies to Sarawak Report and others).
What's more, he even concedes, "maybe there was collaboration" in this fraud from within 1MDB itself…… it really is time for you to run, Shahrol Halmi, the world can see the red dot in the centre of your forehead.Meanwhile, Arul Kanda plainly thinks that he can simply walk away from his year of lies and deception at 1MDB and leave Malaysia to pick up the financial pieces.
Doubtless he has already negotiated a swanky severance fee with his beleaguered boss, Najib Razak, and is at this very moment packing his Louis Vuittons.
On the other hand, returning to Abu Dhabi may not be the option it once was.
1MDB's US$1b default could trigger cross default on its other debts, says Arul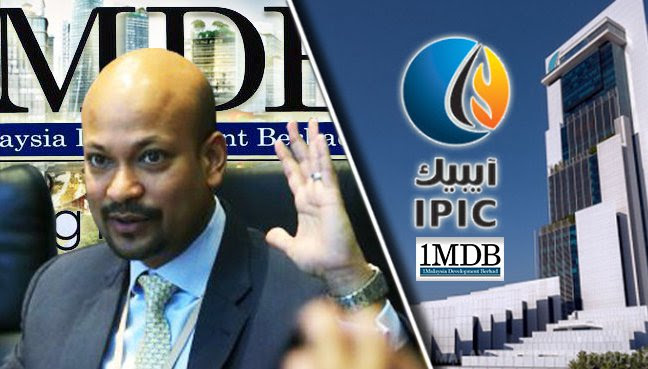 If troubled 1Malaysia Development Bhd (1MDB) defaults on its US$1 billion loan from Abu Dhabi's IPIC, that could trigger cross defaults on the fund's other debts, including some bonds, according to the fund's President and Group Executive Director Arul Kanda Kandasamy.
Though 1MDB has declared just four days ago that it is free of all its bank and short-term debts, it still has a RM5 billion sukuk with a government guarantee, another RM2.4 billion Bandar Malaysia sukuk, a RM800 million loan from the Social Security Organisation or Socso in short, and in his words, "the one that everyone is worried about", a US$3 billion bond the fund issued in 2013 to fund the Tun Razak Exchange development.
In an exclusive interview with The Edge Malaysia, published in the weekly's cover story for the week of April 25-May 1, a clearly frustrated Arul told the publication…..what could happen next now with IPIC's declaration of default against 1MDB…
There is one crucial item on the term sheet, which is that 1MDB has to transfer the amount that IPIC paid, the cash plus the interests — US$1.15 billion — by Dec 31, 2015, according to Arul. As such, he said: "actually, we were in default since December". But he questioned why IPIC waited until now to make the announcement.
"It should have been made immediately after the default as it's a large amount. Why wait until April to say you don't own Aabar BVI?"
As to the US$3.5 billion worth of payments that 1MDB made to Aabar BVI (Aabar Investments PJS Ltd), the company with the near identical name to IPIC's subsidiary Aabar Investments PJS, Arul said: "What we cannot discount is there could actually be fraud…a massive fraud…and maybe there was collaboration from our side".
He also spoke about wanting to quit 1MDB, and how the issues at the fund was not his and "not what I signed up for". "I'm very tired. I'm doing over and above what I had signed up to do."  – SARAWAK REPORT